KORG modwave mkII Wavetable Synthesizer
Q&A
|
Item #:

1500000415519
POS #:119561058
6-month special financing^ + $39 back in Rewards**
Learn More
Lease-To-Own Purchase Options
Learn more
Beat the rush: Order this highly anticipated release now and we'll ship it as soon as it arrives. You won't be charged until it ships.
Notify me when this item is in stock.
Save on orders $499+ and get advice on keys from a Gear Adviser
Need Help?

Description
The KORG modwave mkII is a powerhouse compact wavetable synthesizer capable of producing a massive array of sounds, from classic analog to complex digital. A predecessor to the modwave, KORG released the DW-8000 in 1985, which combined digital wavetables with analog filters to put an entirely new world of sound at users' fingertips. The cult success of the DW-8000 naturally set the wheels of innovation in motion, leading to the original modwave, and the updated modwave mkII wavetable creation station. Musicians, sound designers or anyone seeking a compact synthesizer with virtually limitless customization can take advantage of the modwave mkII's advanced feature set. Get lost in an elaborate synthesis engine and delve into interactive Kaoss Physics that transform gestures into intricate musical textures. The KORG modwave mkII is a powerful tool that promotes enjoyment and gratification from the first note played.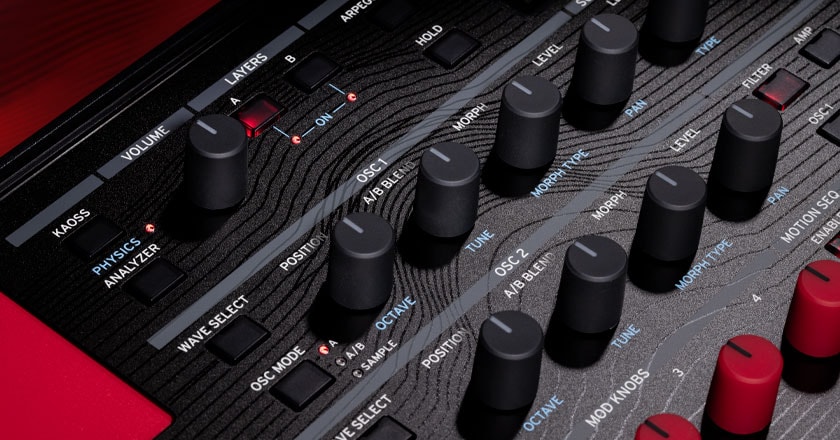 Deep Wavetable Engine
The modwave mkII's wavetable engine dives to oceanic depths of sonic exploration. Embark on a journey with over 200 stock wavetables, each containing up to 64 waveforms. Over 30 modifiers alter the basic characteristics of the selected wavetable, allowing isolation of odd or even harmonics, or the ability to emulate the grittiness of old-school wavetable synths. From here, the KORG modwave mkII synthesizer offers 13 Morph Types: stretch, squeeze and modulate wavetables in real time for additional motion and depth. Of course, you can blend any two wavetables together using A/B mode—enrich anemic sounds or liven up a tone that's too mellow. If you've run out of waters to explore, simply import your own wavetables using the Editor/Librarian software. The modwave mkII is as fathomless as you're willing to go.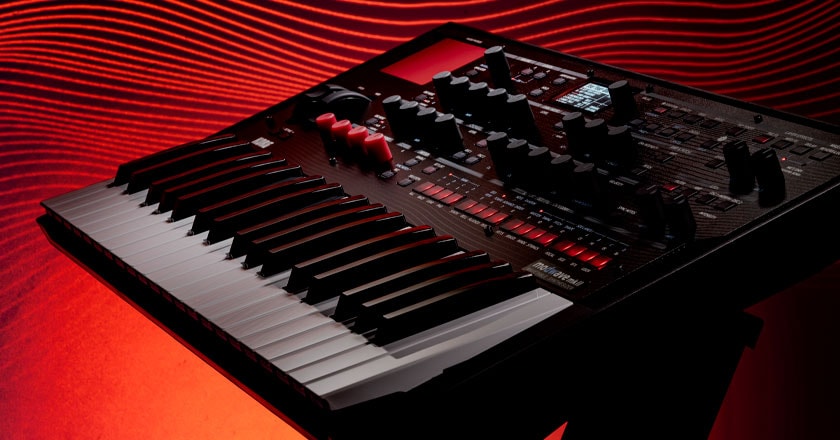 60 Notes of Polyphony
Up nearly double from the previous model, the KORG modwave mkII wavetable synthesizer handles 60 stereo voices of polyphony, which is astounding for any wavetable synth at any price. This remarkable increase from the first modwave's 32 voices expands the synthesizer's sonic palette to the extreme. Experiment with richly layered timbres practically unachievable anywhere else through the groundbreaking technology and engine driving the KORG modwave mkII. Sound designers and those with a penchant for the avant-garde can see just how far their soundscapes go with 60-voice polyphony.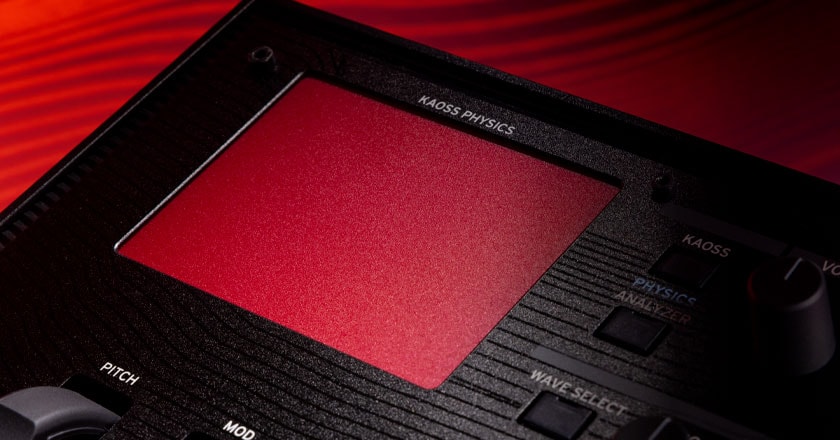 Kaoss Physics
The modwave mkII features a built-in Kaoss Physics pad for interactive, gestural sound manipulation. The touchscreen models a ball rolling on a surface and bouncing off walls inside the X/Y pad. Speed and movement of the model are adjustable and modulable in real time, and the position of the ball corresponds to eight modulation signals. Flicking a finger on the screen launches the ball and initiates a chaotic trajectory, while holding a finger on the pad lets you control its movement and position directly. Kaoss Physics' X/Y axes represent customizable modulation values, and as the ball bounces around these planes, it generates outlandish musicality that's hands-on in an arcade-style way.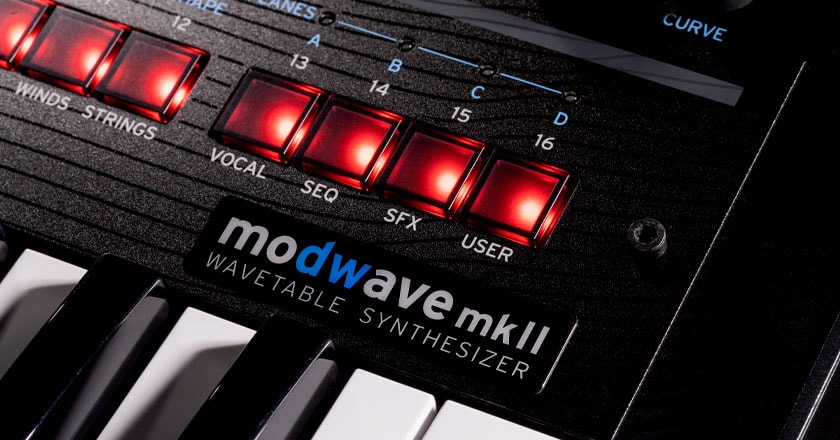 Motion Sequencing 2.0
The modwave mkII's Motion Sequencing 2.0 is a highly controllable step sequencer that breaks down alterable parameters into "lanes"—timing, pitch, shape and step values. Each of the lanes has its own loop start and end point, and every time a sequence moves forward, the sum of all four lanes creates the output. There's an inherent level of randomization in Motion Sequencing 2.0, in which timing, pitch and shape may be assigned a different step value every time they play. Lanes can randomize the step order each time as well, and individual steps can be randomly skipped with a user-set probability from 0–100%. Motion Sequencing 2.0 provides extensive control over phrases in a seamlessly organic way that feels musical and responsive to player input.
The KORG modwave mkII wavetable synthesizer bridles boundless inspiration in a sleek, 37-key chassis. With a pair of high-octane oscillators, filters for days, modulation galore and an arsenal of effects, the modwave mkII is creativity incarnate. KORG carefully crafted a synthesizer that's unimaginably diverse in range and performance, yet nothing about the modwave mkII screams "overwhelming." All controls and parameters are thoughtfully laid out in way that welcomes players of all levels to explore, as long as you're ready for the voyage. Check out the new and improved KORG modwave mkII synth at your local Guitar Center today.
WARNING: This product can expose you to chemicals including Nickel (Metallic), which is known to the State of California to cause cancer. For more information go to www.P65Warnings.ca.gov
Specs
System
Keyboard: 37 keys (velocity and release-velocity sensitive)
Maximum Polyphony: 60 stereo voices
Sound generating system: modwave synthesis engine
Modulation
Controllers: Mod Wheel, Pitch Wheel, Kaoss Physics, 4x Mod Knobs
Other Sources: 4x Envelopes, 5x LFOs, 2x Mod Processors, 2x Key Track, Seq Lanes A-D, Step Pulse, Tempo, Program/Performance Note Count, Program/Performance Voice Count, Poly Legato, Velocity, Exponential Velocity, Release Velocity, Gate, Gate+Damper, Note-On Trigger, Note-On Trigger+Damper, Note Number, Aftertouch and Poly Aftertouch (external MIDI only), MIDI CCs +/-, MIDI CCs +
Destinations: Most parameters can be modulated, including parameters of individual Motion Sequence Steps. Depending on Motion Sequence length, there can be more than 1,000 potential modulation targets per Program.
Effects
Pre FX: Decimator, Graphic EQ, Guitar Amp, Modern Compressor, Parametric EQ, Red Compressor, Ring Modulator, Tremolo, Wave Shaper
Mod FX: Black Chorus/Flanger, Black Phase, CX-3 Vibrato Chorus, EP Chorus, Harmonic Chorus, Modern Chorus, Modern Phaser, Orange Phase, Polysix Ensemble, Small Phase, Talking Modulator, Vintage Chorus, Vintage Flanger, Vintage/Custom Wah, Vox Wah
Delay: L/C/R Delay, Multiband Mod Delay, Reverse Delay, Stereo/Cross Delay, Tape Echo
Master Reverb: Early Reflections, Overb
Master EQ: 4-band parametric EQ
General
Inputs/outputs: Headphone (6.3 mm stereo phone jack), OUTPUT L/MONO and R (impedance-balanced 6.3 mm TRS phone jacks), DAMPER (6.3 mm phone jack, half-damper not supported), MIDI IN and OUT connectors, USB B port
Power supply: AC adapter (DC12V, 2500mA)
Power consumption: 5 W
Included items: AC adapter, Precautions, Quick Start Guide
Size and Weight
Dimensions (W × D × H): 565 × 338 × 92 mm/22.24" × 13.31" × 3.62"
Weight: 2.9 kg/6.93 lbs.
Warranty
USA Warranty Policy

All Korg products purchased from a Korg USA authorized dealer are warranted to be free from defects in material and workmanship to the original consumer purchaser as listed below:

Labor: 1 Year
Parts: 1 Year

Exceptions: Tubes, AC Adapters, Foot Switches: 90 days

Warranty Requirements and Limitations:

-Proof of Warranty - The customer must provide proof of purchase in order to obtain warranty service. The dated sales slip or copy thereof is the only acceptable proof of purchase.

-The product must be purchased from a Korg USA authorized dealer and have a valid serial number.

Damage resulting from the following causes are excluded from the warranty set forth above:
-Misuse, including damage occurring during shipment, damage caused by battery leakage, accident, fire, unauthorized repairs, tampering, cosmetic damage or other types of damage which are the result of improper handling or abuse.
-The cleaning of controls or contacts due to exposure to dirty, dusty, or otherwise contaminated environment.
-Damage resulting from modification.
-Damage to units used for loan or rental.

Register online and extend your warranty!
Register your new Korg keyboard, keyboard rack module or digital piano online and receive a certificate that extends the product warranty for an extra year from the date of purchase.