Hercules GS432BPLUS PLUS Series Universal Auto Grip Triple Guitar Stand With Foldable Backrest
(22)
|
Q&A
|
Item #:

1500000278124
POS #:115448631
6-month special financing^ + $11 back in Rewards**
Learn More
Expert advice from Gear Advisors, like Sarah
Gear Specialist
Bundling
Musician
Need Help?
Hercules AGS PLUS Series guitar stands and hangers features
Hercules AGS PLUS Series guitar stands and hangers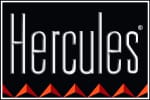 Description
The Hercules GS432BPLUS Tri Guitar stand is the ultimate solution for displaying and protecting your prized instruments. This innovative stand features Hercules' upgraded Auto Grip System (AGS) to securely hold almost any guitar, from electric to acoustic to bass. With its foldable backrests, specially formulated foam pads and instant height adjustment, the GS432BPLUS makes an ideal companion for performers and recording artists alike.
Auto Grip System Accommodates Most Guitars
The AGS yoke is designed to grip guitar neck sizes between 1.57" to 2.05", including most electric, acoustic and bass guitars. For narrower instruments like banjos or mandolins, attach the included Narrow Instrument Neck Adjustment accessories to the AGS arms. With a weight capacity of 66 lb., the GS432BPLUS can handle the heaviest of guitars with confidence.
Backrests Provide Optimal Neck Support
Adjustable backrests on each yoke keep your guitars securely in place and prevent neck dive. The backrests fold up for easy transport and storage, then unfold and lock at multiple angles to properly support each instrument's neck. Your guitars stay safe and balanced no matter the position.
Instant Height Adjustment For Any Setup
An innovative clutch system allows for quick and easy height adjustments from 15.7" to 39.4". Release the clutch to raise or lower the yokes, then lock them in place at your desired height. This convenient feature ensures an optimal setup for any performer and allows the stand to work with a variety of instrument shapes and sizes.
Premium Components Keep Your Guitars Protected
High density foam pads line each yoke and provide a non slip grip, while protecting your guitar's finish. The robust steel construction, tip resistant base and generous 16.9" footprint give the stand maximum stability. A foldable design allows the entire unit to collapse for transport in the included carry bag.
Features
Upgraded Universal Auto Grip System
Instant height-adjustment clutch
Specially formulated foam
Specs
Load Capacity: 30 kg (66 lb.)
Base Radius: 430 mm (16.9")