Hercules Speaker Stand with Adaptor
(3)
|
Q&A
|
Item #:

1329756295610
POS #:110152857
6-month special financing^ + $13 back in Rewards**
Learn More
Lease-To-Own Purchase Options
Learn more
Order it today! This item is backordered, but you can save your place now so you don't miss it when it's back in stock. You won't be charged until it ships.
Notify me when this item is in stock.
Save on orders $499+ and get expert advice from a Gear Adviser
Gear Specialist
Bundling
Musician
Need Help?
Hercules SS710B Speaker Stand - Stand in the Spotlight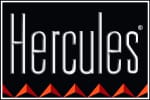 Description
The Hercules SS710B is a lightweight, heavy-duty speaker stand with a convenient hand crank that makes it easier to hoist your speakers up to the right height. Some of today's powered speakers are pretty heavy and require a couple of burly band members to mount them onto the speaker stands. With the Hercules SS710B, just mount the speakers onto the stand in the "down" position and crank it up to the desired height.

The system allows just one person to easily raise and lower speakers or lights thanks to a revolutionary system that drives two posts simultaneously. Turn the handle clockwise for fast and effortless loading, and counterclockwise for lowering. The dual brace leg construction reinforces and strengthens without excess weight. The SS710 comes with a stand adaptor that accommodates all contemporary speaker mounting flanges.
Features
Crank operation for easy raising and lowering
Holds up to 100 lbs.
Folding tripod legs for east transport
Aluminum tubing for lightweight strength
Specs
Height: 45-5/16 - 85-7/8"
Weight: 15.2 lb.
Base diameter: 59"
Load capacity: 100 lb.
Folded size: 50 x 8"