Harbinger MLS1000 Personal Line Array Speaker System
(17)
|
Q&A
|
Item #:

1500000357226
POS #:117485375
6-month special financing* + $31 back in Rewards
Learn More
Lease-To-Own Purchase Options
Learn More
Order it today! This item is backordered, but you can save your place now so you don't miss it when it's back in stock. You won't be charged until it ships.
Notify me when this item is in stock.
Get sound equipment help from an expert like Don
Need Help?
Harbinger MLS1000 Personal Line Array Speaker System | Overview

Description
The Harbinger MLS1000 Personal Line Array gives musicians on the go a perfect balance of compact mobility, big sound and full-featured mixing. The built-in mixer supports up to five sources at once, including Bluetooth audio. You can go from the car to the stage in a single trip, set up in two minutes and give your audience powerful, well-balanced sound that evenly fills an entire room, thanks to 150° wide and floor-to-ceiling sound dispersion. Built-in reverb, chorus and 2-knob EQ per input allow an ideal mix for acoustic guitar, vocals and other instruments, while sound-optimizing DSP, a 10" subwoofer and a six-speaker vertical array of 2.75" neodymium drivers cover the full frequency range with high-quality sound. The included column bag and sub cover protect the system for transport and storage, and Smart Stereo capability gives you the option to link two units for unified sound, control and signal routing.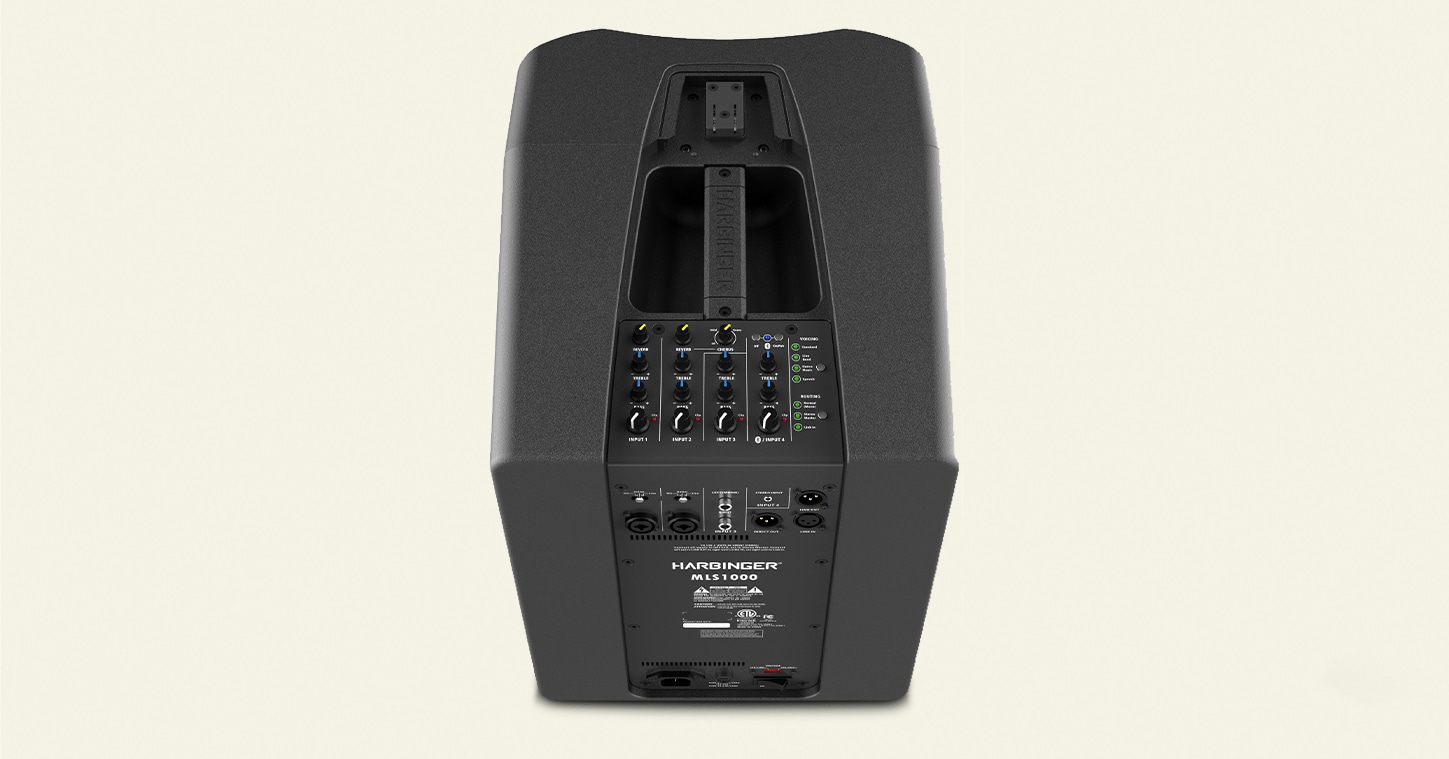 Versatile Built-in Stereo Mixer With Bluetooth
MLS1000 has a versatile stereo mixer with all inputs available at once, built right in. Solo and small group musicians can plug in a couple mics or instruments, along with stereo keyboard or electronics, and still have AUX and Bluetooth input as well. Reverb, chorus, 2-knob EQ per input and DSP-powered Voicings ensure a polished mix. If you need more, you can easily connect your own mixer to the high-quality, balanced, stereo line inputs.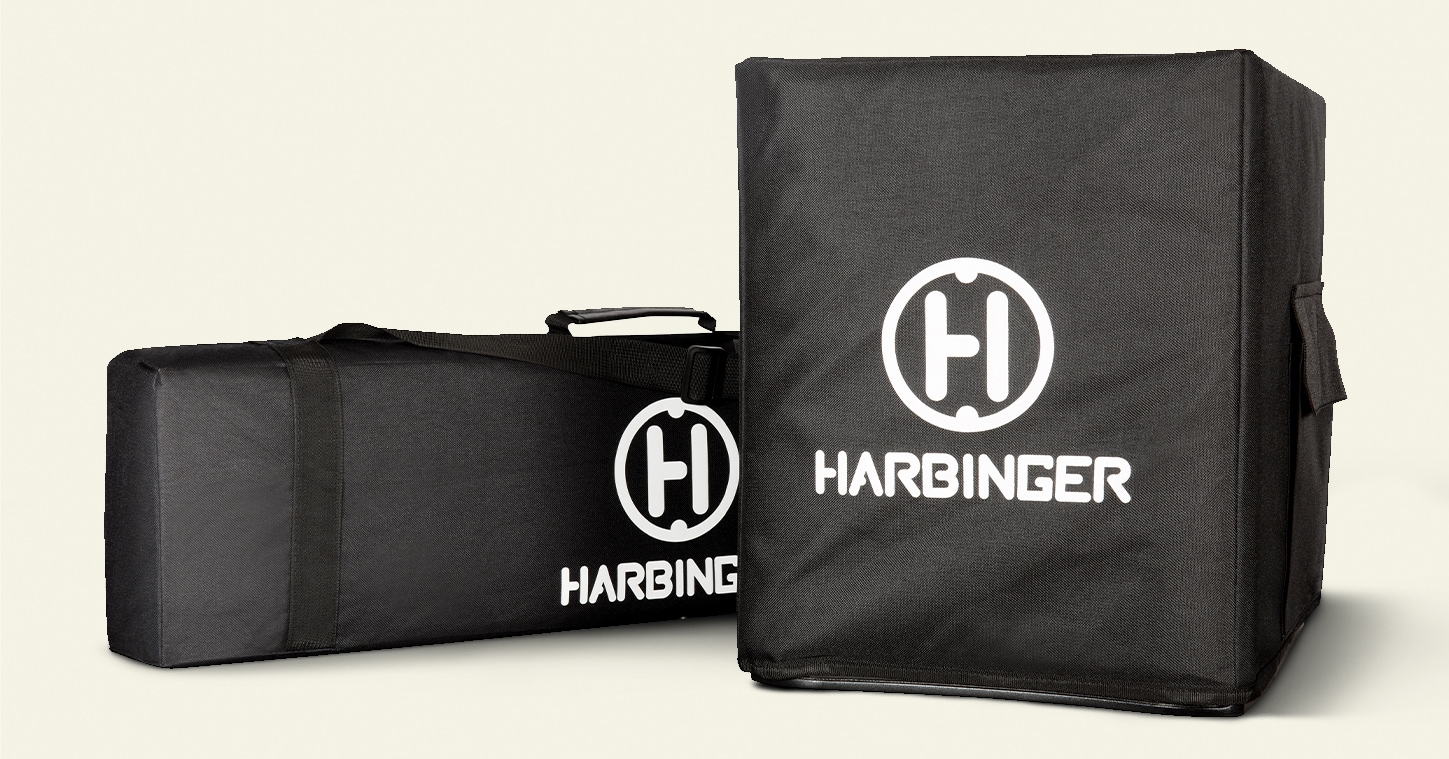 Easy to Carry, Set Up and Operate
Thanks to the included column bag with shoulder strap and a slip cover for the sub, MLS1000 is a breeze to carry, transport and store. Setup takes less than two minutes, and operation is simplicity itself, with dedicated controls for each function. So, you spend less time struggling with gear, and more time making music.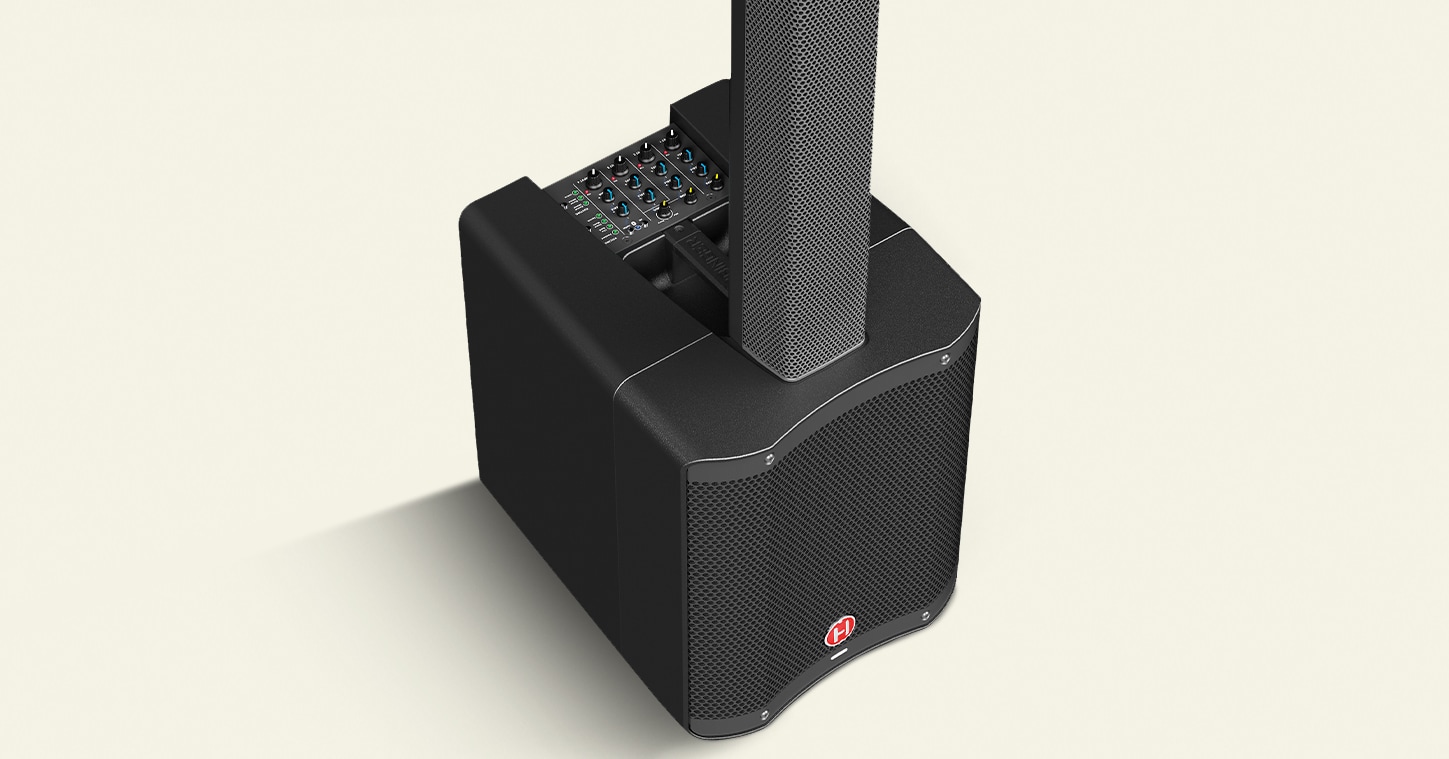 Better, More Evenly Dispersed Sound
Line array systems have unique advantages over traditional powered PA speakers. Volume levels near the unit and at a distance are more similar, and the sound is more enveloping than with traditional sound systems. Arrays also have much less potential for feedback, allowing you to place a unit right beside you, acting as both a stage monitor and audience sound system. The use of a 10" subwoofer ensures rich low frequencies, despite the relatively small size of the system.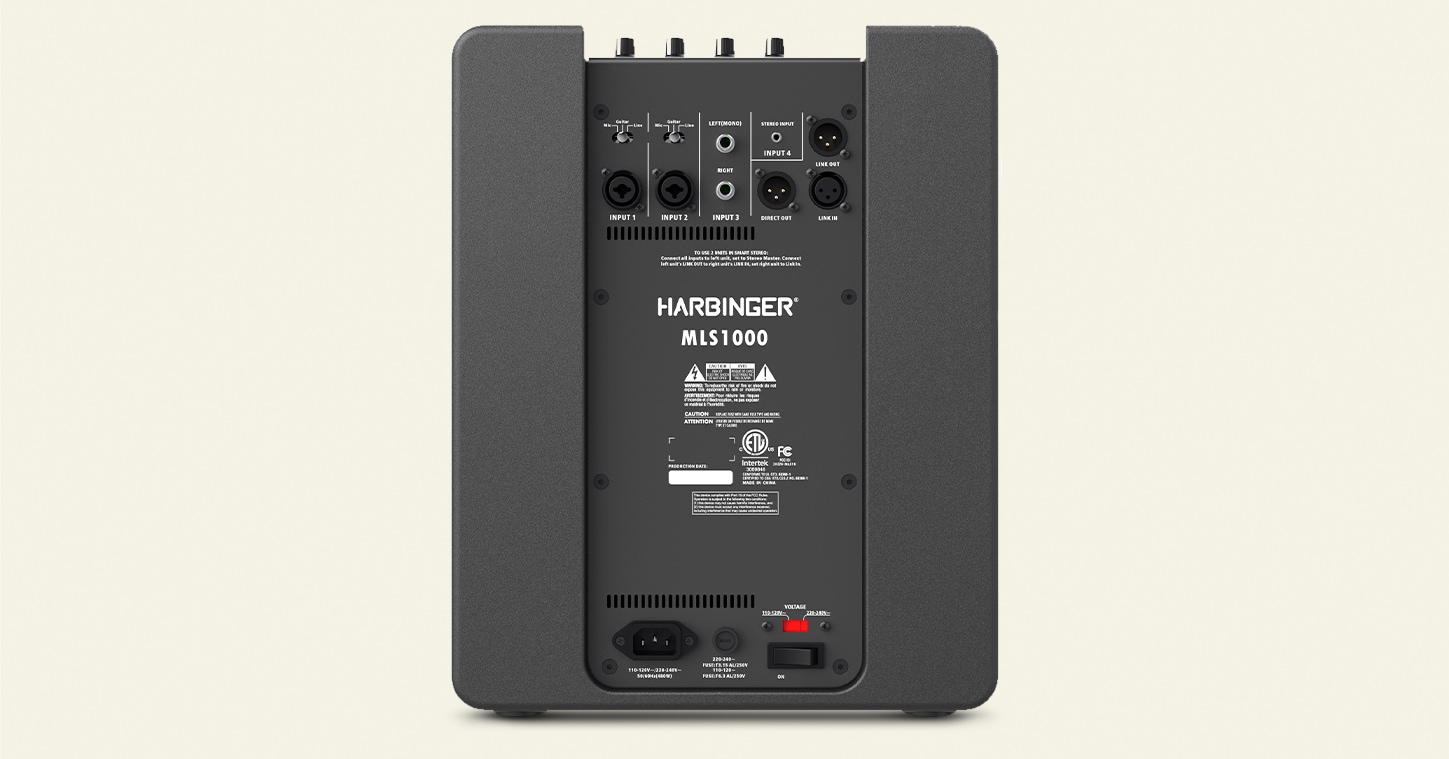 Smart Stereo Links Audio and Control for a Pair
Innovative Smart Stereo seamlessly links a pair of MLS1000s for optimal audio routing and unified control. Connect all inputs to the first unit, and then run a single mic cable to a second MLS1000 to link them. The first unit sets all volume and tuning for the pair, making for the easiest true stereo setups you've ever done.
Features
Four Input Channels, including (2) XLR/1/4" TRS Mic/Guitar/Line Combos, Stereo 1/4" TRS, Stereo 3.5 mm TRS, and Stereo Bluetooth Audio
Bluetooth audio allows for wirelessly streaming audio to the MLS1000
DSP Voicings: Standard, Live Band, Dance Music, Speech
Reverb with adjustable amount on channels 1 and 2
Chorus on channel 2, perfect for acoustic guitars
2-band EQ on all four channels
Dedicated controls and indicators for every function
Simple to use effects and EQ with key functions all easily accessible on the top panel
Connect a pair of MLS1000s and enjoy Smart Stereo performance
Includes subwoofer unit slip cover and shoulder bag for the columns
WARNING: This product can expose you to chemicals including Lead, which is known to the State of California to cause cancer, and Cadmium, which is known to cause birth defects or other reproductive harm. For more information go to www.P65Warnings.ca.gov.
Specs
Custom Speakers 10" Low Frequency Driver
(6) 2.75" HF Drivers
Full Frequency Response: 40–20KHz
High Peak Power: 1,000W
Max Output SPL: 123dB