GAMMA G25 25W 1x10 Guitar Combo Amplifier
(22)
|
Q&A
|
Item #:

1500000353683
POS #:117257097
6-month special financing^ + $9 back in Rewards**
Learn More
Get advice on amps and effects from an expert like Duane and save on orders $499+
Need Help?
GAMMA G50 Guitar Amplifier Demo with Tim Stewart
Description
GAMMA amps, with their premium True Blue High Headroom speakers and well-conceived all-analog design, provide superior sound quality, clarity and surprising performance volume in a simple-to-use package. The quality, punch and solid performance make them a choice that can serve as a handy grab-and-go pedal platform for small gigs and practices, an extraordinarily versatile amp in your home recording studio or as a great starter amp for your favorite aspiring guitarist. The GAMMA G25 is designed to deliver unprecedented clarity, quality and versatility in an all-analog, lightweight, dual-channel, 25-watt, 1x10 amp that punches far above its weight class. Loaded with features like Bluetooth connectivity and multiple amp voices, it makes every player's musical life easier and more fun. The GAMMA G25 is a great choice for everything from serious practice to living room jams.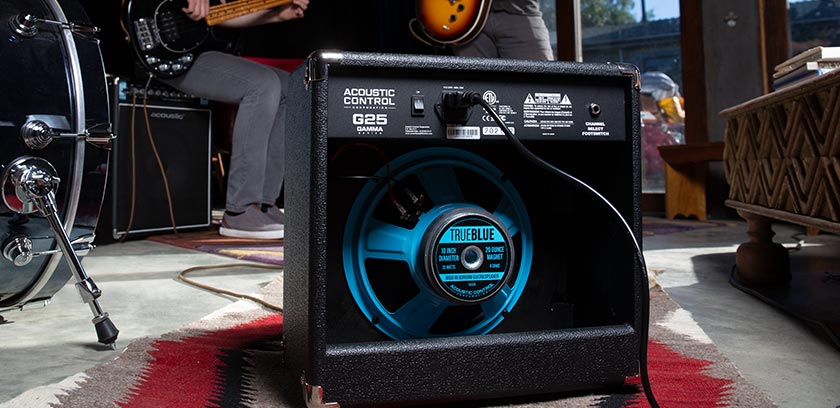 High Headroom From a Massive Magnet
The single, most salient feature of the GAMMA Series is the custom-designed, premium True Blue speaker at its heart. The GAMMA G25's 10" speaker features a large, 20 oz. (567 gm) magnet, the largest in its class, for fast response and high headroom, combining efficiency with remarkable clarity. Its surprisingly high maximum volume makes it more than capable as an amp for small band practice sessions. The G25 is also a superb pedal platform and produces an extraordinarily satisfying playing experience.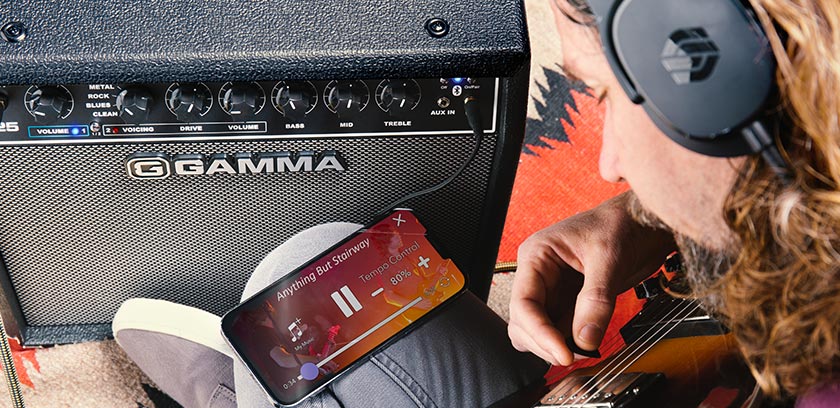 From Pedal Platform to Multiple Personalities
The GAMMA G25's pristinely clean "Blue Channel" (Channel 1), was specifically designed with a clear, accurate voicing and quick response that makes it an ideal pedal platform, whether you've curated a pedalboard of your favorite stompboxes or are using it as the final destination for a multi-effects unit or digital modeler. With four carefully crafted, exceptionally dynamic voices, Channel 2 puts virtually the entire history of guitar music available. This channel provides Clean, Blues, Rock and Metal voicings that move effortlessly from twang to shred. Channels switch via a front panel button or an optional footswitch, connected to the available rear-panel jack.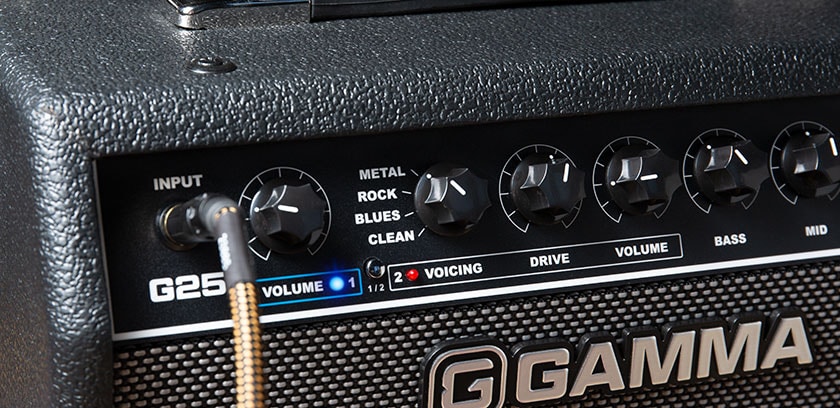 Easy Control for Tweaking Your Sound
The Blue Channel is simplicity itself. Designed from the beginning to be a superb pedal platform, all this channel needs is a Volume knob and the 3-band EQ it shares with Channel 2. The player lets their pedalboard do the rest. The multiple voices of Channel 2 feature a Drive knob, for dialing in just how saturated you want your sound to be, a Volume knob to balance with the Blue Channel and the shared EQ. This setup provides just enough control to easily find the tone you want, without getting overly complicated.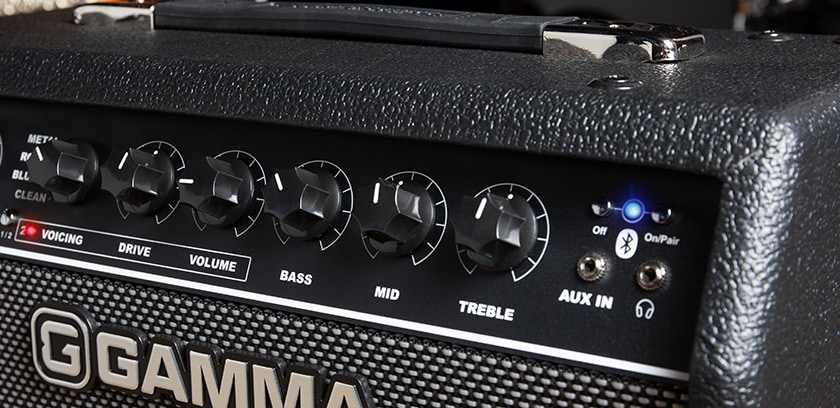 The I/O You Want
The GAMMA G25 makes it easy to bring in tracks from another source, like a media player or apps on your mobile device or computer, with both an 1/8" line-level AUX input and Bluetooth connectivity. Plus, there's a convenient headphone output for silent practice, when that one elusive lick just can't wait until everybody else is awake.
Lightweight, compact and versatile, the GAMMA G25 goes far beyond being that great first real amp players always remember, to being a powerful addition to the toolkit of any gigging or recording guitarist. With the power and punch of the True Blue speaker and a smart selection of features that matter, this is one amp that will stay with you over the years.
Features
10" True Blue High Headroom speaker for superior sound, dynamics and clarity
Bluetooth audio input makes it simple to bring in the sound of tracks and apps
Channel 1 (Blue Channel): Wide-open all-analog clean, ideal for stompboxes and multi-FX
Channel 2: All-analog Clean, Blues, Rock and Metal with adjustable Drive and 3-knob EQ
2-channel switching from front-panel select button, and rear-panel jack for your latching footswitch
WARNING: This product can expose you to chemicals including Lead, which is known to the State of California to cause cancer, and Cadmium, which is known to cause birth defects or other reproductive harm. For more information go to www.P65Warnings.ca.gov.
Specs
Power: 25 watts
Speaker: 1x10" True Blue high headroom speaker, 30-watt rating, 8 ohms
2 channels, selectable via front panel button or rear panel footswitch jack
3-knob EQ with adjustable Drive
Single guitar input
Bluetooth audio input
AUX audio input
Headphone output
Cabinet material: 5/8" MDF
Covering: Black textured vinyl
Grille cloth: Black and silver weave
Knobs: Black plastic
Dimensions (WxHxD): 15.4" x 15" x 7.9"
Weight: 18 lb.
Footswitch compatibility: Latching