Acoustic B50C 1x10 50W Bass Combo With Tilt-Back Cab Black
(32)
|
Q&A
|
Item #:

1500000218511
POS #:114390347
6-month special financing^ + $9 back in Rewards**
Learn More
Lease-To-Own Purchase Options
Learn more
Save on orders $199+ and get advice on amps and effects from a Gear Adviser
Need Help?
Acoustic B50C Classic Series Bass Combo Amp

Description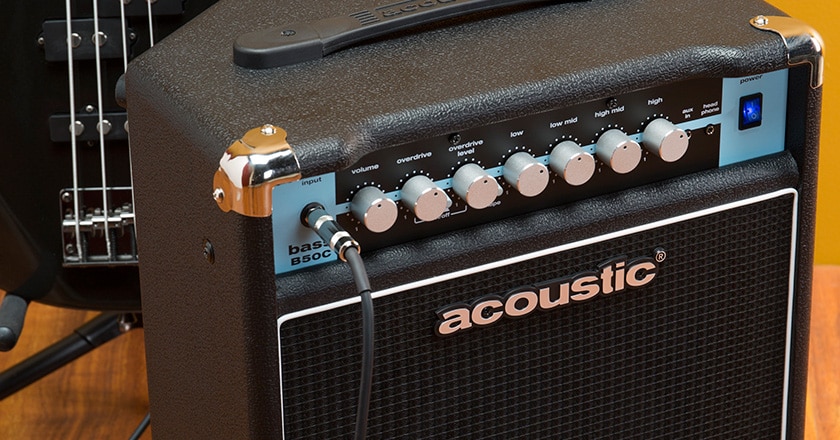 More Power and Punch
The B50C features 50 watts of Acoustic power, producing big volume and punch for rehearsals and small to medium-stage performing.
Get that classic Acoustic sound from the B50C's 10" ferrite speaker, which provides optimal frequency response and sound projection, custom tuned for electric bass.
A tilt-back cabinet feature directs your sound off the floor for better monitoring. This also makes volume leveling adjustments more accurate.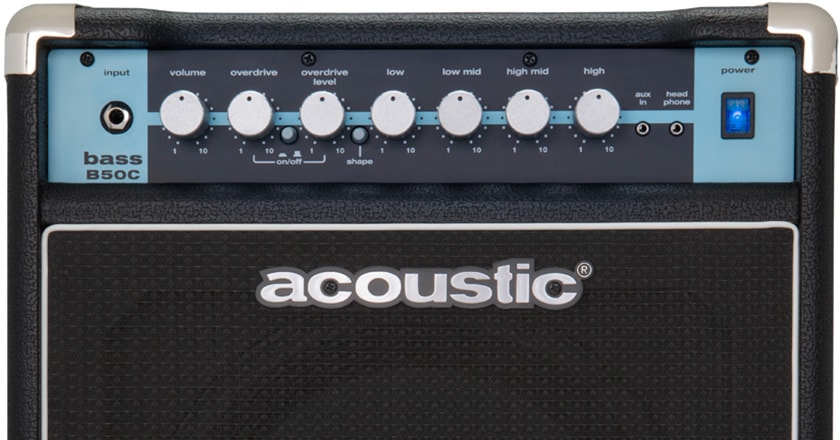 Complete Tone Control
With a complement of EQ controls, the B50C gives you plenty of room to dial in your specific tone. A 4-band EQ allows for boosting or cutting low, low-mid, high-mid and high frequencies and the "Shape" voicing control switch gives you quick mid-range tonal shaping for even more variation. This can enhance slapping/popping playing techniques.
The B50C overdrive circuit provides an effect expanding, powerful sound for increased tonal variety, and its blend control allows for custom drive sculpting that covers a wide range of musical genres.
Plug your headphones into the 1/8" headphone output and the B50C automatically mutes the 10" speaker for private practice. Use the 1/8" Auxiliary input for your external sound sources like your MP3 player for playing along or practicing with your favorite music.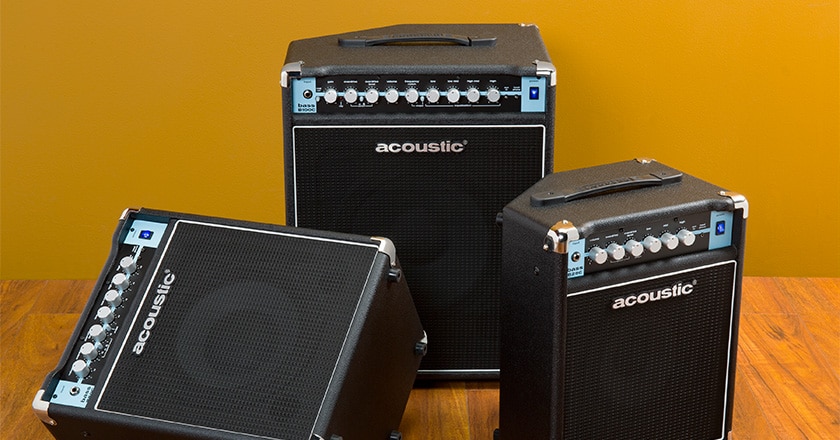 A Family of Great Tone
Acoustic bass combos offer pro-quality tone in a range of sizes for players of all walks. From the practice-minded B25C 25W 1x8", to the all-arounder B50C 1x10" with 50 watts shown here, up to the stage-ready B100C 1x12" at 100 watts, these versatile amps deliver the tone bass players love at an unbelievable value. Choose the one that's right for you.
Features
50 watts of power
10" Custom ferrite speaker for classic Acoustic tone
Tilt-back cabinet design ensures superior monitoring
Adjustable Overdrive Circuit with Blend control
4-band EQ for precise tone control
1/8" Headphone out allows for private practice
1/8" AUX input for external music devices