Epiphone Kirk Hammett 1979 Flying V Electric Guitar Purple Metallic
(0)
|
Q&A
|
Item #:

1500000404875
POS #:119277812
$28/mo.‡ with 48 months financing* + $64 back in Rewards**
Learn More
Lease-To-Own Purchase Options
Learn more
Open Box starting at

$1,039.20
Save on orders $499+ and get advice on guitars from a Gear Adviser
Need Help?
Kirk Hammett 1979 Flying V

Description
The Epiphone Kirk Hammett 1979 Flying V pays tribute to one of the most important guitars in heavy metal history. Establishing the tonal precedent that he's carried throughout his career, Hammett's original Gibson Flying V was used on seminal Metallica albums from 1983 on, including Kill 'Em All, Ride the Lightning and Master of Puppets. The iconic instrument inspired countless lead lines and riffs from Metallica's most influential era and has been a fan favorite in his rotating "guitarsenal" over the decades. The Epiphone Kirk Hammett 1979 Flying V offers players everywhere the opportunity to experience a legendary instrument, made famous by one of metal's greatest heavyweights.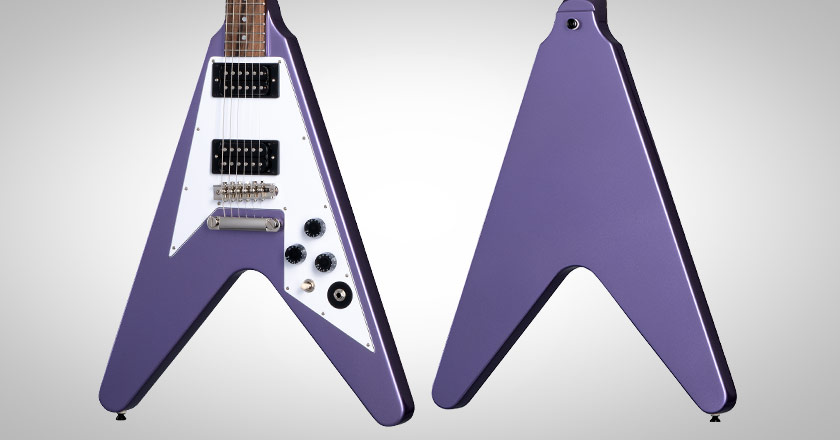 Retro-futuristic Styling
The purple metallic Epiphone Kirk Hammett Flying V electric guitar proudly embraces a bold outline that has become representative of heavier genres due to its "aggressive" appearance. Gibson initially unveiled the Flying V shape in 1958, many years prior to metal's emergence. Too radical for its time, fewer than 100 guitars were built during its initial run, though it would later catch on in the '60s with players such as Dave Davies, Albert King and even Jimi Hendrix. The Epiphone Kirk Hammett 1979 V captures a historical snapshot that players can engage with today—the late '70s were a time of experimentation and one-off embellishment at Gibson, making Hammett's original 1979 Flying V a truly unique guitar. V-style instruments may have their roots in the past, but it's an enduringly intrepid shape made ageless by daring guitarists throughout history.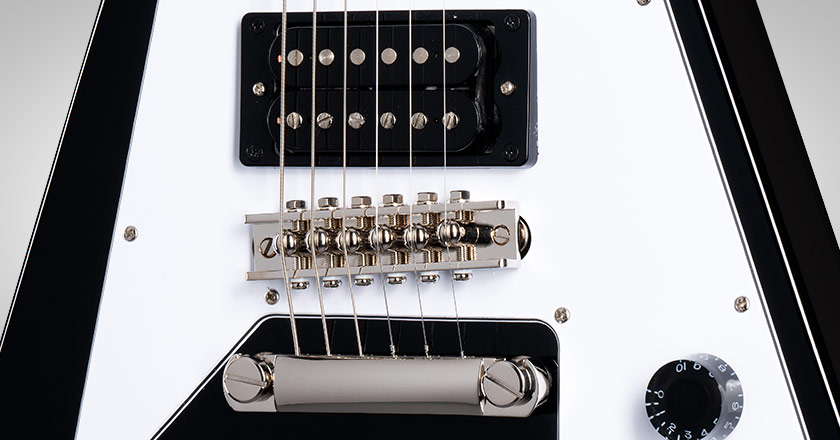 Gibson USA Pickups
Keeping in line with a genre-defining instrument, Kirk Hammett's Epiphone 1979 Flying V contains a pair of Gibson USA Calibrated T-Type humbuckers—a nod to the popular T-Tops produced between 1966 and 1979, and the same style that would've been found in a late '70s Gibson off the shelf. These pickups achieve the growling, biting, oft-imitated tone heard on Metallica's most celebrated material. Definition under high gain, cutting attack during solos or lead licks, and guttural palm mutes are the foundation of the T-Type humbucker on which Kirk Hammett built a signature sound. Vintage-voiced T-Type pickups retain much of the modesty and versatility you'd expect from an older humbucker, but they have plenty of output for hard rock and metal—as demonstrated by Kirk Hammett.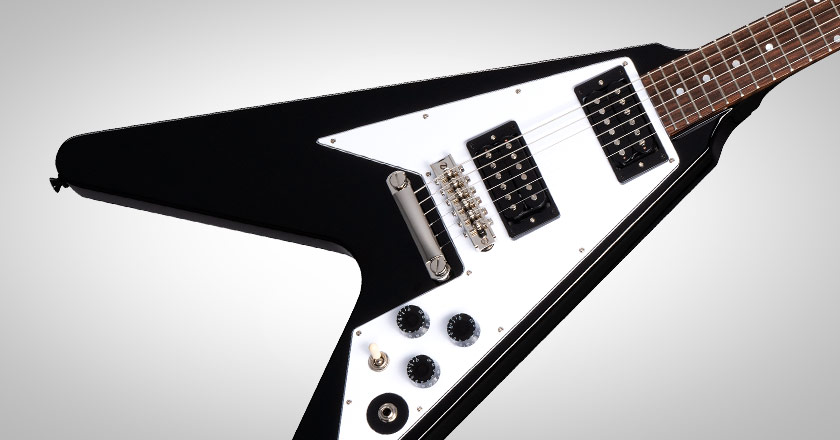 Superior Hardware and Components
An electric guitar is more than just the sum of its parts, and the Epiphone Kirk Hammett 1979 Flying V is imbued with much of the intangible "mojo" that makes the original so special. That said, being fitted with prime hardware and components from the factory doesn't hurt either. Kirk Hammett's Epiphone V comes loaded with CTS potentiometers, an Orange Drop capacitor, a Switchcraft pickup toggle and output jack, and Grover Rotomatic tuning machines with spade buttons. Each of these carefully selected pieces contributes to the outstanding quality of the Epiphone Kirk Hammett V, making it sound and play legendary in its own right.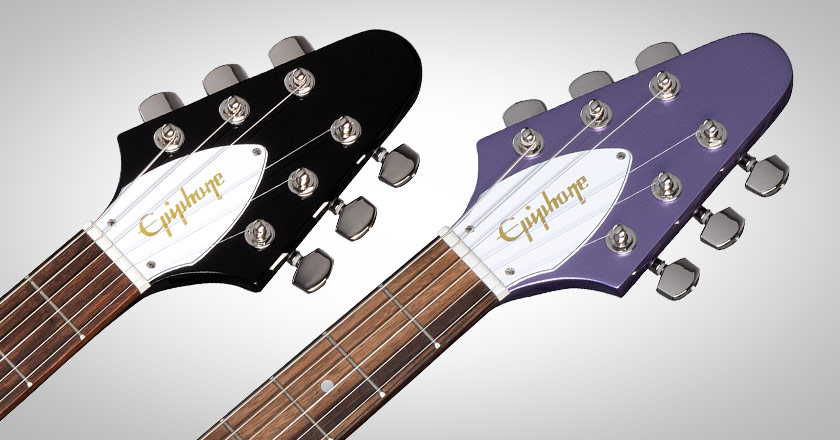 '70s-style Neck and Headstock
The Epiphone 1979 Flying V features a one-piece mahogany neck with an Indian laurel fingerboard. Consistent with Gibson electric guitars from the era, it has a rounded C-shape profile that's equally comfortable for riffing or soloing. The neck also incorporates a volute at the headstock, reinforcing the guitar at its weakest point and protecting it from accidental falls or tip-overs. Kirk Hammett's Epiphone Flying V sports the softer, rounder headstock shape of later iterations for a distinctively '70s aesthetic, and it's angled at 17 degrees to put extra pressure on the nut for increased sustain. A Kirk Hammett logo adorns the back of the headstock as an homage to the meticulous recreation of the owner's prized original.
Fight fire with fire and blaze through scorching riffs on an Epiphone Kirk Hammett 1979 Flying V. The opportunity to write, record and perform your own classics on a guitar with some of the richest history in metal is here. With Gibson USA pickups, a smooth-playing neck and eye-catching shape, the Epiphone Kirk Hammett V seeks and destroys writer's block, and inspires play. Stop by your local Guitar Center and add a new workhorse to your stable with the Epiphone Kirk Hammett 1979 Flying V.
Features
Mahogany body
Rounded C one-piece mahogany neck with Volute, Indian laurel fingerboard
Custom bridge, LockTone Stopbar tailpiece, Grover Rotomatic tuners with spade button
Gibson USA Calibrated T-Type pickups
Specs
Body type: Flying V
Body wood: Mahogany
Neck
Neck shape: Rounded C with Volute
Neck wood: One-piece Mahogany
Scale length: 24.75"
Fingerboard
Material: Indian Laurel
Number of frets: 22
Inlays: Mother of Pearl Dot
Nut width/material: 1.69"/Graph Tech
Electronics
Neck: Gibson USA Calibrated T-Type
Bridge: Gibson USA Calibrated T-Type
Control layout: 2 Volume, Master Tone, CTS Potentiometers, Orange Drop Capacitor
Pickup switch: 3-way
Hardware
Bridge design: Custom
Tailpiece: LockTone Stopbar
Tuning machines: Grover Rotomatic With Spade Button
Color: Nickel
Other
Number of strings: 6-string
Case: Hardshell Case
Orientation: Right-Handed