Yamaha MONTAGE M8x 88-Key Synthesizer With Polyphonic Aftertouch
(1)
|
Q&A
|
Item #:

1500000408123
POS #:119303782
6-month special financing^ + $224 back in Rewards**
Learn More
Save on orders $499+ and get advice on keys from a Gear Adviser
Need Help?
Yamaha Montage M Synthesizer/Workstation | Demo and Overview with Nicholas Semrad
Nicholas Semrad Performs "Un" with Yamaha Montage M8x M Series Synthesizer/Workstation
Yamaha Montage M Introduction
Yamaha | MONTAGE M8x Artist Profile | Matt Johnson

Description
The Yamaha MONTAGE synth workstation was conceived as Yamaha's flagship keyboard for synthesis and production. The MONTAGE M Series workstations might as well have been named the MONTAGE M(ore) Series, with more polyphony, more synthesis engines, more memory, more sounds, more control and more creative fun. Plus, expanded integration with virtual instrument plug-ins and a streamlined workflow, it's easier than ever to get the music that's in your head out into the world.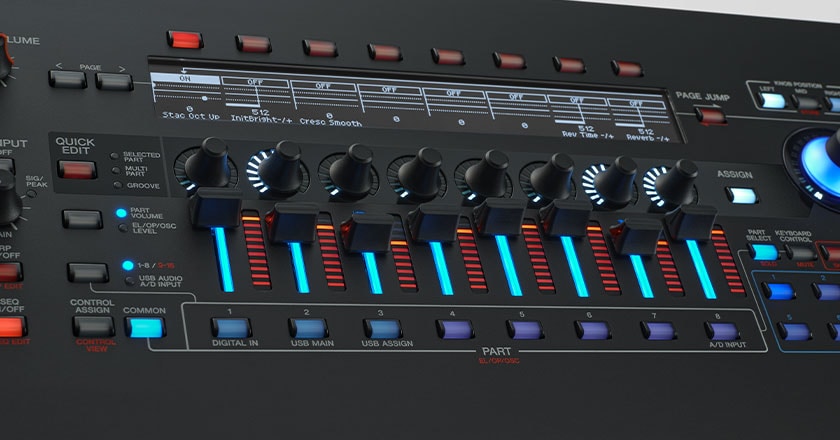 Expanded Sonic Capability
The MONTAGE M combines three different sound sources for a total of 400-note polyphony. First, the FM-X provides 128-note polyphony of FM synthesis from an eight-operator FM engine with 88 available algorithms and incredibly fast Smart Morphs for a wide range of dynamic, deeply controllable sounds. The AWM wave-based synthesis engine has doubled its polyphony from earlier versions to 256 notes, with 128 available elements and 10GB of preset waveforms. It also has almost 4GB of flash memory to load your own waveforms. Finally, the addition of an analog engine—AN-X—brings an additional 16 voices of polyphony and provides classic synthesis tools to build sounds ranging from fat, classic, analog warmth to crafting your own, never-before-heard sonic madness.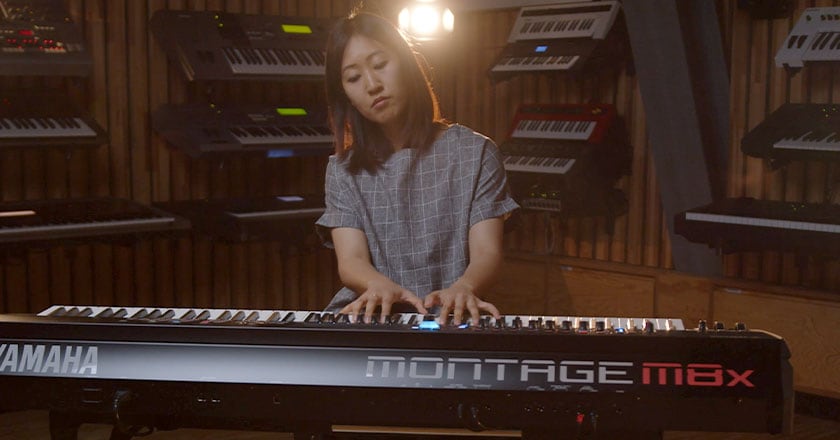 Expressive Control for Creation and Performance
The original Yamaha MONTAGE offered up powerful control options. The Yamaha MONTAGE M series expands on that with even more access to control for both sound creation and performance. With an updated ribbon, dedicated portamento control and a hold button, plus the ability for on-the-fly customization directly from the keyboard, without needing to access any menus, you have much more ability to create and control on the fly. Plus, with the addition of polyphonic aftertouch to the MONTAGE M8x's weighted-action 88-key keybed, you have access to the expression control that's the holy grail for many synth geeks.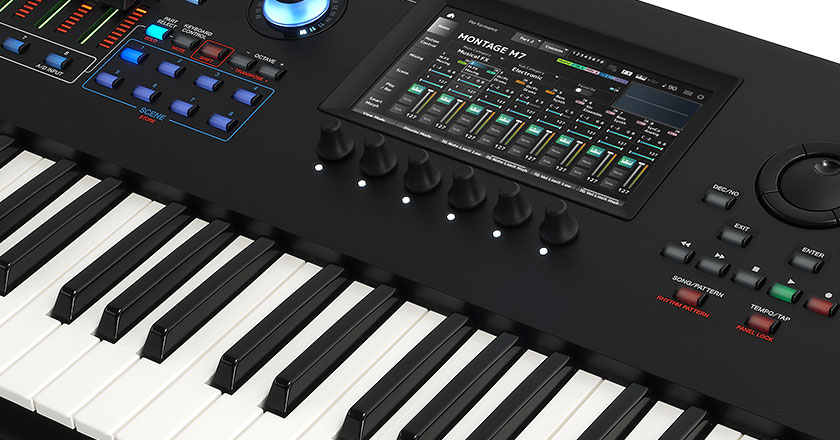 Refined, Streamlined Workflow
The revamped UI in the Yamaha MONTAGE M series is like a GPS for synth programming. For example, the new Display Knobs make for much faster operation and edits. Dual screens make it easy to keep track of what you're editing and what state it's in, helping streamline the process. Add in faster screen response, easy-to-use touchscreen and almost instantaneous Smart Morphs, and you're where you need to be faster than ever before.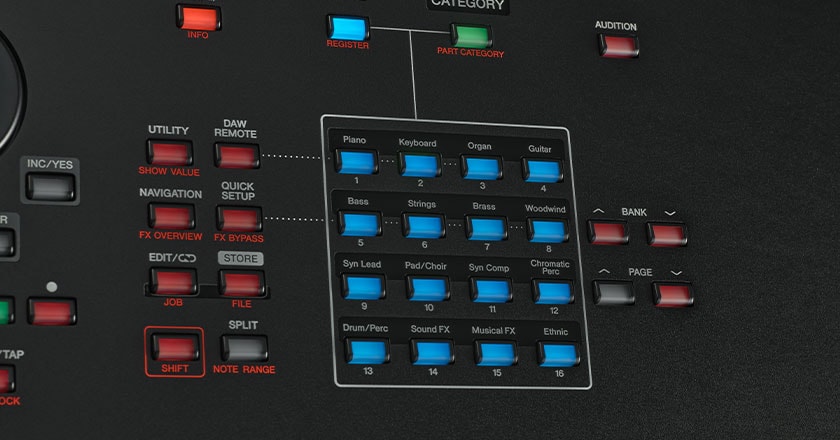 Easy Sync With Your DAW
Included with every MONTAGE M is the Expanded Softsynth Plug-In (ESP) that's like having a MONTAGE M living in your computer. You can run multiple instances of the plug-in for incredible, rich textures. And the ability to sync MONTAGE Performances back and forth begins to erase the line between studio and stage, giving you access to your most creative moments, wherever you are.
Yamaha has always been at the forefront of synth development, and MONTAGE M provides capacities and workflow that push that envelope just a little bit further. It's time to step up to a new paradigm in production workstation.
Features
AN-X models analog synthesizer sound and behavior
128 Elements AWM2 architecture delivers more articulations, dynamics and high-definition sound
9.97GB Wave ROM Preset Memory
3.8GB Flash ROM User Memory
400 note polyphony (AWM2 Preset: 128, AWM2 User :128, FM-X: 128 & AN-X: 16) for modern music production
16 Library slots for thousands of custom user Performances and waveforms
GEX weighted action delivers remarkable piano-like expressiveness
Polyphonic aftertouch allows precise control of each held note