Description
The Universal Audio Apollo x16 Heritage Edition is the flagship converter in UA's x Series. It connects easily to studio consoles, offering UA's world-class A/D and D/A conversion. It's the perfect solution for commercial studios that rely on outboard gear.
In addition to all the benefits of the x16 interface, the special Heritage Edition adds a diverse package of premium UAD plug-ins at an unprecedented value—they could total over $2,400 if purchased separately.
The UA x16 is an 18x20 Thunderbolt 3 converter with wide dynamic range and low signal to noise ratio. It features 16x16 analog I/O to connect your console via DB-25 and has a +24 / +20 dBu switch to dial in the perfect headroom settings.
With HEXA Core processing, the x16 extends the limits of your plug-in processing. It features a built-in talkback mic and 7.1 surround sound monitoring. It has the tone, feel and real-time workflow of classic analog gear and will boost your recording workflow.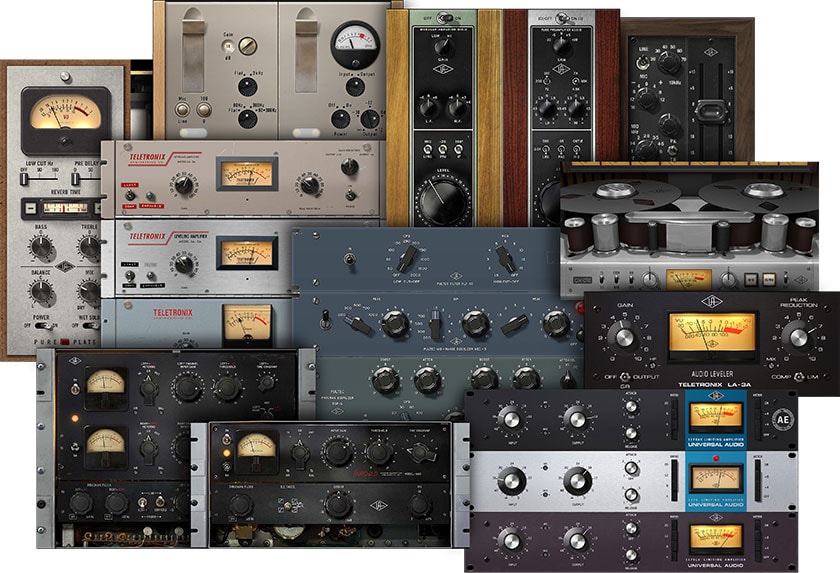 Premium UAD Plug-Ins—Over $2,400 Value
The Apollo x16 Heritage Edition comes with 10 premium award-winning plug-in titles valued at over $2,400—including the full suite of UA's Teletronix, 1176 and Fairchild compressors, Helios Type 69, V76 and UA 610 mic preamps, all Pultec EQs, Oxide Tape Recorder and Pure Plate Reverb. These premium Heritage Edition titles are in addition to the Apollo x16's included Realtime Analog Classics Plus bundle, giving you the most accurate library of classic analog emulations included with any professional audio interface. A hallmark feature of Apollo is its Realtime UAD Processing, letting you run the full library of UAD plug-ins at near-zero latency.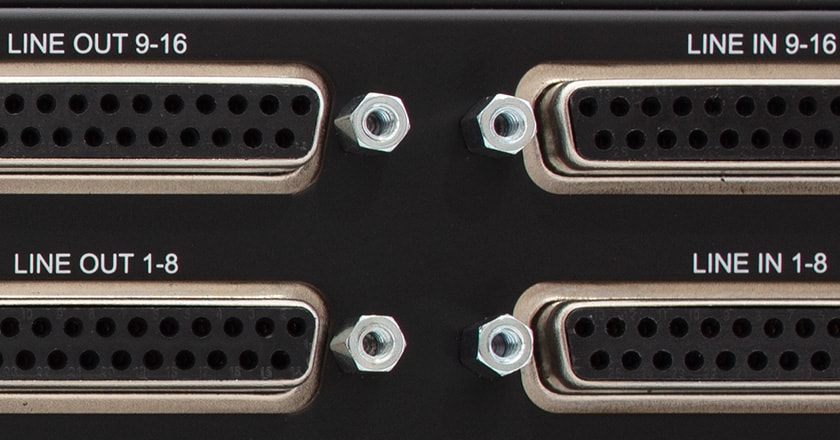 Elite Audio Conversion and Enhanced Stereo Image
The x16 improves on the previous Apollo interfaces by pairing elite 24-bit/192kHz converters with analog circuitry. This results in a pristine signal path.
UA x16 has 133dB of dynamic range and -129dB of total harmonic distortion. Its natural sounding audio rivals any high-end converter on the market. It also has Dual-Crystal clocking for a stunningly low jitter. That means pure recordings and excellent stereo imaging.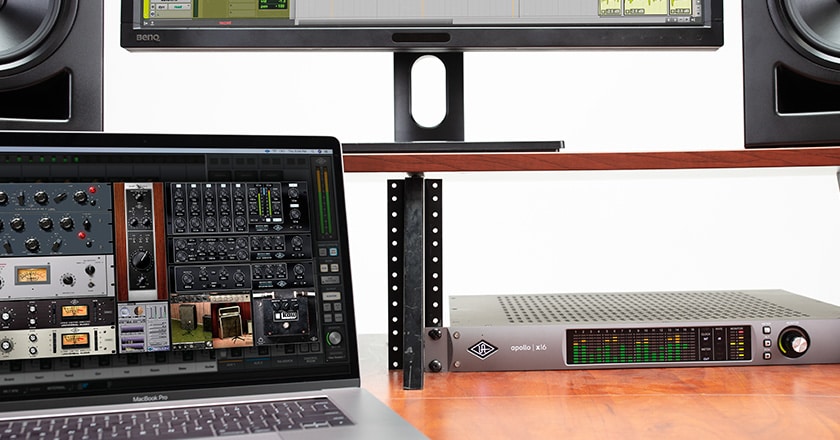 Improved HEXA Processing With SHARC DSP Chips
With HEXA Core, the Apollo x16 has six SHARC DSP chips. This provides 50% more UAD plug-in processing power than previous Apollo audio interfaces. Apollo x16's HEXA Core Processor gives you more creative freedom in your recording and mixing sessions. With the UAD plugins, your mixes will take a giant tonal leap.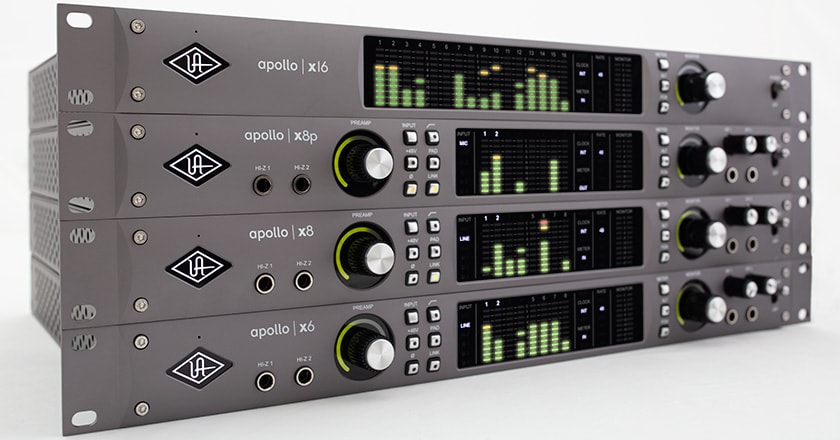 The Speed of Thunderbolt 3 With Cascading Connectivity
Like all of the Apollo x interfaces, the x16 looks sleek and modern. It has front panel controls, monitoring functions and a backlit metering display. It boasts two Thunderbolt 3 inputs for blazing-fast speed and low latency. The two inputs also allow you to link up to four Apollos together to add more I/O and DSP.
 
Get Legendary UA Sound Natively With UAD Spark

Apollo Heritage Editions include plug-ins featured in UAD Spark, UA's subscription plug-in collection that runs natively on Mac, with no UA hardware required. With UAD Spark, you can expand your plug-in processing power, balancing your DSP load between Apollo and your computer's onboard processing.


Features
A special edition of UA's acclaimed Apollo x16 interface—with a premium suite of 10 award-winning plug-in titles from Helios, Fairchild, Teletronix, Pultec, UA and more—a $2,400 value
18 x 20 Thunderbolt 3 audio interface with class-leading 24-bit/192 kHz conversion
Realtime UAD HEXA Core Processing for tracking through UAD plug-ins at near-zero latency, regardless of audio buffer size
LUNA Recording System—a fully-integrated recording application made for Apollo (Mac only)
Compatible with Logic Pro, Pro Tools, Cubase, Ableton Live and more
Surround monitor controller up to 7.1 format
UAD HEXA Core processing onboard for additional mixing horsepower for Pro Tools, Logic, Cubase, Ableton and other major DAWs
Combine up to 4 Thunderbolt-equipped Apollos and 6 total UAD devices; backward-compatible with Thunderbolt 1 and 2 Macs via optional adapter
Selectable +24 dBu operation for easy compatibility with professional mixing consoles and tape machines
Uncompromising UA analog design, superior components, and premium build quality
Free, industry-leading technical support—on the phone and online—from knowledgeable audio engineers
Included in Apollo Heritage Edition Bundle
UA 1176 Classic Limiter Collection
Teletronix LA-2A Classic Leveler Collection
Pultec Passive EQ Collection
Fairchild Tube Limiter Collection
Teletronix LA-3A Audio Leveler
UA 610 Tube Preamp & EQ Collection
Helios Type 69 Preamp & EQ Collection
V76 Preamplifier
Oxide Tape Recorder
Pure Plate Reverb
Included in the Realtime Analog Classics Plus Bundle UA 610-B
UA 1176LN Legacy
UA 1176SE Legacy
Ampeg SVT-VR Classic
Fairchild 670 Legacy
Marshall Plexi Classic
Precision Channel Strip (Precision Mix Rack Collection)
Precision Reflection Engine (Precision Mix Rack Collection)
Precision Delay Mod (Precision Mix Rack Collection)
Precision Delay Mod L (Precision Mix Rack Collection)
Precision Enhancer Hz
Pultec EQP-1A Legacy
Pultec-Pro Legacy
Teletronix LA-2A Legacy
Raw Distortion
RealVerb Pro
Specifications
System Requirements
Thunderbolt 3 cable (not included)
Internet connection to download software and authorize UAD plug-ins
6 gigabytes available storage
Quad Core i7 or better processor recommended
For additional compatibility information, visit UA's website
Mac
Available Thunderbolt 1, 2, or 3 port
Thunderbolt 1 and 2 connections require an Apple Thunderbolt 3 to Thunderbolt 2 Adapter (not included)
macOS 10.12 Sierra, 10.13 High Sierra, 10.14 Mojave, or 10.15 Catalina
PC
Available Thunderbolt 3 port
Windows 10 (64-Bit Edition)
Warranty
One year parts and labor warranty on all U.A. products and Kind of Loud products.