Description
Defend the galaxy, unleash exhilarating grooves and keep the crowds rocking with the super-heroic PDP The Aquabats Action Drums. Wielded by The Aquabats drummer Ricky Fitness, this Lil' Bat-sized kit is small enough that it won't trip up his power of super speed, and its expansive sounds ensure he's not defenseless in a clash with Cobra Man or other galactic villains.

Likewise, hobbyists can traverse The Aquabats Action Drums with ease, while gigging professionals will harness the kit's portability and small stage footprint to reduce transportation and setup hassles. Whether you're trying to get your chops together in your own superhero fortress or entertaining a Ska Robot Army, Action Drums will supply the inspiration you need to join The Aquabats' quest to destroy boredom and save the world with music.
Super Rad Design
A striking "The Aquabats blue" finish and images of the band's mascot, Lil' Bat, ensure all eyes will be on the drums. Even those unaware of The Aquabats mythology as a crime-fighting rock band, their six studio albums or The Aquabats! Super Show! action-comedy series will find the bold, animated design of the Action Drums a fun and eye-catching statement for home-recording and practice sessions, rehearsals and live performances. The legend is true. Embrace it.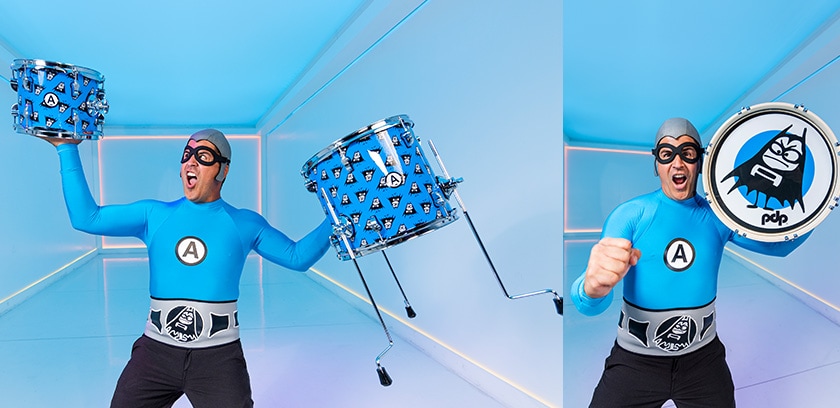 No BattleTram Needed for Transport
While the BattleTram—the custom RV that serves as The Aquabats' mobile basecamp—is impossibly larger on the inside than it is on the outside, drummers won't need such an expansive vehicle to cart the Action Drums to gigs or jam sessions. Featuring a 16x14" kick drum, a 10x8" rack tom, a 13x12" floor tom and a 14x5" snare, the downsized kit can be piled into a Mini Cooper or a Mazda MX-5 Miata sports car. Even adding drum cases, cymbals and hardware (not included with the kit), the Action Drums are one of the most effortless acoustic drum sets to take with you anywhere. You may be moved to sing The Aquabats' song "The Story of Nothing" as you load in and load out, because this kit is so lightweight and travel friendly.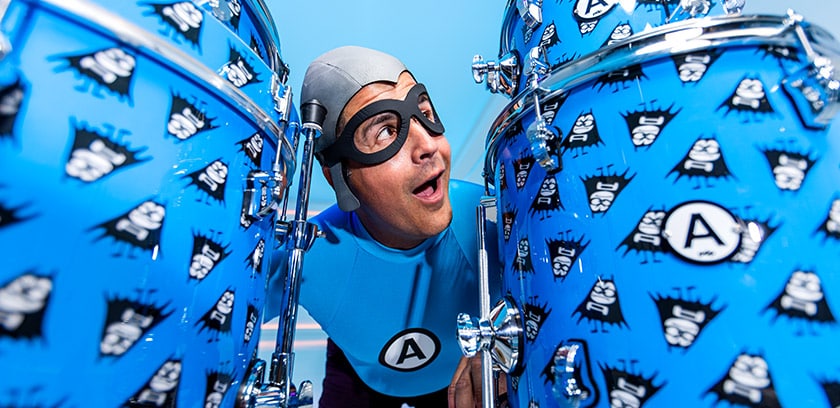 ManAnt Dimensions, SuperMagic PowerMan Features
Given its size, the Action Drums could be mistakenly deemed solely as a junior kit for practicing at home. It's not. Action Drums are built for, well, action, and they are powerful. The all-poplar drum shells produce fat, low-end warmth with restrained yet clear mids and highs. Poplar delivers an articulate and coherent attack, well-balanced sustain and a smooth frequency response no matter how hard you hit the drums—a way-sweet benefit when you're bashing it out on stage. Other high-end features include True-Pitch tension rods (an increased thread count makes tuning more accurate), telescoping spurs (for solid and assured placement of the kick drum), and teardrop mini-turret lugs (the low mass keeps the kit lightweight and nimble). The Action Drums are like a "Karate Body!" (to quote The Aquabats song) that can vanquish any monstrous villain and deliver mammoth grooves.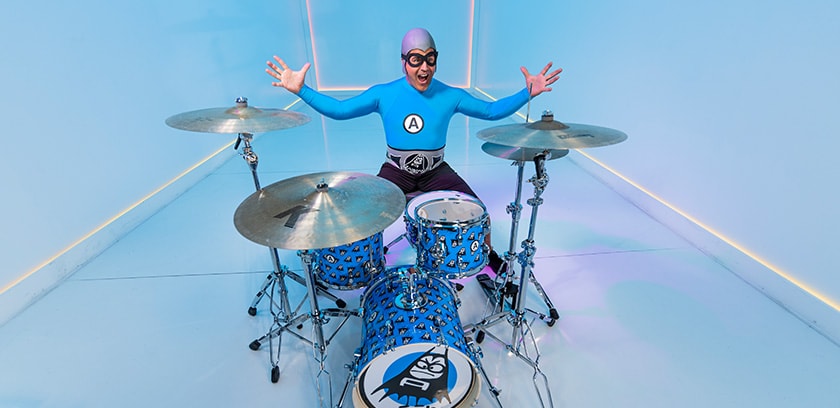 Showtime!
The PDP The Aquabats Action Drums is a great-looking, portable and awesome-sounding acoustic kit that mirrors the band's BattleTram—it's small on the outside, but mighty within. Like The Aquabats, this kit is ready for action—hence its name—and built for victory. Use it to astound audiences, power up your chops, create extraordinary drum parts and drive a band into a benevolent bombardment of musical fury that, as an honorary Aquabat, makes your rhythmic stylings a force for good. "Aquabats, let's go!"
WARNING: Cancer and Reproductive Harm www.P65Warnings.ca.gov.