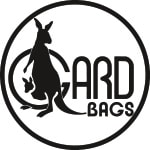 Description
The Gard 10-MLK Triple Trumpet Bag is made of high-quality buffalo leather and has padded dividers to hold three flugel-sized horns. A generous zippered side pocket lets you also carry music and accessories. Other features include a removable shoulder strap, double zipper opening with a Velcro lid top, and brass bottom feet.

Mid-bag suspension system
In ordinary bags, the music instrument rests on the bottom of the bag. If dropped, the protruding parts are likely to be dented.

In the mid-bag suspension system, the instrument is suspended in mid air inside the Gard Gig Bag, allowing the instrument to only have contact with the inside of the gig bag. The bell is fixed on the front with a foam cone.

With the mid-bag suspension system gig bag, 9 out of 10 times the instrument will survive a drop or an impact unscathed.

Features
Gard Bag's unique Mid Bag Suspension System
Bell area protected by a wooden disc padded with dense foam
Padding made up of dense, thick, and impact-resistant foam
Zipper guard provides all-round protection
Heavy-duty electroplated brass hardware
Heavy-duty zippers
All weight-bearing joints are riveted as well as stitched
Specifications
Interior dimensions: 21.25"L x 11"H x 9.5"D