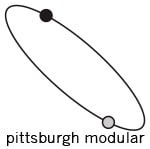 Description
The Structure EP-420 Eurorack case offers 420hp of space split into three rows, paired with a combined 17 amps of clean, quiet power.
The EP-420 Enclosure features hand-stained hardwood and aluminum construction, edge to edge rails that reduce gaps between modules and the side of the case. It has 30 smooth-sliding square nuts per rail. Modules always fit perfectly (holds up to 90 modules). Your order will include 180 Black (Size 4-40 1/4") module mounting screws.
Power
6 Amps of Clean, Filtered +12v Power
6 Amps of Clean, Filtered -12v Power
5 Amps of Clean, Filtered +5v Power
60 Keyed Eurorack Power Headers
External Power Switch with LED
Fused Power Protection
Universal IEC Power Connector
Discrete EMI filter per power rail (+12v, +5v, -12v)
Low Output Ripple & Noise
UL & CE Approved, RoHS Compliant
Over Load and Short Circuit Protection
Line Regulation (Full Load): ≤0.5%
Output Overload Protection: 10%-150% Hiccup Mode with Auto-Recovery
Features
External Depth at Top: 3.5 in.
External Depth at Base: 9 in.
External Height: 18 in.
External Width: 29 in.
Minimum Internal Depth for Modules: 3 3/8 in.
Maximum Internal Depth for Modules: 6 in.
Empty Weight: 20 lb.