Line 6 Catalyst 100 1x12 100W Guitar Combo Amplifier
(5)
|
Q&A
|
Item #:

1500000366087
POS #:117703793
6-month special financing* + $39 back in Rewards
Learn More
Lease-To-Own Purchase Options
Learn More
Get amp and effects pedal help from an expert like Duane
Need Help?
Line 6 Catalyst 100 Watt Guitar Combo Amplifier Demo with Liv Slingerland
Catalyst Overview
Advanced Features
Chime Demo

Description
Many players want the versatility of a modern DSP-based amp while keeping the simplicity of traditional controls. The Line 6 Catalyst 100 brings those desires together in a 100-watt, dual-channel, 1x12 combo. The Catalyst 100 is ideal for everything from the practice room to medium-sized venues, as well as shining in the studio. Combining traditional controls with six original amps designed with their industry-leading HX system, Line 6 delivers the amp guitarists have been dreaming of.
Original Amp Designs
For the Catalyst series, Line 6 has created a half-dozen amp designs from scratch. These amps are carefully crafted using their renowned HX sound design system to create original tonal palettes, shaped by the influence of a bevy of modern and classic amplifiers, but still speaking with their own unique voices. From pristine cleans to massive high-gain roar, these exceptional tones deliver the feel and vibe players have always wanted to master and make their own. Each of the six amp types includes a Boost circuit that is customized individually to make the most of each distinct amp voice. Best of all, thanks to the built-in Power Damping feature, every Catalyst can be run at full-power, half-power or at just a half-watt, so you can always tailor the volume to the venue, without ever having to sacrifice tone.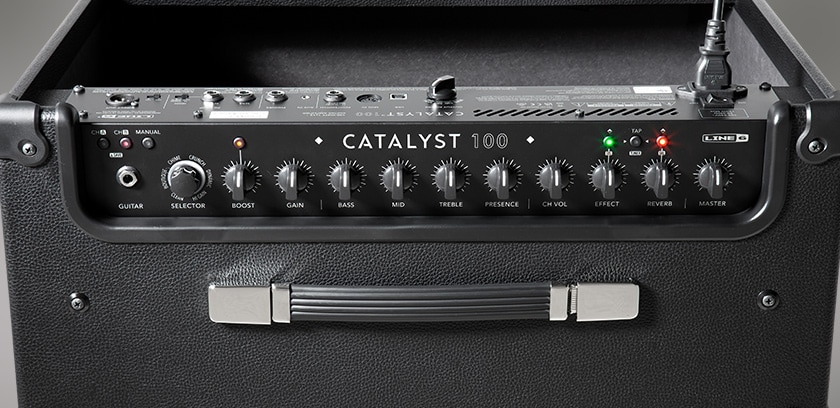 Versatile Effects Selection
With six types each of reverb, delay, modulation and pitch/filter effects, it's easy to set up powerful signal chains in the Line 6 Catalyst 100, whether the target is vintage vibe or modern ambience. The onboard effects are easily controlled directly from the amp's top panel, or you can dig in even deeper with the free Catalyst Edit app for your desktop or mobile devices. If you want more than the internal effects, the built-in effects loop makes it easy to integrate any external pedals, whether individual or a multi-effects unit like Line 6's HX Stomp. The loop can also be used as a direct power amp input for use with a multi-effects unit like the Helix or to turn the Catalyst into a powered extension cab.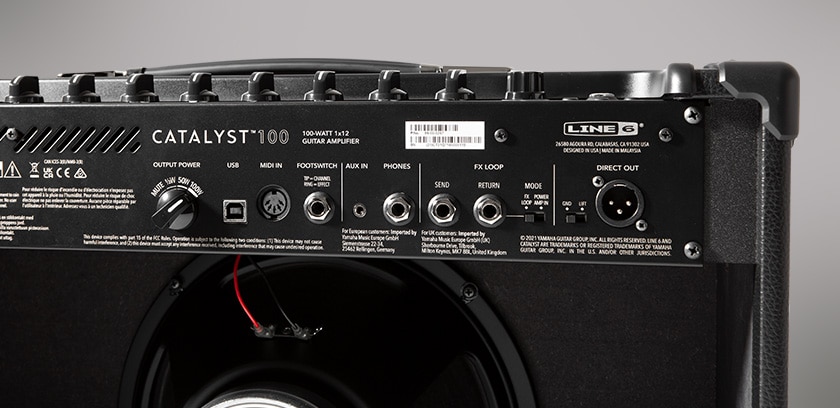 Recording Simplified
The Line 6 Catalyst 100 is as useful in the studio as it is onstage. When connected to your computer by USB, your Catalyst functions as a two-channel audio interface, funneling its outstanding amp and effect tones directly into your DAW. No more microphones, attenuators or angry neighbors, just great recorded guitar tones.
A Great Choice for Any Guitarist
Players in the market for a compact, lightweight amp that can cover a wide range of playing situations, from practice to small venue gigs, will find the Line 6 Catalyst 100 an excellent choice. With a great balance of features and power, this go-anywhere amp keeps you playing, no matter what your style or genre.
Features
Six original amp designs, from pristine clean to modern high-gain
Dedicated Boost and Reverb sections (6 reverb types), 18 Effects (3 types)
Power attenuator (half power, 0.5 watts, Mute) for reduced volume
XLR line output for pro connection to PA or recording devices
Effects loop and Power Amp input for integrating external devices
MIDI In via DIN connector
4-channel audio interface and Mac/iOS/PC/Android connectivity via USB