Laney GS412VR 240W 4x12 Guitar Speaker Cab Black and Red
Laney GS412VR 240W 4x12 Guitar Speaker Cab Black and Red
Q&A
|
Item #:

1500000211877
POS #:114260284
6-month special financing^ + $62 back in Rewards**
Learn More
Lease-To-Own Purchase Options
Learn more
Order it today! This item is backordered, but you can save your place now so you don't miss it when it's back in stock. You won't be charged until it ships.
Notify me when this item is in stock.
Save on orders $199+ and get advice on amps and effects from a Gear Adviser
Need Help?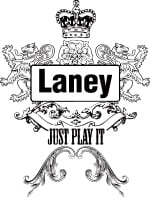 Description
The Laney GS412VR 4x12" cab is loaded with a quartet of legendary Vintage 30 speakers, together rated at 240W. It operates at 4 or 16 ohm mono, or 2x8 ohm stereo. The angled baffle provides added projection. And the castors, cups and side-mounted handles make for easy transportation between gigs or practice.

Specs
Power handling: 240W
Speakers: 4x12" Celestion Vintage 30
Impedance: 4, 16 ohm (mono); 2x8 ohm stereo
Angled baffle
Side-mounted handles
Castors included
Included embroidered slip cover
Dimensions: 32.67" x 29.92" x 14.17" (830mm (castors included) x 760mm x 360mm)
Weight: 93.96 lb. (42.5 kg)
Be the first to know about exclusive offers, tips and more.
Thank you for signing up!
Connect With Us
Choose Country
United States