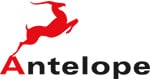 Description
Amari is a hi-end 384 kHz PCM/DSD256 AD/DA Converter. Its majestic sound will suit mixing engineers, mastering gurus and the most dedicated audiophiles. The beautifully designed desktop unit is equipped with a slick touchscreen display. Amari offers one pair of analog outs (either on XLR or TRS connectors), one pair of analog inputs (either on Combo XLR or RCA) and two high-power headphone (HP) outputs with dedicated volume control and adjustable output impedance.

Love at first listen
Amari offers the signature Antelope Audio industry acclaimed clocking and best-in-class 384 kHz conversion. The unit comes with two analog output pairs on XLR and TRS. Two analog input pairs are available on the back panel, one on RCA and one on combo XLR. In addition Amari provides digital connectivity on USB, AES/EBU, S/PDIF and TOSLINK.

Incredible headphone control
Antelope Audio have always equipped their units with multiple headphone outs. Amari brings this to the next level. Its two headphone outputs feature individual volume control. Each output allows users to Select from 17 different values of driver's output impedance including negative values in order to enhance the listening experience.

Mastering-grade conversion
Amari employs the industry renowned Antelope Audio clocking technologies and the manufacturer's vast experience in analog circuitry and conversion. The mastering-grade audio interface offers 384 kHz, 24-bit conversion.

Top clocking
The desktop interface features the Acoustically Focused Clocking (AFC) jitter management technology pioneered by Antelope Audio's fourth-generation, 64-bit clocking allows a stable and precise sampling of any incoming audio signal. Amari is also equipped with an Atomic Clock input (fully 10MX compatible) for maximum stability. An additional Word Clock input is also available.

Flexible control set
The control set of Amari is distributed between dedicated fast-access knobs and buttons for the most frequent controls, the impressive touchscreen display and intuitive software control panel. The touchscreen is used for the more advanced functions and volume levels visualization.

Design
Made of machined metal and finished in black and gold, Amari boasts the typical Antelope Audio design symmetry and sturdy build quality. It is beautiful without being distracting. It is premium, but not ostentatious. It looks equally as great in the studio as it does in your living room. The centerpiece is a slick full-color touchscreen that provides hands-on control and extensive metering. Next to it, the stepped rotary encoders and three function buttons allow for smooth and immediate control. Amari looks and feels just like it sounds – clean and precise.

Connectivity
The belief that analog and digital audio are meant to thrive together is embodied in every Antelope Audio product. Amari is no exception – its abundance of connectivity options means limitless flexibility! Two pairs of analog inputs (XLR and RCA) and outputs (XLR and TRS), two headphone amplifiers, digital ports (AES/EBU, S/PDIF, TOSLINK), Word Clock & Atomic Clock inputs offer vast integration possibilities.

Headphone Amplifiers
Amari features a pair of stereo headphone outs on ComboXLR connectors with a dedicated volume control knob. Output is capped at 1.4W max, with selectable output impedance from -4.6 to 85.3 ohm available in 17 control steps. These options let you configure Amari for perfect compatibility with your favorite headphones for ultimate performance.

Amari's high-fidelity headphone driver chip offers fully differential input (per amplifier). It is a dual-amp design, optimized to eliminate possible temperature drifts and deliver the differential signal quality each listener deserves.

In standard mode the headphone outputs use a single D/A Converter chip with two dedicated amps (one per channel) for unparalleled performance while in balanced mode (when both headphone outputs are in use) the headphone outs switch and deliver one dedicated D/A Converter chip and two amplifiers (one per channel) for each of the headphone drives (left and right) therefore eliminating any noise, increasing audio performance and delivering an expansive, full tone and more refined quality to your musics presentation.

DSD High-Resolution Audio Support
In addition to 24-bit/384 kHz PCM audio playback, Amari supports DSD64, DSD128 and DSD256 over DoP formats. Enjoy clear, present digital audio at sample rates tens of times higher than that of CDs.

Software Control Panel
Easy and intuitive to use, the Amari Control Panel gives you control over each aspect of the unit. It also places the power of a unique and flexible routing system at your fingertips.

Exemplary Performance
For the ADC, we chose a digital low-pass filter with a short delay and sharp roll-off to achieve the lowest latency and widest bandwidth possible of 0.46 x fs, with pass-band ripple of +/-0.03 dB. Since the short delay filter only works on such a small number of samples (5) at a time, we have the shortest possible delay between the input and output stages, which greatly improves throughput.

As for the internal digital high-pass filter — its cutoff frequency is set to 1 Hz in order to eliminate DC offsets and pass the cleanest audio signal possible. Amari also offers one of the lowest pass-band ripple figures (+/-0.03 dB) in the industry. The lower this figure, the more accurate sound reproduction is and the better a filter sounds.

The ADC chips selected are two AK5778 - that are well renowned both in the pro audio and in the high-end world.

Top Class Conversion
The 2-channel ADC is configured for 8-to-1 operation — that is, there are two A/D Converter chips per single analog input. This way, it achieves increased dynamic range and a significant 9dB improvement in signal-to-noise ratio (SNR). And, with a maximum sample rate of 384 kHz (apr: 2.6uS), Amari captures even the tiniest details in the audio signal with a resolution of 1.16nV.

Designed for audiophile and studio equipment, the 8x CS43198 DAC chips selected are well respected in the high-end community. They support sample rates of up to 384 kHz (PCM) and operate at the same speed and resolution as the ADC. This made it possible for our engineers to achieve bit-perfect and sample-accurate playback, with the AD-DA pass-through rendered completely transparent. The final touch, is having the power to play back DSD formats up to DSD256 (via DoP) makes for complete and versatile DA conversion.

Fully Differential Driver Topology
Amari offers fully differential (balanced) driver topology for the combo XLR inputs. The coaxial routing from the RCA connector (coax. input) to the driver, transports clean, pristine signal directly to the same differential driver as the combo XLRs. The keyword is "consistency!"

Likewise, Amari's analog output drivers are built upon of a low noise, low distortion, rail-to-rail output amplifier that boasts a 0.00006% (-124.5dB) THD (total harmonic distortion) and 3.3nV/√Hz noise. The dual-amp in a single chip package enhances the differential PCB layout and maximize its symmetrical driver topology.

Fourth-Generation 64-bit Clocking
Amari takes full advantage of the renowned Antelope Audio Acoustically Focused Clocking (AFC) jitter management technology. The fourth-generation 64-bit clocking facilitates the most precise sampling of analog signal, at sample rates of up to 384 kHz and 24-bit depth. What's more, Amari offers an Atomic Clock input (fully 10MX compatible) and a Word Clock input, allowing you to enjoy industry-leading clocking technology at its fullest potential.