Martin's Modern Deluxe Series combines traditional construction techniques with modern materials to create the perfect blend of tone, response, volume and comfort. We spoke with Fred Greene, Martin's Vice President of Product Management, to learn more about how the 000-28, D-18, D-28 and OM-28 in the Modern Deluxe series have been upgraded with features that were previously only available through Martin's Custom Shop.
Guitar Center: What lead to the creation of Martin Modern Deluxe guitars?
Fred Greene: In Martin's Custom Shop, we've been developing all these really cool features for our Custom line with materials such as titanium, liquid metal, carbon fiber and all kinds of innovations that we only offered through the Custom Shop. They were expensive and we thought they'd be hard to get into the regular line, plus availability of some of those materials was scarce.
But now, after ten years of doing it, we wanted to offer people everything that they love about a Martin guitar—all the traditional stuff you like, but with all the new technologies that we've developed through our Custom Shop. 
Our feeling was let's come up with something that's modern, that's a premium version of a D-28, like a Modern Deluxe, but that didn't look too crazy or too weird for people. They still want it to be a D-28. So we tried to grab all those features and put them into one series of guitars and give you all the tone tricks that we've learned through our Custom Shop over the last ten years. So that's what it was. That's where it all came from.
Let's start from the top, tell us about VTS.
The spruce that we use on the top of the guitar is a Sitka top, but it's treated through our VTS (Vintage Tone System). It's our way of using torrefaction (thermochemical treatment of wood at very high temperatures in a vacuum) to give a guitar that really old vintage sound. So we're combining an Adirondack brace with a VTS top. There's a traditional, old-vibe feel to the way each Modern Deluxe guitar sounds.
A 1937 Martin is the pinnacle high point that people point to from a tonal standpoint. Everything gets measured against that guitar. If you have a great Dreadnought or an OM or a Triple O, it's usually a guitar from Martin within that '30s time frame. Those are the champions. So that's our benchmark. Our goal was to try to make a guitar that sounded as good, and hopefully better, than those old guitars, but gave you all the modern reliability and function that new materials provide.
Those old guitars were temperamental because of the way they were built. That's why they sounded so great. It's like a Ferrari. It's fast as hell, but you've got to service it more often. That's what makes it fast like a race car. We're trying to give you a reliable race car in this particular case. We're supercharging your new Martin guitar.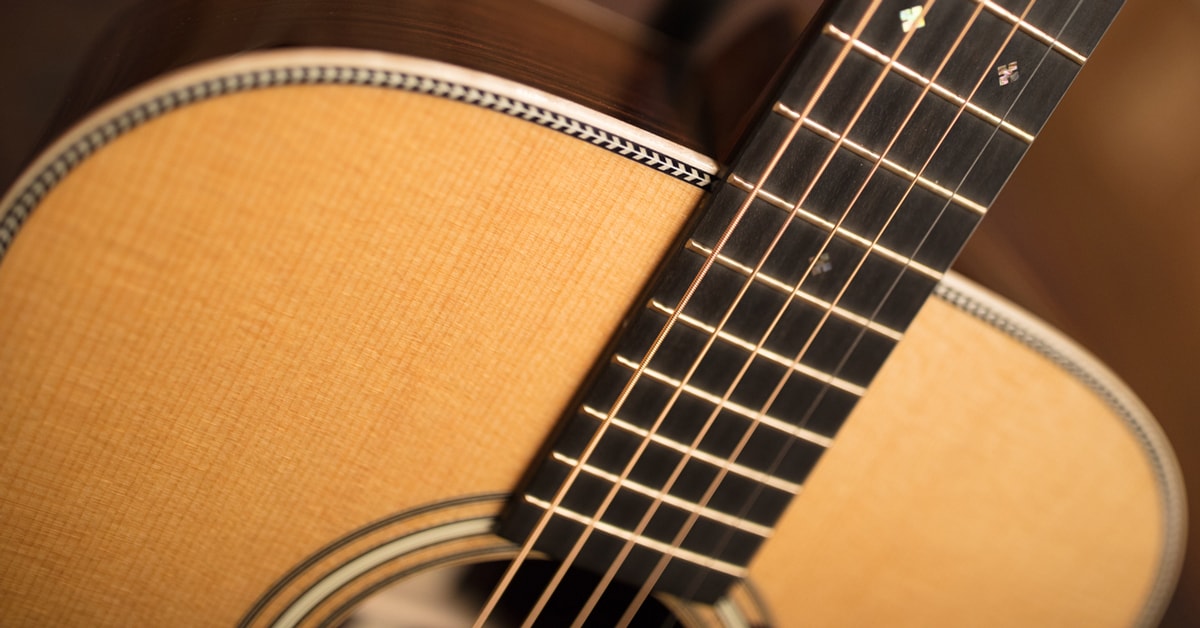 What is the benefit of Adirondack bracing?
Most guitar companies are using Sitka because it's a great middle-of-the-road spruce. Adirondack is stiffer than Sitka. Stiffness gives you more headroom and by headroom, I mean I can play harder and continue to get more volume out of the guitar.
With a guitar wood that didn't have that same amount of headroom, if I banged on it harder, it would just sputter. It wouldn't give you much. It would get floppy. So that stiffness allows you to really push it, push the instrument a lot harder from a volume standpoint. Adirondack really gives you that underneath the hood.
Retro touches include Waverly tuners, wood binding, and inlays
I'll say also on the traditional side of things that we went with Waverly tuning machines on this guitar. We weren't using Waverlys anywhere below the Authentic line. Those are very expensive American-made tuners that are a throwback to our vintage years, being an open-back tuner that's pretty cool.
Then we went with wood bindings. I won't call it traditional, yet old Martin Guitars, before plastics were invented, had wood bindings. We didn't offer wood binding anywhere in the line. But wood bindings can be seen to add a nouveau, modern look to the guitar by today's standards, even though it's really not modern.
Do these acoustics have any particular inlays?
The inlays are on the traditional side. The one thing that is different is the logo on the headstock. It's actually a vintage logo that was a decal back in the old days, but we decided to take that old logo and do it in Avalon Pearl. We thought it was a good blend of a deluxe feel to a very vintage feature. It looks really good up there. Really catches your eye when you walk by.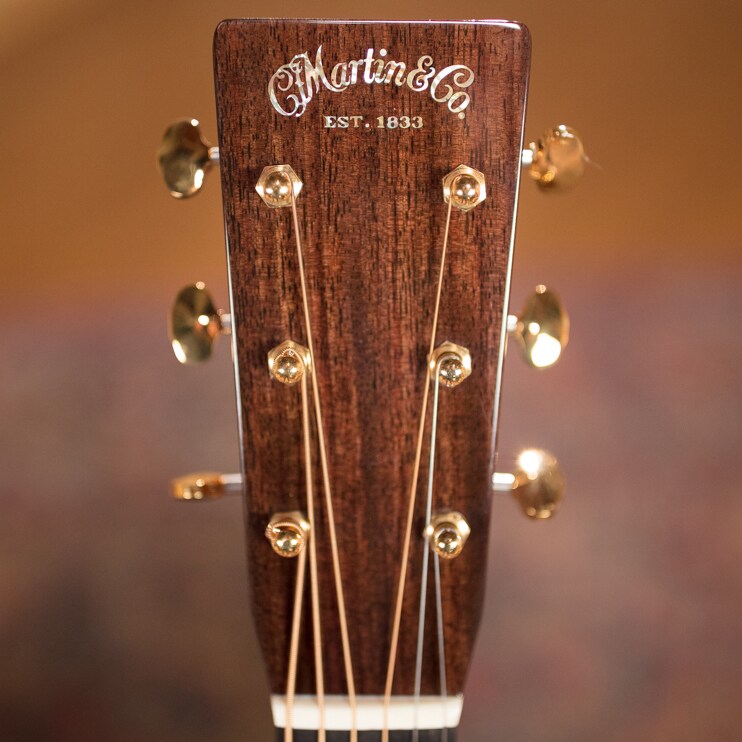 What's special about the neck shape on Modern Deluxe series guitars?
The neck shape is based on an old OM-45 Deluxe that we had in-house. We were using it to spec out an Authentic. I think it was a 1931 OM-45. We were all playing that vintage guitar in the office and were going like, man, why does this feel so good? This neck really feels awesome. So we started measuring the neck and surprisingly, because it was a handmade neck back in the '30s, the neck was a little bit asymmetrical. It wasn't perfectly symmetrical all the way down because somebody hand-carved it.
That little asymmetrical vibe that it had to the profile, something about it just really worked. It just felt so good in your hand. I think it's one of those deals where somebody probably made a neck back in the 1930s that just felt good to them, without doing a lot of measuring. We just loved the way that neck felt so we said why don't we create a neck around this one? Just copy it because it felt so good to us. So that's what we did.
That created some other issues, too. Because we decided to use that neck shape, we had to use a thinner fingerboard than we would use on our regular guitars. Back in those days, the fingerboard was actually thinner dimensioned than on current guitars. So it's close to an Authentic fingerboard thickness. You'll be getting an Authentic fingerboard thickness on a guitar far below in price.
What about the neck width?
It's a pretty standard 1-¾" nut width. That harkens back to that early 1930's neck width that people are comfortable with on all of our guitars. We feel like it's the best. It's the most comfortable one if you like to play a little bit of fingerstyle or if you just like to flat-pick. It's the most versatile nut width that we do, absolutely.
What modern features did you employ in the build of the Modern Deluxe guitars?
Each Martin Deluxe guitar has a two-way titanium truss rod, which is about 64% lighter than a standard truss rod. It actually makes a huge difference. You've got to think that the neck is hanging off the guitar so the more weight you remove towards the end of that neck, the more balanced the guitar feels. Taking all that weight out of the neck really makes the guitar feel superlight. When you pick up the 18-style Modern Deluxe, because of how light mahogany is already, those guitars are featherweights. They're absolutely superlight guitars.
We have a large museum here of vintage instruments and when you go in the museum and you pick up some of those old guitars, especially the mahogany ones, man are they light. They are superlight builds. In the old days, some of those guitars were light because they had no truss rod at all. They just had an ebony rod running up the center of the neck. So once those necks would start to bend and warp, or do whatever they do over time, Martin decided they had to put a piece of metal in there so they could adjust the neck. And of course guitars got heavier. We just wanted to offset that. We wanted to give you all the modern adjustability, but with that vintage lightweight feel.
You probably won't notice that underneath the bridge on the underside of the top there's actually a sandwich carbon fiber bridge plate. Most of our bridge plates underneath the guitar are made out of maple. This piece is actually a small piece of maple, but it's sandwiched in between two pieces of carbon fiber.
What does that do for the tone?
During our testing we found we got a lot better response and a little bit of added volume when we used that carbon fiber bridge plate. Not to mention it's much stiffer and it won't wear out. In old guitars, where the ball end would come through the bridge and into the top, it starts to get chewed up in there from the ball end over time. But with that carbon fiber piece in there it won't. So we get stiffness, which adds volume, and we get better durability with that carbon fiber piece.
When you have one of those bridge plates in your hand, you first obviously feel how light it is. It's carbon fiber—superlight to begin with. Once again, we're sticking with this theme of being very light, but when you tap on that bridge plate, you can hear it. It's very tingy. It's super-responsive. It really transfers the energy. So whenever we get around the bridge and where the strings are going across anything, whether it be the nut or the bridge, we want something that transfers a lot of energy into the body of the guitar and that's what this helps do.
Is that focus continued through to the bridge pins?
Yes. Normally bridge pins would be made out of plastic. In some cases, they were made out of bone back in the old days. Then, prior to that, there were even some really old ones that were made out of ivory. Obviously, we can't do that any more. These are actually made out of a material by a company called Liquidmetal. Liquidmetal is primarily a titanium alloy. So it's not titanium, it's an alloy of titanium.
We saw this material online and we started talking to those guys. They use the material primarily for medical devices, so it's super, super dense, but very light at the same time, like titanium. The amount of energy it transfers is unbelievable. Go on YouTube and look up Liquid Metal. There you can see some videos where they'll take a small BB of Liquid Metal and drop it in a tube and watch how long that BB bounces. It will just sit there and bounce for minutes because it's able to transfer so much energy.
We said, man, this is really cool stuff. I wonder if there's an application for this in one of our guitars. So we contacted them. They were really interested. We had them make us some bridge pins just to try it out. When we tested those bridge pins back in our R&D sound room, we were surprised. I mean we were getting two, three, four, sometimes five decibels of increased response from the guitar. It made every guitar we put them in louder. It didn't change the tone of the guitar. It just made it louder.
We said, wow, that's pretty cool. So we started working with those guys to see if we could develop these pins for commercial use. We've done them on some small runs of specialty Custom Shop guitars that we've taken to the NAMM show and sold onesie-twosie.
But now we're at a point with the Liquid Metal folks that they're going to make us several different versions of these bridge pins. We have what we call the red dot pins because of the red dot on the inside of them. In the D-28s, they have the bone-look pin, that cream-colored pin. It's a powder-coated version that looks very traditional. On the 18-style, they have a gray color pin, which we call Turkish Emery. They're basically the same pin, just with different finish coatings.
We'll also be selling chrome and gold versions that people can buy for their existing guitars, if they want to buy it as an aftermarket piece. This would be the first time we've ever done that. These Liquid Metal pins will probably sell for $150 a set. They're expensive, but they'll never wear out. The guitar bridge will wear out before the pins ever do. I think these pins by themselves are going to become a hot aftermarket, hot rod part for your guitar because they'll fit in any guitar and they'll make every guitar louder. They're really cool and come standard on every Modern Deluxe.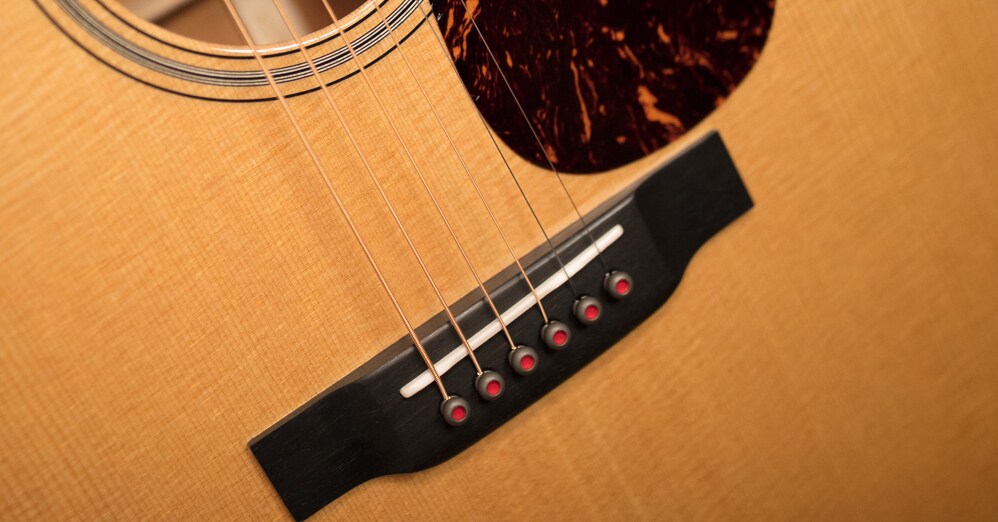 It looks as though you've matched the gold tuning machines with gold frets.
One of the things that made us pick the gold frets obviously is we wanted a visual marker to say, hey, this guitar is different than a standard D-28. This is a Deluxe. This is an upgraded version. But the frets technically are not gold. What makes them the goldish color is that they have copper in the metal that goes all the way through. These are not just gold-plated. It won't wear off. They're harder than the traditional frets we use on the rest of our guitars.
If you look on a hardness scale, our current frets are about a 200 on the hardness scale. A stainless-steel fret is like 300. Not many people use stainless steel frets because it's hard to work with. They're almost too hard. They're so hard it's tough on tooling, you know, you have to file the ends to make the frets real nice and soft on the edges. It's just almost unworkable with stainless steel. But these gold frets fit right in between at 250 on the hardness scale. So they're about 25% harder than our current frets and they'll last a lot longer. Plus, they look cool.
It pulls it all together. They sound great because they're hard, first off. They'll last longer. You couple those with the pins and the carbon fiber bridge plate and the titanium truss rod. You put that together with Adirondack bracing on a VTS Sitka top, and man, you've got a lot of things working to improve the tone of the guitar. It's a lot of technology working in there.
Beyond the tech specs, What would you like people to know about the Modern Deluxe Series?
I want people to know that you've just got to pick one up and play it. Compare any Modern Deluxe Martin to other guitars. I know there are a lot of boutique manufacturers out there and a lot of people who make good guitars in the world, right? But we really wanted to show people that our guitars can stand up to any guitar, anywhere in the world, whether it's a guy that makes one a year or a company that makes 100,000 a year.
Just A/B one of these Modern Deluxes against your favorite guitar and I think you'll be surprised about the guitars we're making at Martin right now. They're really special and it's real technology. It's not just moving a couple of sticks around and calling it innovation. This is modern cool stuff that I think C.F. Martin, the first, would have used had these materials been available to him. We're following in his lineage.
Try out Martin's Modern Deluxe guitars at your local Guitar Center or check them out here.