Strings lose their brilliance and sustain by taking in all the sweat, oils and salts from our calloused fingers. But strings are not alone in absorbing the abuse—your fretboard also suffers. So, take off those strings, bust out some lint-free rags or 000 steel wool and go over these basic fretboard maintenance maneuvers.
Cleaning and Conditioning
Cleaning is just like it sounds: removing dirt and grime. Conditioning is polishing and taking preventive measures to ensure your board will maintain its aesthetic beauty and fight off future oil and grime. Some players prefer a one-step approach and do both at the same time by cleaning with oil, which also conditions the board. No matter what tonewood your neck is built from, never use alcohol or silicone-based cleaners

D'Addario Planet Waves Guitar Care and Cleaning Kit
Maple
Maple necks and fretboards are typically coated with a finish, meaning they already have a protective layer on them, while ebony and rosewood fretboards are usually not. The standard oils used on ebony and rosewood fretboards should be avoided on maple boards as they can corrode the finish. Do not attempt to condition a finished maple neck either, and avoid lemon oil like the plague. A simple cleaning with a damp, lint-free rag or toothbrush should do the trick.
Ebony and Rosewood
It's become common knowledge that using 100% pure lemon oil is a bad way to maintain your fretboard. However, most lemon-based fretboard cleaners contain a very small amount of actual lemon and are perfectly safe. Mineral-based cleaners are always the safest route—many products advertised to be lemon-oil based cleaners are, in fact, mineral based. You never want to soak your fingerboard completely, and it's never a bad idea to slightly dilute your cleaners.
Ernie Ball Wonder Wipe Fretboard Condition
Deep Cleaning
For the exceptionally grime-ridden fretboard, it may be necessary to bring out the heavy artillery. Fine-grade 000 steel wool is great for deep cleaning, but it can be messy. If you prefer steel wool, you might want to consider taping up your pickups and sound-holes to avoid unwanted flakes from digging into the nooks and crannies of your guitar. Steel wool is also very useful for freshening up dirty and worn frets.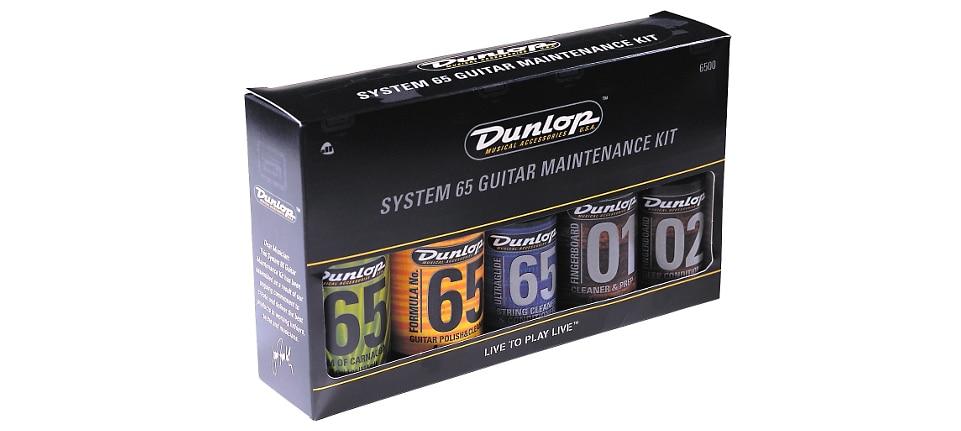 Dunlop System 65 Guitar Maintenance Kit
Maintenance Made Easy
Cleaning and conditioning your fretboard after every string change is the easiest way to avoid not only dirt, oil and grime, but it will also help you prevent fretboard cracks—a much more serious problem. After you get your fretboard shining like new, simply restring and enjoy your guitar by getting right back to dirtying it up—it's a circuitous process.