We all love acoustic guitars. They look good, they sound good, and they smell good (ok, maybe that's just me on that last one). But somewhere along the way—and for everyone it's different—you decided to take on the challenge of becoming a guitar player. Whether you're purchasing your first
acoustic guitar
or ready to finally get that 1935 Martin 000, a little help can go a long way. Join me as we traverse the plains of Luthierdom and look at some dos and don'ts. 
From the Beginning: Your First Guitar 
A vintage Martin, or even a standard D-28 probably isn't in your budget yet. As a beginner, you'll want something that you can scuff up and get down on. First and foremost, it should be reliable, sound decent, stay in tune, and look awesome. Your first guitar will likely run you between $200 and 500. Seriously, don't invest too much money into it. Invest time in learning how to play it. You don't need to drive yourself crazy researching your first guitar, but here are a few things to look for: 
Why Guitar Action Matters
What is action and why is it important? Action is the distance between the fretboard and strings. When buying your first guitar, don't be concerned with precise measurements—look for playability. Does it feel right in your hands? A steel-string acoustic is about as American as apple pie, and has been a favorite instrument across all genres of music for generations. A few great options to start your journey are the Takamine G Series GD20 (the dreadnought size is popular with a lot of players), the Fender® Paramount PM-3 Deluxe Cutaway (which comes with a pickup in case you'd like hit an open-mic show or do some recording into your computer), and the Taylor Big Baby (sized for smaller hands). For some players, especially younger ones, steel strings can be can be a little tough on the fingers as they are starting out. When choosing your first instrument, nylon-string guitars (aka: classical) are another option. You can't go wrong with a Yamaha CGS student classical guitar (which is a very playable 3/4-size) or the Cordoba C5. The strings are softer and easier to play, plus nylon-string guitars have a nice piano-like tone that sets them apart with a sound that's all their own.
Word to the wise: Try both nylon and steel string when starting out.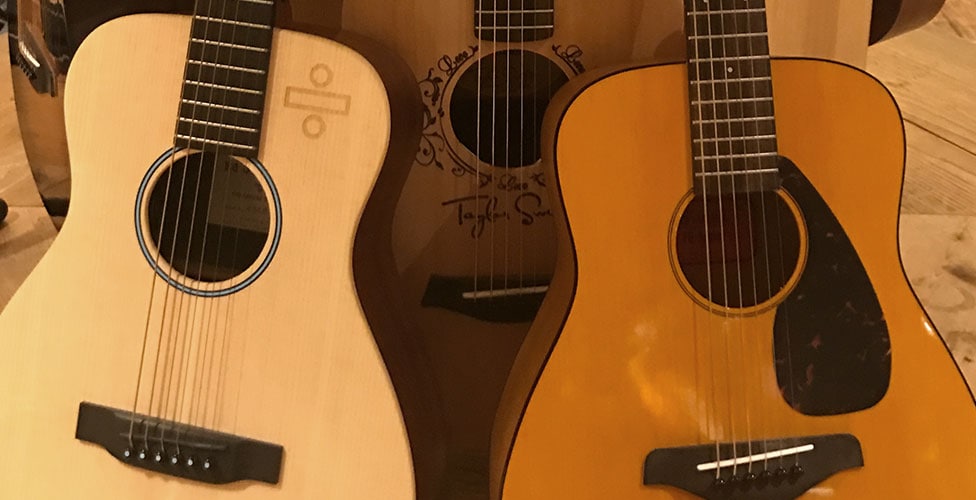 Guitar Body Type and Size
I like Elvis, too, but let's face it, we may not all be able to comfortably handle "All Shook Up" on one of the King's famous jumbo guitars. As your playing progresses and your ears develop, you'll want to explore different body styles, brands and woods. But in the beginning, find a guitar that suits your size and playing comfort. 
Guitars come in all shapes and sizes, from 3/4-size bodies for kids to jumbos for giants—the guitar you choose should feel comfortable and you shouldn't have to say "go-go gadget arms" just to tune it. If you're having trouble deciding on the right size, feel free to ask one of our associates—they're there to help you dial in your sound, even if that dial isn't set to 11 quite yet.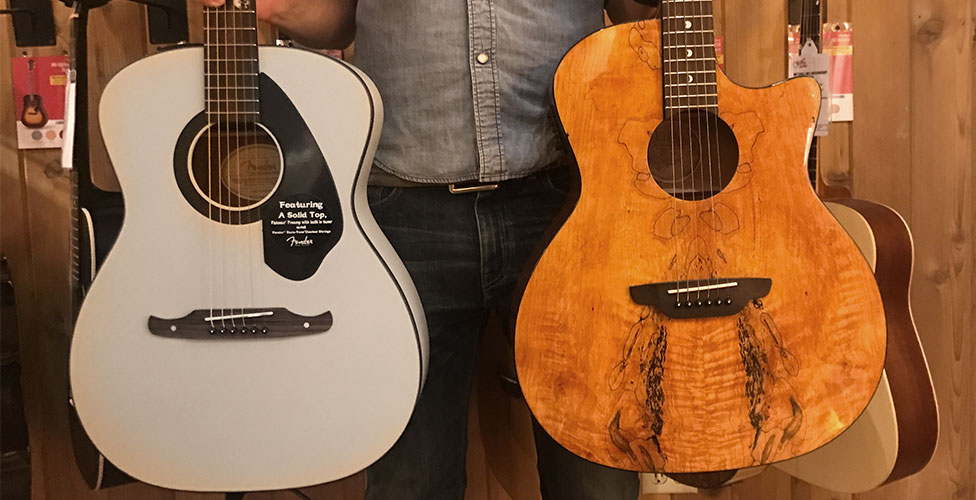 The Look Of Your Guitar
Only you can pick the ideal looking guitar for your tastes. But choosing something that you love to look at and beckons you to play for an endless amount of time is important. Having said that, don't base your decision purely on aesthetic value—you'll still want to make sure that your new best friend meets all the aforementioned parameters to avoid playing those "woke up this morning and bought the wrong guitar blues." Keen on Cash? An Epiphone Hummingbird or 1964 Texan may strike your fancy. But if you're really looking to stand out at the local coffee shop, the Daisy Rock Pixie or Ibanez TCM50 are sure to bring on the lookers. 
Getting Started With Your Guitar 
Learning the guitar can be a challenge, but Guitar Center has plenty of great learning resources to help you out. We also offer guitar lessons in many of our stores. To get you started on the right path, you might want to check out this eMedia Guitar Accessory Kit has some essentials that should help.  
Buying Intermediate to Advanced Acoustic Guitars
Once you've mastered "Stairway," and covered Clapton, you may be ready to step up to an intermediate or advanced acoustic guitar model. Buying guitars at this stage in the game can be more fun than correcting that uncle who insists he can outplay Hendrix (sorry, Uncle Charlie). You've been through the beginner's blues and now it's time to hit the crossroads and move up the guitar food chain. But first, let's talk tonewoods and why they matter. 
How Tonewoods Affect Your Guitar's Sound
Guitars and other stringed instruments, such as violins and cellos, are comprised of tonewoods. Tonewoods are woods that enhance the musical quality of an instrument. The most common woods you'll be looking for on your tonal odyssey are: 
Spruce: Tremendously popular and suitable for a variety of styles. Spruce is incredibly resilient. It's effective at low volumes and will maintain its pristine aural integrity when you're thrashing away on those Hansard-esque power ballads. 
Mahogany: The tone of mahogany is as warm as grandma's cookies, with a woody mid-range sound that's great for country-blues and folk. One of the more well-known all-mahogany guitars is the Martin D-15. 
Rosewood: Common for backs, sides and necks, rosewood is a greatly desired and expensive tonewood. Brazilian rosewood, in particular, is very rare. 
Maple: Generally used for backs and sides in the acoustic world, maple has long been sought after for the its distinctive and gorgeous grain. It's also known to offer a "transparent" tone that will reflect the player more than the guitar itself. Think the Gibson J-200.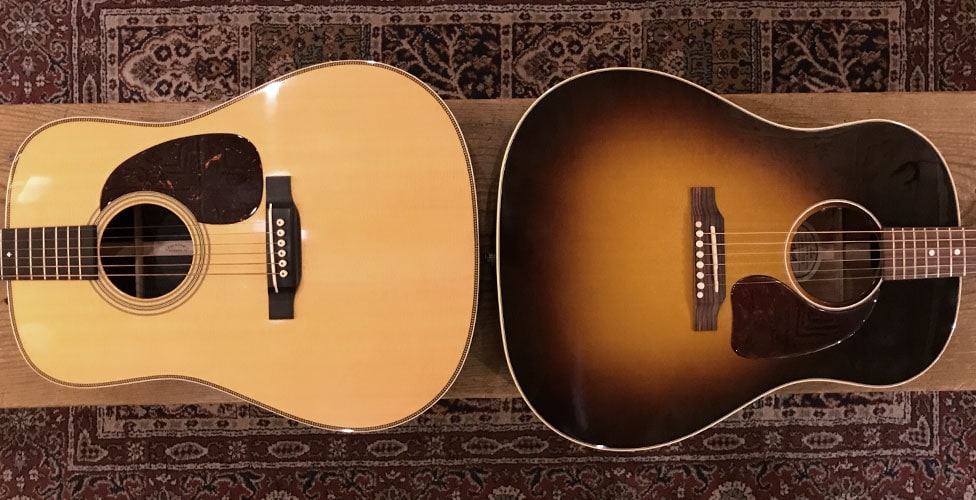 Iconic Acoustic Guitar Models
A favorite of everyone from Hank Williams to Jimmy Page, the Martin D-28 has endured for generations and shows no signs of slowing down. Although it has undergone some changes in its construction and genetic makeup since its introduction circa 1931, the D-28 (in its current configuration) consists of a solid sitka spruce top, mahogany neck, Indian rosewood back and sides, and an ebony bridge and fretboard. If you haven't picked one up, you're missing out. The only problem is, you might not put it down.  
While Martins tend to sound tonally balanced, some players prefer something with a little more grit or, shall we say, "je ne sais quoi." For a sound that's a little more rough around the edges, the Gibson J-45 comes to mind. Dating back to 1942 and nicknamed "The Workhorse," the design hasn't changed much over years. A great songwriting guitar, the J-45 is also one of the most versatile—it complements singer-songwriters and can hold its own in a full lineup. They are held in high regard for their cozy defined lows and solid projection. The standard J-45 has a Sitka spruce top, mahogany back, sides and neck, and a rosewood fingerboard.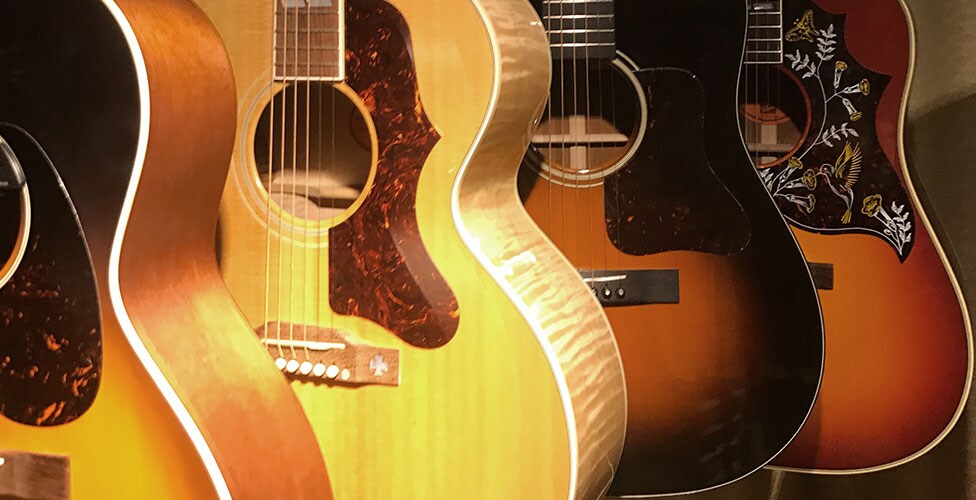 The Showmen 
If you're looking for an acoustic with a little more pizazz, something that sounds great and will help you stick out of the crowd, we've got you covered there, too.  
The iconic Gibson Hummingbird is a classic knockout. Its square-shouldered dreadnought body is generally comprised of a solid spruce top and mahogany back and sides. Hummingbirds come in a small variety of cherryburst finishes and their parallelogram ebony inlays on the fingersboards are guaranteed to turn heads. Comparable in price to the Martin D-28, the Hummingbird has been seen in the hands of everyone from Keith Richards to Sheryl Crow, perfectly demonstrating its versatility and sense of style. 
If cash isn't a concern but style and volume are, you might want to look into the Gibson J-200. Although they're a little pricier than their smaller counterparts, you definitely get what you pay for. After all, the "J" stands for jumbo. Introduced in 1937, the J-200 has been in production for 80 years and has been a staple piece for the likes of George Harrison, Jimmy Page, Aaron Lewis and Emmylou Harris. 
If you're looking for a guitar that sounds absolutely pristine and gives you the flexibility to rip away on some high-note solos, take a look at the Taylor 416ce-R. While Gibsons tend to be known for their unique, grittier sounds, and Martins are known for their balance, Taylors tend to be known for their brightness. If you listen to Dave Matthews, Iron & Wine or Zac Brown, then you've heard a Taylor.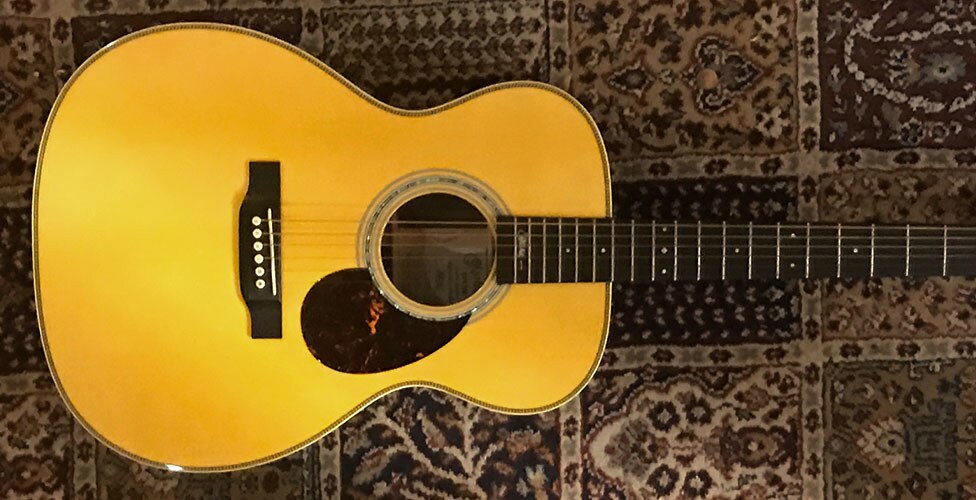 Fingerpicking-Friendly Models
Flat picking not really your thing? Most fingerstyle players prefer smaller bodied guitars that tend to produce bright and balanced tones with excellent playability. The Martin 000-15 and 000-18 are absolutely perfect for this crucial tonal blend. That's not to say that dreadnoughts and jumbos won't do the trick, but many fingerstyle players like as Eric Clapton and John Mayer (both have signature 000 models) have chosen to go the small-body route because of the nice mid-range boost that many players consider to be lacking in larger dreadnaught models. Larger guitars are generally better for loud strumming; smaller guitars tend to shine in more detailed oriented situations.  
You can also look into a Gibson L1, made famous by Robert Johnson or the Gibson Keb Mo Signature. Both will give you that deep timbre most blues pickers are looking for, due in part to its shorter scale neck.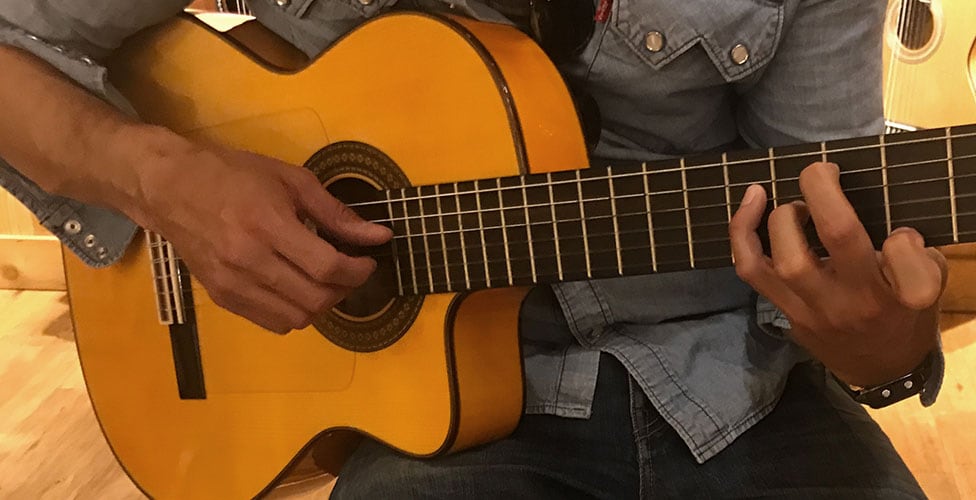 For classical and flamenco cats looking to up their game with a more professional-grade instrument, the Cordoba 55FCE Thinbody Acoustic-Electric Flamenco Guitar is definitely worth getting your hands on. Handmade in Spain with super slick low action, this guitar—equipped with a beautiful European spruce top and cypress sides—perfectly exemplifies that snappy bright tone so heavily pursued by the fingerstyle masters of classical and flamenco music. 
A Guitar To Last a Lifetime
These guitars (and countless others) are all prefect for intermediate and professional players. Each one of these instruments is something that you should feel comfortable buying for yourself or your studious progeny—these are instruments that will, with proper care, last you a lifetime. Should you be able to get one at sixteen, you'll have it to hand down to your child or grandchild when the times comes. 
A Vintage Guitar May Be The Best Fit
If you're tired of trying to find the perfect new acoustic guitar but nothing is delivering the sound or feel you're after, you may want to check out our expansive collection of vintage acoustics, shoppable in-store or online. Whether you're an affluent collector or you're just finally ready to get that dream guitar you've spent your entire life drooling over, we're here to help you find the right one for you. Our vintage inventory is constantly changing, so check back often.
Vintage guitars come at a variety of price points, based on desirability, condition and general market trends. The good news is that they're already broken in and the right vintage instrument will likely appreciate in value over time (thus, making it an investment, too). 
We're Here To Help
As a guitarist, you'll likely own more than one acoustic throughout your lifetime. You may find a brand that you only play or you may experiment with many. But one thing remains true: There's a special excitement that comes with adding a new guitar to your arsenal. And the search for that perfect sound is part of the lifelong journey. Whether online, over the phone or in-store, Guitar Center is here to help.