Overdrive is more than a sound—it's an attitude. Gritty, muscular and universally appealing, overdrive is the glorious byproduct of guitarists pushing a tube amp just to the point of breaking up. From Howlin' Wolf to Keith Urban, it's hard to find an electric guitarist who hasn't made the most of this sexy, dynamic sound. Since the 1960s, innovators have looked for ways to make overdrive more accessible, capturing it in dedicated overdrive pedals so that any guitarist can immediately alter their tone with a tap of the toe.
Beginning with the earliest signal and treble boost boxes and evolving through landmark guitar pedals like the Ibanez Tube Screamer, BOSS' OD-1, Klon Centaur and more, overdrive pedals have provided a key element in the evolution of contemporary music. So, how did we get here? How has overdrive evolved and how can you find the best overdrive pedal for your needs?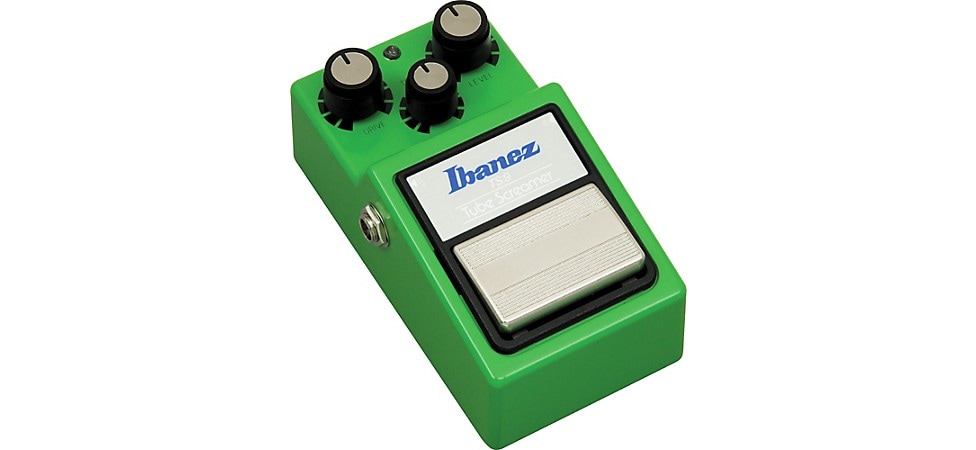 Pictured: Ibanez TS9 Tube Screamer Effects Pedal 
Looking for more pedals to shape your guitar tone? Check out our beginner's pedal buying guide.
Table of Contents
How Is Overdrive Different From Distortion and Fuzz?
The Early History of Overdrive Pedals
The Best Overdrive Pedals of the 1970s
The Best Overdrive Pedals of the 1980s
The Best Overdrive Pedals of the 1990s
The Best Overdrive Pedals of the 2000s
The Best Overdrive Pedals in the 2010s to Today
Trying Out Pedals In-Store
Vintage and Used Overdrive Pedals
Questions You May Have When Shopping
Getting the Best Deal on Your Overdrive Pedal
How Is Overdrive Different From Distortion and Fuzz?
Before we jump into the history of overdrive, let's have a quick look at what overdrive is, and what separates it from distortion and fuzz.
At its very essence, any sonic distortion is the result of a sound wave being powered beyond the capacity of the device it's going through. The result is that the wave is clipped at the top and bottom, changing the quality of the resulting sound. A clean sound wave would look like a curved ocean wave, where a distorted wave would have flattened tops and bottoms.
So, what are the key differences between overdrive, distortion and fuzz? Overdrive is all about gain and, in the case of a pedal, about simulating an overdriven tube. Where overdrive is all about dynamic range and transparency, distortion gives you the same amount of crunch no matter how loud you crank it or how hard or soft you play. And fuzz, well it's fuzz—all square waves and sustain.
Think of soft clipping in overdrive as the warm growl of a classic blues solo. Harder clipping in distortion can be described as the full-out grit and grime of metal and grunge. Finally, the severe clipping in fuzz is the woolly, even coating heard in classic rock, shoegaze and contemporary grungy blues rock.
How are these sounds achieved? Tube amps achieve this through overdriving their preamp and/or power tubes. Comparatively, solid state amps and pedals use diodes, transistors and operational amps to create high-amplitude harmonics that clip the signal, producing gritty sounds and boosting your guitar's overall level. Today's overdrive pedals typically use a diode or transistor (MOSFET or JFET) to create clipping. All that aside, it's really about the tone. Let your ear be your guide.
Want to learn more? Check out our guides for buying the best fuzz pedals and best distortion pedals. 
The Early History of Overdrive Pedals
Overdrive is as old as amplifiers. The first amps guitarists used were designed for vocals and couldn't really handle the amount of signal guitarists had to push through them. As a result, tubes were overdriven, and a new sound was born.
Blues artists like Howlin' Wolf and Elmore James, and other guitarists, including Sister Rosetta Tharpe and Junior Barnard of Bob Wills and His Texas Playboys, reveled in the sound and pushed their tubes hard. Les Paul's 1944 performance of "Bugle Call Rag" with the Nat King Cole Trio is a seminal jazz performance featuring overdrive, largely pushed by Paul's own hand-wound, super-hot pickup.
The ensuing evolution of guitar amps was critical to overdrive development. Early amps never exceeded 10 watts, and guitarists had to push them to compete with other instruments. In 1947, Fender released the Super Amp—a comparative monster with a whopping 18 watts. While this may not seem like an enormous jump by today's standards, it immediately gave guitarists a trusty way to match the sound of artists without building new pickups or tweaking their gear. In just a few years, that Super would grow into a 50-watt beast.
Another seminal moment in the creation of the overdrive pedal began by accident. The 1961 hit "Don't Worry," by country singer Marty Robbins, featured a distorted bass solo that was created by the bass signal running through a damaged mixing board.
The sound helped make the song a hit, and recording engineer Glenn Snoddy made it his mission to re-create it. He reverse-engineered the sound and defective circuit and experimented to create the Maestro FZ-1 Fuzz-Tone—the pedal Keith Richards would go on to use on "(I Can't Get No) Satisfaction" in 1965.
Richards' performance boosted sagging sales of the FZ-1 into the stratosphere, and soon more fuzz pedals joined the ranks, including the various versions of the famed Tone Bender MKI and MKII (the second used by Jimmy Page on Led Zeppelin I and Led Zeppelin II), and a multitude of fuzz pedals began to appear.
The Best Overdrive Pedals of the 1970s
On the pedal front, the 1960s were largely driven by fuzz pedals. Overdrive was still conventionally achieved simply by cranking an amp. In the very late '60s, two creations kicked off what would become the overdrive pedal genesis of the '70s. The Sola Sound Power Boost and Electro-Harmonix LPB-1, both created around 1969, provided guitarists a signal boost to help drive their amps into overdrive.
The Power Boost and LPB-1 quickly became ad hoc overdrive pedals, and a market for overdrive-specific pedals began.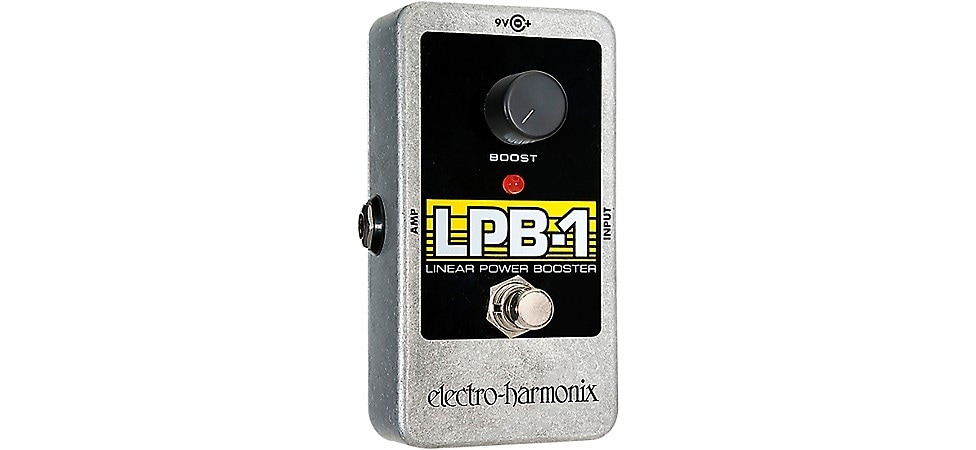 Pictured: Electro-Harmonix Nano LPB-1 Effects Pedal 
The BOSS OD-1 and the DOD 250 Preamp Overdrive premiered in the mid-'70s, offering beefy boost and a remarkably transparent and responsive overdrive. They also lacked tone controls. Japan's Maxon (formerly Nisshin Opna) created a number of landmark pedals, licensing them to other brand names, including Ibanez. Their most famous breakthrough came with the OD-808 Overdrive, released in 1979 by Ibanez as the Tube Screamer. The Tube Screamer was beloved by Stevie Ray Vaughan and Heart's Nancy Wilson, and is considered by many to be the best overdrive pedal ever made.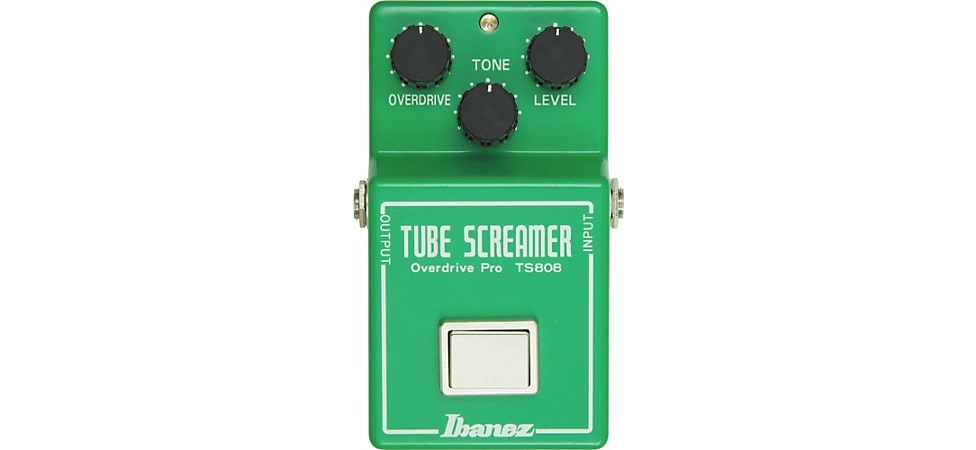 Pictured: Ibanez TS808 Vintage Tube Screamer Reissue Overdrive Pedal 
The Best Overdrive Pedals of the 1980s
Maybe it was the surge of new wave and electronic music, or a focus on chorus-sheened pop ballads and high-crunch hair metal, but the 1980s were not a fertile era for overdrive pedals. Rather, distortion, delay, flanger and chorus effects blossomed during the decade.
The '80s largely brought us developments and tweaks in existing pedals, like the Tube Screamer, which saw the Ibanez TS9 released in 1981, and development of the BOSS SD-1 Super Overdrive and BOSS OD-2 Turbo Overdrive. These offerings added tone control and higher gain, with the OD-2 serving as a reliable distortion option. The SD-1 is strikingly similar to the Tube Screamer, in grit and dynamics, but with the signature BOSS aggressive clipping.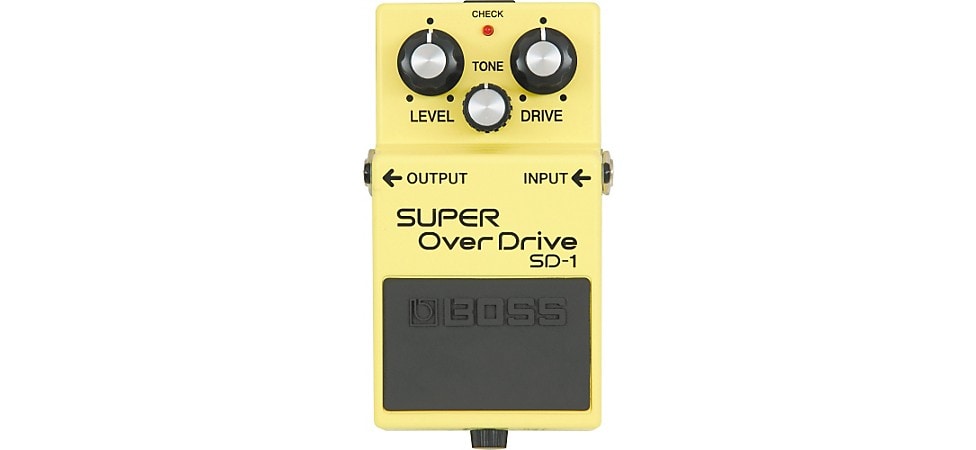 Pictured: Boss Super Overdrive SD-1 Pedal 
The Best Overdrive Pedals of the 1990s
In 1991, Marshall released the Bluesbreaker overdrive pedal, a notable kickoff to the rebirth of the electric blues. The Bluesbreaker pedal was designed to emulate the Marshall Bluesbreaker 1962 amp, made famous by Eric Clapton on the 1966 album Blues Breakers with Eric Clapton. It's a subtle overdrive pedal with warmth, and a sweet, clean tone that can quickly ramp up to a vicious bite.
Classic rock enjoyed a renaissance during the late '80s and throughout the '90s, driven in large part by lead guitarists running directly into overdriven Marshall stacks. The sounds of Slash and The Black Crowes' Rich Robinson were soon sought after by a new generation of players.
The BOSS BD-2 Blues Driver was released in 1995, just when the blues was making a strong comeback on the charts. The BD-2 was built to re-create the dynamics and punch of an overdriven '60s-era Fender Blackface amp. The Screamin' Blues from Digitech debuted soon after, adding treble and bass EQ to the mix.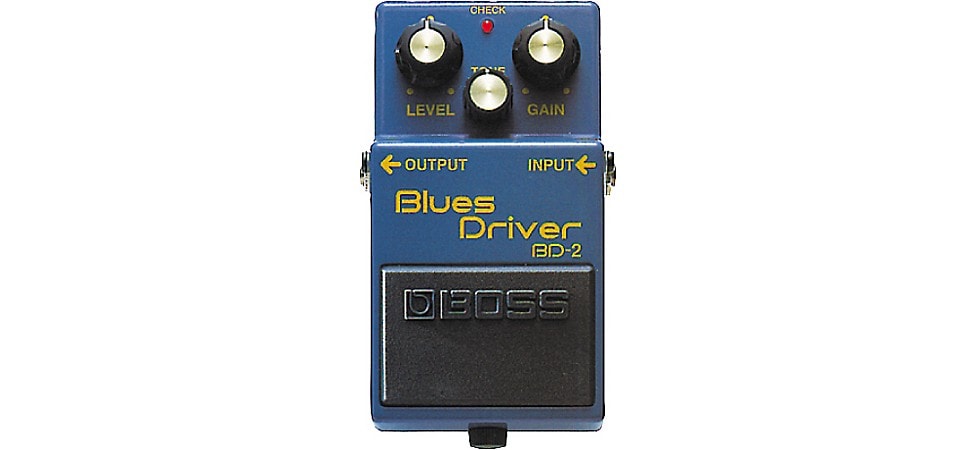 Pictured: Boss BD-2 Blues Driver Pedal 
Perhaps the biggest development in overdrive in the 1990s, and a hint of the upcoming boutique boom of the 2000s, was Bill Finnegan's Klon Centaur. The Centaur became famous for transparent overdrive and its ability to push an amp just where it needed to go. Handmade by Finnegan, its estimated that there were only a few thousand released across the initial six years of production. This relative scarcity led to a preponderance of Klon-inspired pedals throughout the 2000s.
The Best Overdrive Pedals of the 2000s
The 2000s were the decade of the boutique pedal. A bevy of new pedal makers popped up, building highly customized pedals designed for very specific effects.
As artists like Jack White, Carrie Brownstein and Matt Bellamy propelled rock into the 21st century, emerging pedal builders like JHS and ZVex fit the bill for a new sound.
The JHS Morning Glory, which tips its cap to Marshall's Bluesbreaker pedal, the Mad Professor Royal Blue and the Klon-inspired Wampler Tumnus are just a few of the popular boutique overdrives from this era.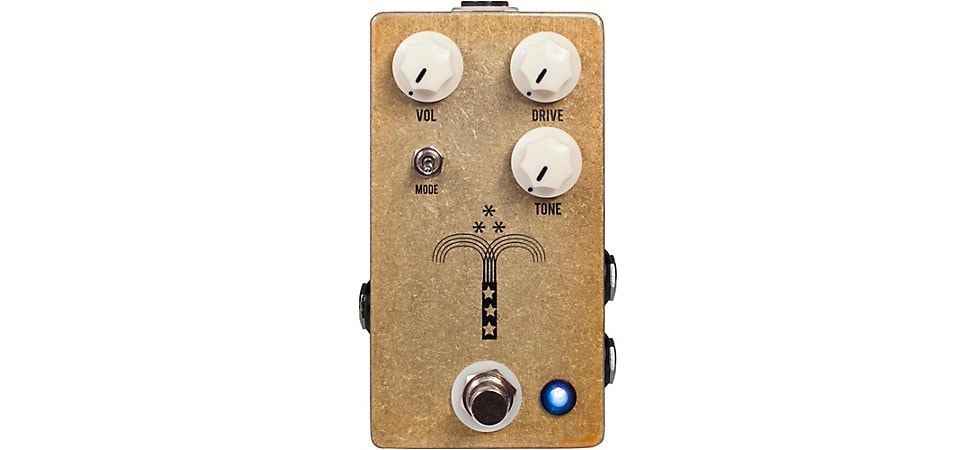 Pictured: JHS Pedals Morning Glory V4 Overdrive Effects Pedal 
The Best Overdrive Pedals of the 2010s to Today
The boutique era has grown since 2010, as our favorite big names continue to introduce new pedals and exciting reissues. With St. Vincent, Tosin Abasi and Derek Trucks pushing their respective genres into new territories, we find an exciting blend of trusted classic pedals and new boutique gems. The BOSS Blues Driver sits alongside the JHS Morning Glory, and Tube Screamers old and new abound.
It's not hard to find Klon Centaur-inspired pedals, with MXR's Sugar Drive and Rockett Pedals Archer Ikon as two great choices. The EarthQuaker Devices Westwood gives a nod to the Tube Screamer while adding active treble and bass EQ with incredible transparency.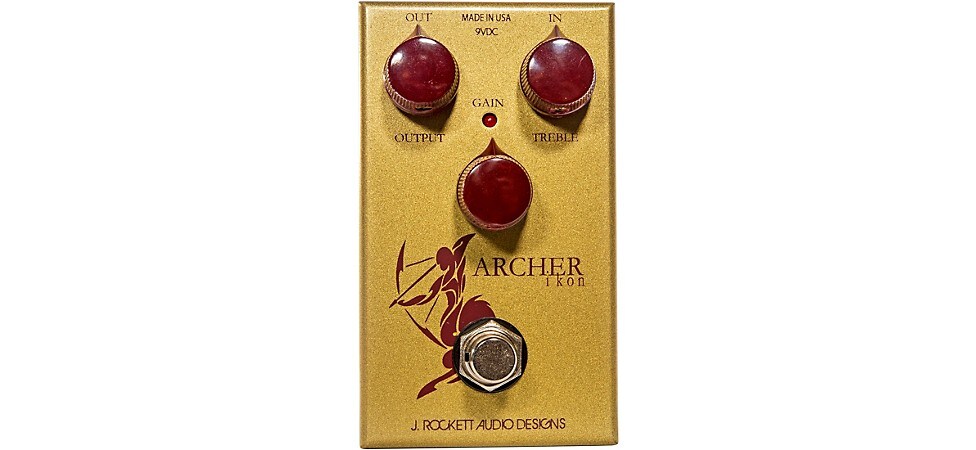 Pictured: Rockett Pedals Archer Ikon Boost/Overdrive Effects Pedal 
Speaking of Tube Screamers, Ibanez has released a number of reissues, including a mini pedal, a bass version and even a turbo version.
BOSS and JHS joined forces to create the JB-2 Angry Driver, essentially marrying the Blues Driver with the JHS Angry Charlie for a real granddaddy of growl.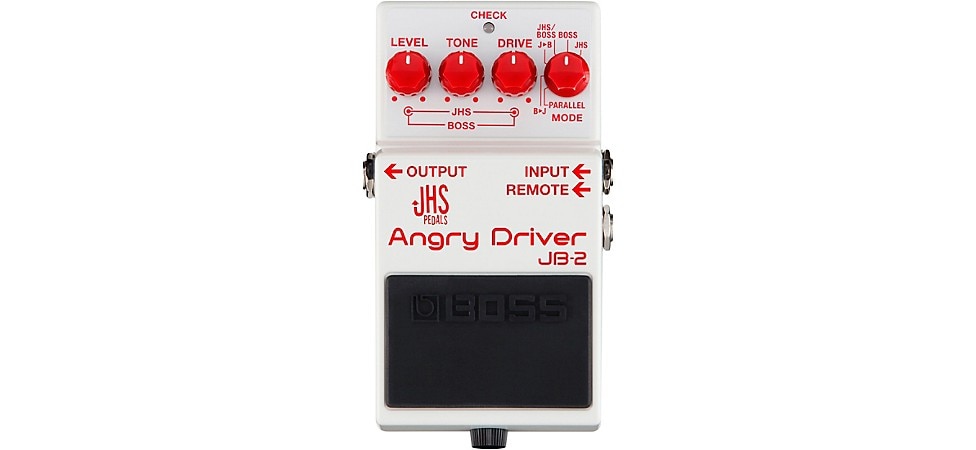 Pictured: Boss JB-2 Angry Driver Overdrive Effects Pedal 
The evolution of the overdrive pedal has seen performers grow from pushing early amps to pushing the boundaries of technology. Whether you're into blues, rock or creating your own new genre, we can guarantee overdrive is a trusty foundation for any guitarist's sound.
Trying Out Pedals In-Store
Next time you walk into your Guitar Center, head over to our pedal display. You'll find a convenient spot to test a range of overdrive pedals into a small and versatile amp. Grab your preferred guitar off the wall and get playing. Remember, you are trying to find the right sound with you, not for anyone else.
Don't feel like you have to show off for the other customers to get a sense of which pedals you like most. Try them out with some basic chords, or any solos or riffs you feel comfortable playing. Remember, you are trying to find the right sound for you, not for anyone else.
Vintage and Used Overdrive Pedals
Trying to find that holy grail original Tube Screamer or rare boutique piece? We're always adding to our collection of vintage gear. We also have an ever-changing inventory of used pedals, which can be a great place to find something you want to test, mod or stick right onto your pedalboard.
Questions You May Have When Shopping
Don't be afraid to ask our associates for help. Even if you've spent plenty of time researching, you're not going to walk in with all of the answers. You may have questions about how to get a certain type of overdrive, or you may not know the best spot to put the pedal in your signal chain. Our associates can help answer your questions and explain key features or functions you may need assistance with.
Getting the Best Deal on Your Overdrive Pedal
It never hurts to ask if there are any promotions or sales currently running, but our 45-day price-match guarantee takes the guesswork and haggling out of getting the best deal on guitar pedals. At the time of purchase or any time within 45 days of your purchase, if you find the identical pedals advertised by any authorized dealer—including Guitar Center—at a lower price than what you paid, just show us the ad and your original receipt, and we'll refund you 100% of the difference. Another way to save money on your new pedal is by selling us old musical gear you have to trade up to your new gear. If you have a qualifying item you'd like to trade in, you can get 10% off your new setup, in addition to your trade credit. Alternatively, you might find just the pedal you're looking for in our Used inventory. Our inventory is always changing, so keep checking back.