Fuzz pedals are unsubtle and immediately recognizable. For guitarists, they're the biggest, baddest, most tone-mangling kid on the block. From the Stones to the Stooges to The White Stripes, artists and their fans love it. This buying guide will help you understand what fuzz is, how it affects your guitar tone, and help you choose the best fuzz pedal for you and your needs.
The pedigree of the fuzz pedal is distinguished and its history deep. The sound that inspired the earliest pedal was found by accident, and the pedal itself almost failed until the influence of a young guitarist from Dartford, Kent in the UK was felt—more on him in a bit.
That first fuzz pedal, the Maestro FZ-1 Fuzz-Tone, was first introduced in 1962 and spawned two iconic successors, the Tone Bender and Fuzz Face. Both the Tone Bender and the Fuzz Face left an indelible mark on the world of guitar tone, and each has inspired a multitude of major brand and boutique pedals that can give your guitar any level of milky, sustain-crazy fuzz you can imagine.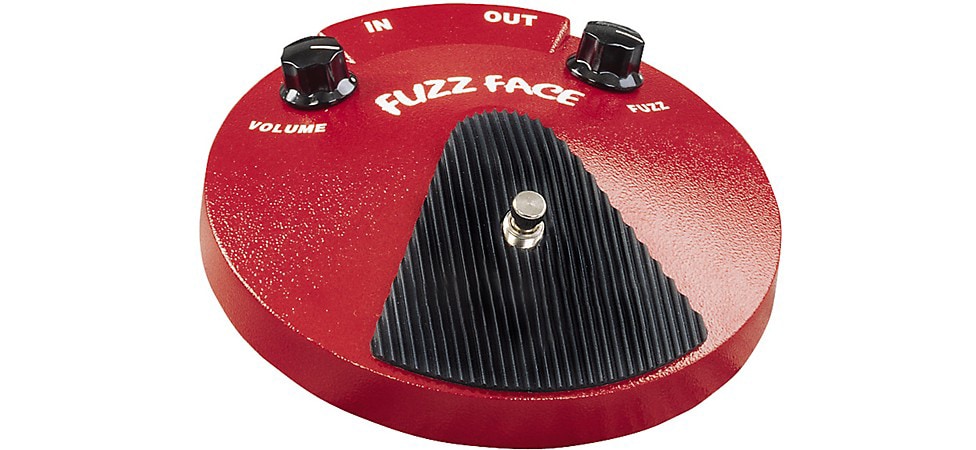 Pictured: Dunlop Fuzz Face Pedal  
Table of Contents
What Is Fuzz?
The First Fuzz Pedal: Maestro FZ-1 Fuzz-Tone
Fuzz in the 1960s - Tone Benders, Fuzz Faces and More
Fuzz in the 1970s - The Big Muff Reigns Supreme
Fuzz in the 1980s - The Rise of Shoegaze
Fuzz in the 1990s - The Muff is Back
Fuzz in the 2000s - Enter the Boutiques
Fuzz in the 2010s to Today
How to Shop for Fuzz Pedals
   Questions You May Have When Shopping
   Trying Out Fuzz Pedals
   Vintage and Used Pedals
   Getting the Best Deal on Your Guitar Pedal
What Is Fuzz?
Before we get deep into the history of fuzz pedals, let's take a look at what fuzz is, and how it's different from overdrive and distortion. At its core, any sonic distortion is the result of a sound wave being powered beyond the capacity of the device it's going through, whether that's a tube or a circuit. The result is that the wave is clipped at the top and bottom, changing the quality of the resulting sound. A clean sound wave would look like a curved ocean wave, where a distorted wave would have flattened tops and bottoms. 
Between overdrive, distortion and fuzz, those fuzz sound waves are clipped the hardest. Think of soft clipping as the warm growl of a blues solo, harder clipping as the full-out grit of grunge, and severe clipping in fuzz as the woolly, saturated sound heard from Jimi Hendrix to The Black Keys.
Tube amps achieve distortion through overdriving their preamp and/or power tubes, while solid state amps and pedals use diodes, transistors and op amps to create high-amplitude harmonics that clip the signal to create gritty sounds and to boost your guitar's signal to the amp. 
For the most part, fuzz pedal circuits are based around germanium or silicon transistors. Both germanium and silicon probably showed up on your high school chemistry test on the periodic table, and they're both semiconductors. What engineers and guitarists have found is that germanium produces a warmer, smoother, more vintage kind of fuzz, where silicon creates a harder-edged, more trebly fuzz with more attack and gain. Some pedals, like the EarthQuaker Devices Hoof Fuzz, use a hybrid germanium/silicon transistor setup. Beginning in the 1970s, op amp fuzz pedals entered the market, and they're another popular choice. We'd recommend testing them all and seeing which tone you prefer. We'll provide examples of each circuit style throughout this guide.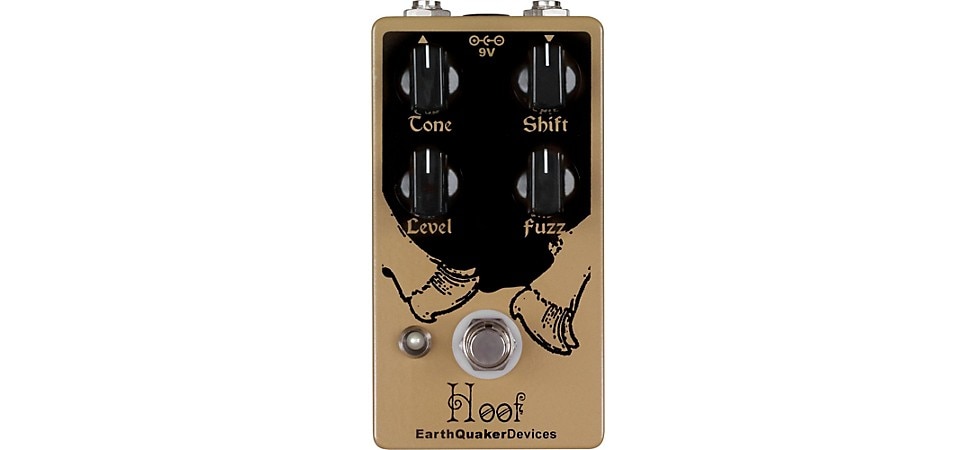 Pictured: Earthquaker Devices Hoof V2 Pedal 
Want to learn more about pedals? Check out our beginner's buying guides for overdrive pedals and distortion pedals. 
The First Fuzz Pedal: Maestro FZ-1 Fuzz-Tone
By the time the first fuzz pedal, the Maestro Fuzz-Tone, was created in 1962, guitarists had been experimenting with overdrive and distortion for decades. 
Distortion, both heavy and light, gradually appeared on more and more rock records in the 1950s and 1960s, and guitarists wanted a way to achieve it without slashing their speakers like Dave Davies of the Kinks, building their own pickups like Les Paul or blowing the rest of the band off the stage.
The seminal moment in the creation of the fuzz pedal began by accident. The 1961 hit "Don't Worry," by country singer Marty Robbins featured an unintentionally distorted bass solo created by the bass signal running through a damaged mixing board. The sound helped make the song a hit.
Recording engineer Glenn Snoddy made it his mission to recreate it. The result was the first fuzz pedal to hit the market, the Maestro FZ-1 Fuzz-Tone.
Fuzz in the 1960s - Tone Benders, Fuzz Faces and Big Muffs
The Maestro Fuzz-Tone would be critical to the future of fuzz, but it almost failed. It was marketed as an effect to make a guitar sound like a trombone, organ or cello. Needless to say, there wasn't a huge demand for that. Even if there were, that description was nowhere near accurate. 
But in 1965, the aforementioned guitarist from Dartford, Keith Richards, used a Fuzz-Tone on a little Rolling Stones tune called "(I Can't Get No) Satisfaction." FZ-1 sales shot into the stratosphere.
More fuzz pedals rapidly joined the ranks. The Sola Sound Tone Bender MK I, designed by Gary Hurst, improved on the Fuzz-Tone. It bumped the voltage up to nine volts and increased sustain. The mysteious MK1.5  was a two transistor design, while the MK II, a three transistor design, added an additional gain stage—you can hear Jimmy Page rock the MK II on Led Zeppelin I. Important Tone Bender variations made by Sola Sound included the Marshall Supa Fuzz (used by Jeff Beck and Pete Townshend), the Rotosound Fuzz Box and the VOX Tone Bender.
In the mid-'60s, Jim Marshall started Park Amplification, and working with Sola Sound, introduced the Park Fuzz, another re-branded version of the Tone Bender. Now, EarthQuaker Devices and Park have resurrected the Park Fuzz, complete with NOS (new old stock) germanium transistors. Other modern Tone Bender-inspired pedals include the JHS Bender, and EarthQuaker Devices Hoof Reaper.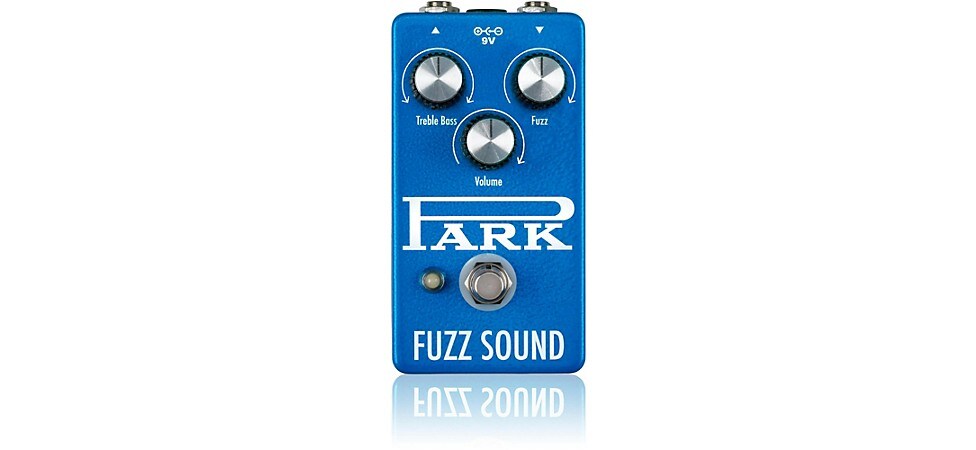 Pictured: Earthquaker Devices Park Fuzz Vintage Tone Pedal 
Learn more about the History of the Tone Bender.
In 1966, another major name in fuzz debuted, the Arbiter Fuzz Face. This pedal, featuring a circuit extremely close to the Tone Bender MK 1.5, was rocketed to fame by Hendrix on "Love and Confusion," from Are You Experienced, among others. The Fuzz Face was pivotal in not only the popularity of the fuzz pedal, but also its technological development. 
Early Fuzz Faces, and the previously mentioned Tone Bender, featured the germanium transistors we've already discussed. In the ensuing years, multiple iterations of Fuzz Face pedals appeared, with the circuit transitioning to the more affordable (and stable) silicon transistors. The sound was sharper, with more bite, and yes, the germanium vs. silicon debate rages to today. It's notable that Hendrix, known for endlessly experimenting with pedals and batteries, used both germanium and silicon Fuzz Faces. While there are many variants of Fuzz Face available today from industry-leader Dunlop, their Jimi Hendrix Band of Gypsys Fuzz Mini is a great, compact option overflowing with classic tone.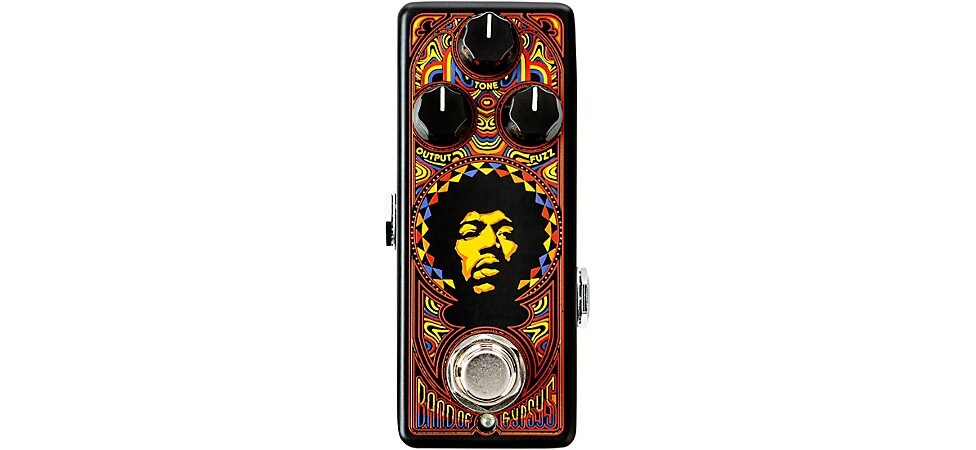 Pictured: Dunlop Jimi Hendrix Band of Gypsys Fuzz Mini Pedal 
The 1960s ended with the initial release of that would become one of the biggest names in fuzz—the Electro-Harmonix Big Muff Pi. Released in 1969, the Big Muff has been in near constant use ever since by guitarists in every genre. The sustain it produces lasts nearly as long as the pedal's history, and the distortion is the stuff of legend. There's a plethora of Big Muff variations on the market, from EHX and others, and we'll be talking about them more soon.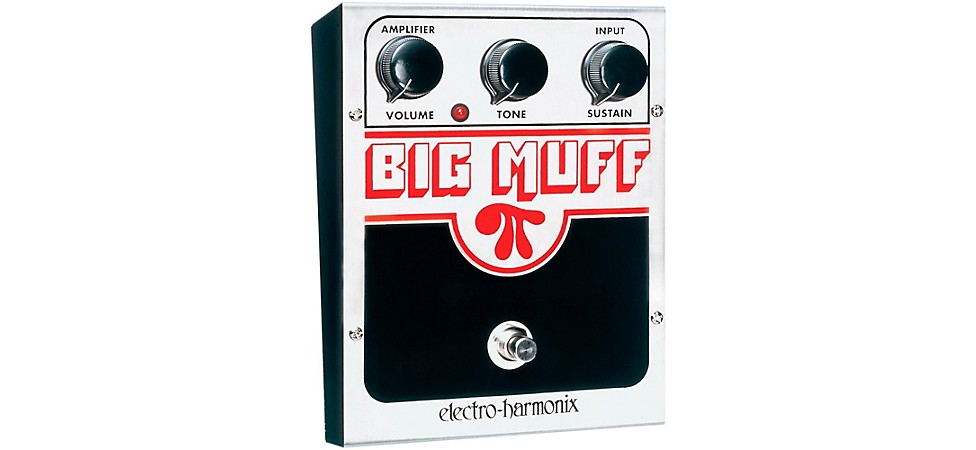 Pictured: Electro-Harmonix Classics USA Big Muff PI Distortion / Sustainer Pedal 
The Big Muff's genealogy can be traced back to the germanium Mosrite FUZZ rite, which Guild repackaged as the Foxey Lady. Guild asked engineer Mike Matthews to take over the Foxey Lady. He reworked the pedal with a silicon transistor and, while still producing it for Guild, founded Electro-Harmonix and sold the pedal as the Electro-Harmonix Axis. Electro-Harmonix then released the Big Muff. On the outside, it was similar to the Axis. But the bump from two transistors to four, as well as added control for sustain and tone, made all the difference.
Big Muff sustain is the stuff of legend, as is its buttery distortion. There's a plethora of Big Muff variations on the market which we'll be talking about more.
Fuzz in the 1970s - The Muff Reigns Supreme
The Big Muff and Fuzz Face were the big dogs of the 1970s fuzz situation, but there were a number of challengers throughout the decade that are still relevant today. Electro-Harmonix continually tinkered with the Big Muff, releasing an Op Amp Big Muff in this decade that would prove hugely influential in the 1990s.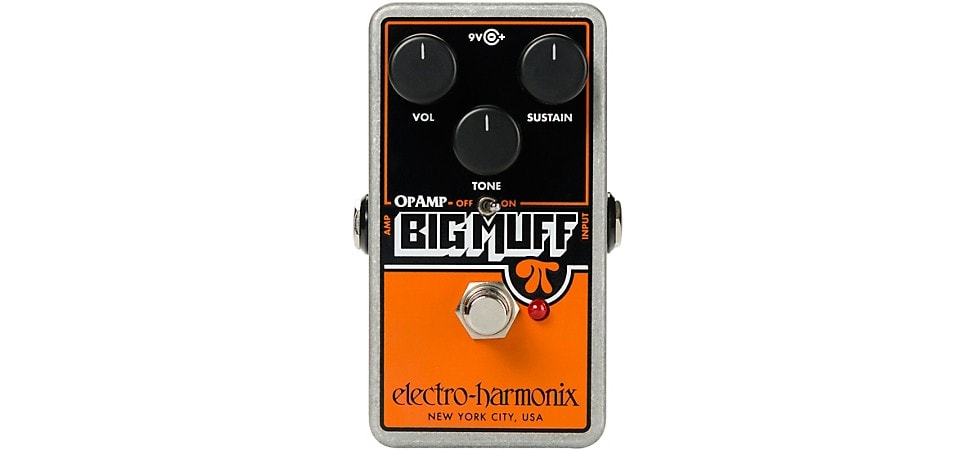 Pictured: Electro-Harmonix Op-Amp Big Muff Pi Fuzz 
In 1971, a brand called FOXX hit the market with the Tone Machine, a quirky, short-lived but influential pedal. This fuzz pedal (literally—the case itself was furry) not only provided thick and versatile effect, you could also kick it an octave up, bringing a deliciously weird color to the sound.
This pedal was also sold under different brands, showing up as the Ibanez Tone Machine and the Nashville Fuzzer. FOXX was founded by Steve Ridinger, who now runs Danelectro, and he has resurrected the sound and individuality of '70s fuzz pedals with the 3699 Fuzz and Eisenhower Fuzz.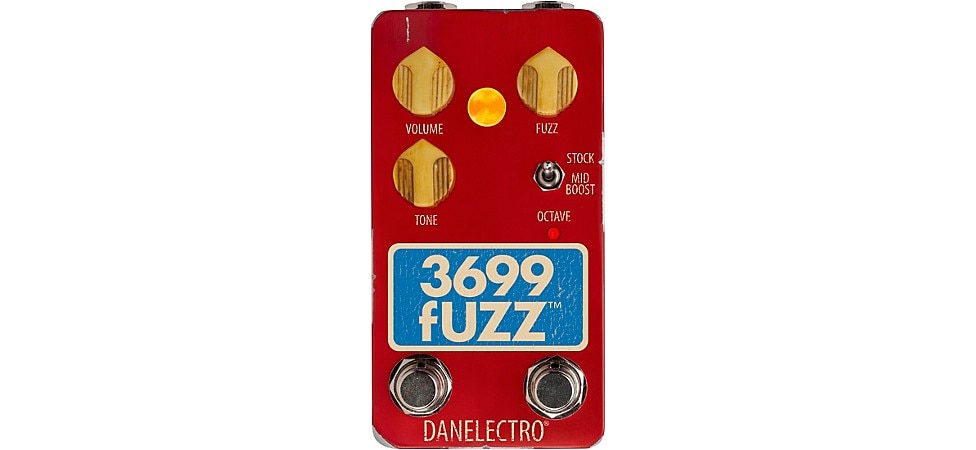 Pictured: Danelectro 3699 Fuzz Effects Pedal 
The Shin-ei Companion Fuzz, Univox Square Wave and a number of Roland pedals, including the AF-100 BeeBaa and AF-60 Bee Gee, are other notable contributions from this decade.
Fuzz devotees of the 1970s include David Gilmour, Mick Ronson and Marc Bolan.
Fuzz in the 1980s - The Rise of Shoegaze
The '80s were a dark period for fuzz commercially for a few reasons. As a new style of metal took the spotlight, distortion pedals flooded the market, and fuzz fell by the wayside. Also, Electro-Harmonix stopped producing pedals in the 1980s, making new Big Muffs impossible to find until the 1990s.
However, the mid-decade growth of college/indie rock, and what would later be known as shoegaze, kept the fuzz dream alive. My Bloody Valentine, the Pixies, Sonic Youth, Hüsker Dü and L7 were just a few of the bands who reveled in vintage pedals like the Maestro Fuzz Tone and the Shin-ei Companion, building walls of guitar fuzz that would heavily influence guitarists of the following decade.
Fuzz in the 1990s - The Muff is Back
This decade kicked off a fuzz renaissance that continues to flourish. In the early 1990s, Mike Matthews and his Russian partners at Sovtek resurrected the Big Muff as the Red Army Overdrive and later under its original name. These pedals had their own unique sound, and Electro-Harmonix has recreated it in the Green Russian Big Muff.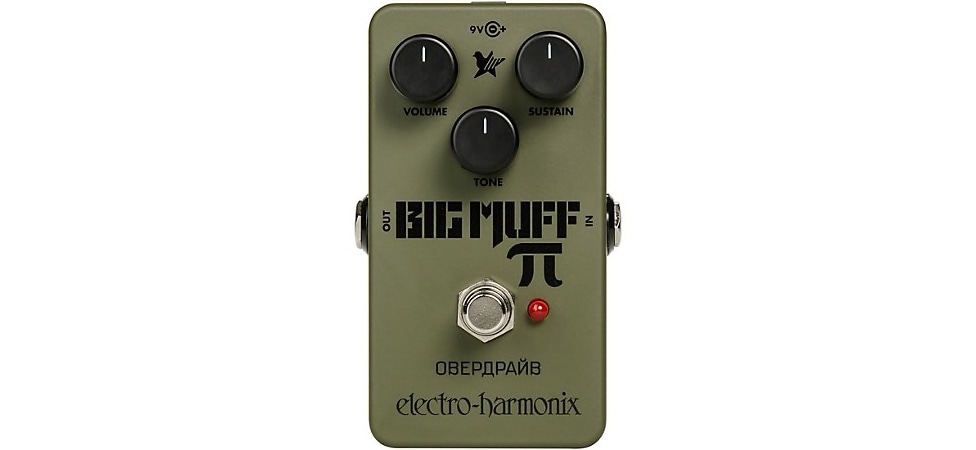 Pictured: Electro-Harmonix Green Russian Big Muff Distortion and Sustainer Pedal 
Those exciting shoegaze, punk and indie bands who'd reveled in fuzz influenced a wave of artists in the late '80s and early '90s, like Smashing Pumpkins, Nirvana and Screaming Trees, and a new world of huge, grungy, fuzz-laden rock was born. 
The op amp Big Muff of the 1970s was hugely influential in this decade, appearing on records like Smashing Pumpkins' Siamese Dream—and Electro-Harmonix has reissued it as the Op-Amp Big Muff Pi.
Another important fuzz of the '90s was the Lovetone Big Cheese, favored by the likes of My Bloody Valentine, Dinosaur Jr. and U2. Its spitting, crackly tone screamed "lo-fi." JHS has captured the sound in their Cheese Ball Fuzz pedal, which features a mode selector with three extra gain selections for a sweeping range of grit, tone and power.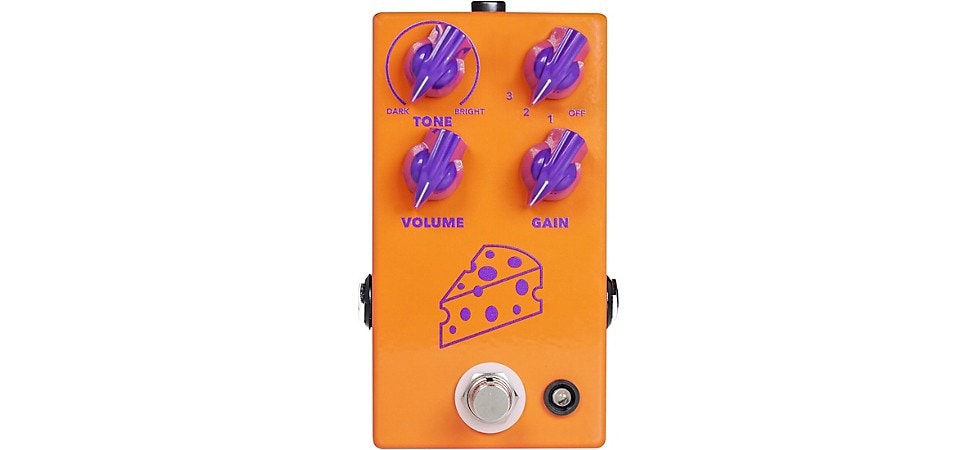 Pictured: JHS Pedals Cheese Ball Fuzz Pedal 
Fuzz in the 2000s - Enter the Boutiques
The rise of the new millennium brought the rise of the boutique pedal and a new surge in the commercial popularity of fuzz. Grunge gave way to a plethora of genres, and guitarists from The White Stripes' Jack White to Wilco's Nels Cline were fuzz evangelists, making use of vintage classics and versatile, modern offerings.
Boutique builders saw a gap in the market and jumped in to fill it, recreating and improving upon vintage Fuzz Faces and Tone Bender circuits. Brands such as EarthQuaker Devices and Keeley Electronics were born, and pedals like the ZVex Effects Fuzz Factory are representatives of the power and versatility of boutique fuzz pedals. We'd be remiss if we didn't mention a BOSS entry from the 2000s with the FZ-5, built with COSM (Composite Object Sound Modeling) technology to accurately recreate vintage pedals.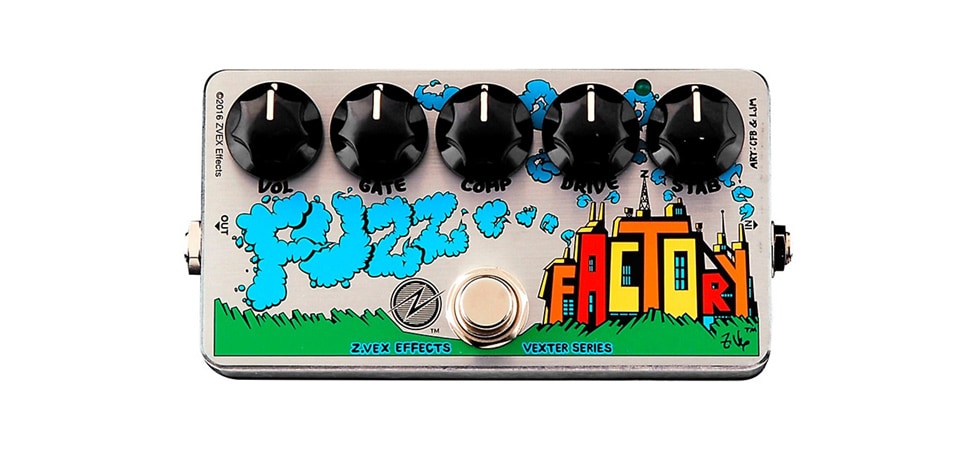 Pictured: Zvex Vexter Fuzz Factory Pedal 
Fuzz in the 2010s to Today
Today, the fuzz world is your oyster. All of the best fuzz pedals from yesteryear are recreated in some fashion, and both boutiques and big brands continue to innovate. 
Exciting contemporary pedals abound. The Old Blood Noise Endeavors Haunt Fuzz Pedal is an astounding creation. This gated fuzz features Mode and Bass selections, with mode switching between two silicon transistor combinations and bass boosting the low end to an apocalyptic moan.
The Walrus Audio Kangra Filter Fuzz was inspired by Saturday Night Live guitarist Jared Scharff's vintage Kay Fuzz Tone pedal. It combines thick octave fuzz with a psychedelic filter that can run independently of the fuzz effect.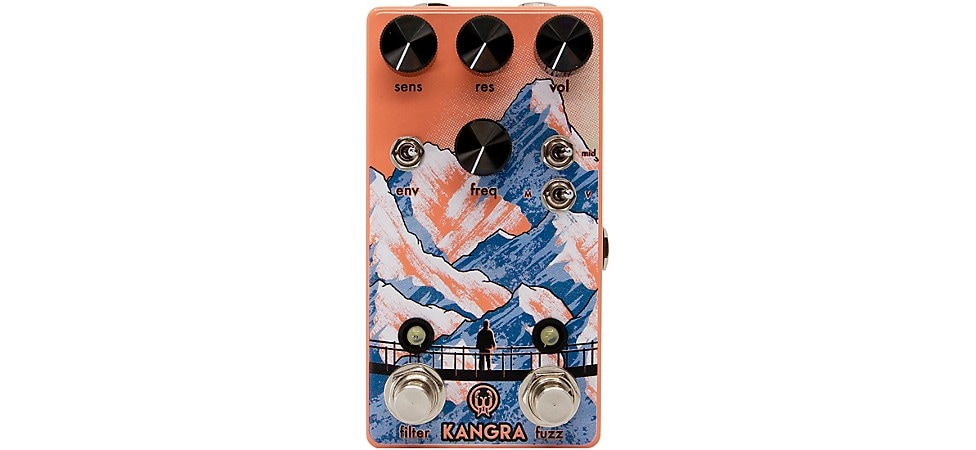 Pictured: Walrus Audio Kangra Filter Fuzz Pedal 
The Way Huge Swollen Pickle Jumbo Fuzz MkIIS builds on the wildly popular Swollen Pickle, delivering enormous fuzz in a smaller package. Its scoop and filter controls adjust mids and bandpass filters, while internal voice and clip controls provide detailed control over clipping.
The Big Muff in all its variations isn't the only Electro-Harmonix entry in the fuzz world. The Flatiron Fuzz is an op amp pedal that can range from the aggressive grit of a Pro Co Rat 2-style distortion to the furry glory of the Big Muff. The Keeley Fuzz Bender combines silicon and germanium transistors for all the fuzz types you could imagine, plus a bias knob to swing you from Tone Bender to Fuzz Face attack styles.
Boutique builder Wren and Cuff has built an entire line of pedals inspired by classics including the Big Muff and Fuzz Face, right out of their small shop in Southern California. If you're looking for ultimate Muff-inspired versatility, take a look at the Super Russian Fuzz/Buffer Boost pedal.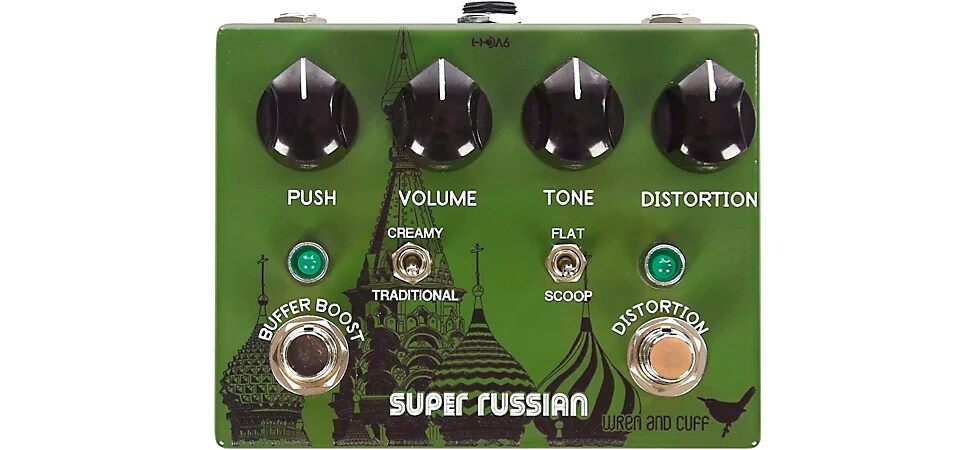 Pictured: Wren and Cuff Super Russian Fuzz/Buffer Boost 
We've come a long way from ripped speakers and freak recording accidents to tiny boxes that open up walls of noise. Fuzz has ebbed and flowed in popularity for the past half-century, but it's always influential. Today, whether you want to recreate your favorite effect of the past or venture into unknown sonic territory, there's a fuzz out there to keep you warm.
How to Shop for Fuzz Pedals 
With the gargantuan assortment of pedals we carry, we know that it can be hard to make a choice. Whether you're walking into a Guitar Center store or shopping online, you'll find our call center and store associates can help you zero in on the right one for you. Here are some strategies for finding the pedal that matches your budget and your music. 
Questions You May Have When Shopping
Don't be afraid to ask our call center or store associates for help. Even if you've spent plenty of time researching, you're not going to call or walk in with all of the answers. You may have questions about how to get a certain type of fuzz, or you may not know the best spot to put the pedal in your signal chain. Our associates can help answer your questions and explain key features or functions that you may need assistance with.
Trying Out Fuzz Pedals
Next time you walk into your local Guitar Center store, head over to our pedal display. You'll find a convenient spot to test a range of fuzz pedals into a small and versatile amp. Grab your preferred guitar off the wall and get playing. Don't feel like you have to show off for the other customers to get a sense of which pedals you like most. Try them out with some basic chords or any solos or riffs you feel comfortable playing.
If you're shopping online, our call center associates can be a major asset in helping you zero in on exactly the right fuzz for the music you play. Of course, there's no substitute for ears-on experience, but between our knowledgeable staff and generous 45-day return policy, you can be sure you'll end up with a fuzz you love.
Vintage and Used Pedals
Trying to find that holy grail original Sovtek Big Muff or rare boutique piece? We're always adding to our collection of vintage gear. We also have an ever-changing inventory of used pedals, which can be a great place to find something you want to test, mod or stick right onto your pedalboard. Best of all, you can see our entire used inventory online.
Getting the Best Deal on Your Guitar Pedal
It never hurts to ask if there are any promotions or sales currently running, but our 45-day price-match guarantee takes the guesswork out of getting the best deal on guitar pedals. At the time of purchase or any time within 45 days of your purchase, if you find the identical pedals advertised by any authorized dealer—including Guitar Center—at a lower price than what you paid, just show us the ad and your original receipt, and we'll refund you 100% of the difference. Another way to save money on your new pedal is by selling us old musical gear you have to trade up to your new gear. If you have a qualifying item you'd like to trade in, you can get 10% off your new setup, in addition to your trade credit. Alternatively, you might find just the pedal you're looking for in our Used inventory. Our inventory is always changing, so keep checking back!