Distortion and electric guitar are such a natural fit that it's surprising they haven't always been joined at the proverbial hip. But distortion's origins are surprising, including newspaper crammed in amp cabinets, and slicing speakers with a knife. Since the advent of the guitar amplifier, musicians have found ways to drive and distort their sound for volume, grit and power. Best-selling distortion pedals like the Boss DS-1 and ProCo Rat 2 offer an easy avenue for finding just the right dirt for your tone, and the versatility to change from song to song without having to lug around a dozen amps. Without distortion, we likely wouldn't have electric blues or rock 'n' roll. Without distortion, most of our favorite songs would sound very, very different. This buying guide will help you understand what distortion is, how it affects your guitar tone and help you choose the best distortion pedal for your sonic needs.
Looking for more pedals to shape your guitar tone? Check out our beginner's pedal buying guide.
Table of Contents
What Is Distortion?
Distortion: An Abridged History
   Distortion Sounds of the 1960s and 1970s
   Distortion Sounds of the 1980s
   Distortion Sounds of the 1990s
   Distortion Sounds of the 2000s
   Distortion Sounds of the 2010s to Today
Trying Out Pedals In-Store
Questions You May Have When Shopping
Getting the Best Deal on Your Guitar Pedal
What Is Distortion?
Before we dive into what pedal makes which noise, let's have a quick overview of what distortion actually is. At its very essence, distortion is the result of a soundwave being powered beyond the capacity of the device it's going through, whether that's a tube or a circuit. The result is that the wave is clipped at the top and bottom, changing the quality of the resulting sound.
Tube amps achieve this through overdriving their preamp and/or power tubes, while solid-state amps and pedals use transistors and operational amplifiers (or op-amps) to create high-amplitude harmonics that clip the signal to create gritty sounds.
Overdrive and fuzz are close cousins of distortion, and the big differentiator between the three is the severity of clipping involved. Overdrive is all about gain and, in the case of a guitar pedal, about simulating an overdriven tube. Whereas overdrive is responsive to dynamic range, distortion gives you the same amount of crunch no matter how loud you turn it up, or how hard or soft you play. And fuzz, well it's fuzz—all square waves, harmonics and sustain.
Think of soft clipping in overdrive as the warm growl of a classic blues solo, harder clipping in distortion as the full-out grit and grime of metal and grunge, and severe clipping in fuzz as the woolly, even coating heard in classic rock, shoegaze and contemporary, grungy blues rock.
For our purposes here, we're focusing solely on distortion effects, specifically distortion pedals, for guitar.
Ready to dig deeper? Check out our beginner's buying guides for fuzz pedals and overdrive pedals. 
Distortion: An Abridged History
In truth, guitar distortion is as old as amplifiers. The first amps guitarists used were portable PA systems designed for vocals that couldn't handle the amount of signal guitarists had to push through them. As a result, tubes were overdriven, and clipped sound and distortion were born. Of course, recording engineers considered this an ugly technical error and kept everything as clean as possible.
However, blues artists like Howlin' Wolf and Elmore James, along with Western swing guitarist Junior Barnard of Bob Wills and His Texas Playboys, reveled in distortion and pushed their tubes for grit, making it a signature part of their sound.
Overdriving tubes wasn't the only way early artists got a distorted sound. In 1951, Sam Phillips recorded Jackie Brenston and his Delta Cats playing "Rocket 88." Guitarist Willie Kizart's amp was damaged, and he'd stuffed it with newspaper to keep the speaker cone from falling out. The rattling, fuzzy distortion that went to tape started a rock 'n' roll legacy.
Not long after, Link Wray poked holes in his speaker cone with a pencil, creating the distortion heard in the iconic "Rumble," and paving the way for Dave Davies, who would later slash his own speaker to get the fuzz heard on The Kinks' "You Really Got Me."
Aside from driving amps and messing with speakers, another form of distortion that was found by accident led to the birth of the distortion pedal. The 1961 hit "Don't Worry," by country singer Marty Robbins, featured a distorted bass solo that was created by the bass signal running through a damaged mixing board.
The sound was crucial to the song's success, and recording engineer Glenn Snoddy made it his mission to recreate it. He reverse-engineered the sound and bad circuit, and experimented until he created the Maestro FZ-1 Fuzz-Tone—the pedal Keith Richards would go on to use on "(I Can't Get No) Satisfaction" in 1965.
Throughout the 1960s, the use of distortion grew through surf rock, blues, pop, R&B and just about every genre. Marshall and Fender created more and more powerful amps, and pedals like the Fuzz-Tone and Jimi Hendrix's go-to Fuzz Face led the charge. Players sought out pedals to make their transition from clean to dirty, quick, easy and predictable.
Distortion Sounds of the 1960s and 1970s
Electro-Harmonix was formed in 1968, and revolutionized the availability of power and creamy distortion for guitarists right out of the gate. Their second creation, the Big Muff Pi, is a fuzz pedal, and we'll discuss it in more detail on our fuzz page. It is safe to say that it's one of the most influential pedals of the 1970s and its popularity continues today, with a plethora of Big Muff models on the market. The Big Muff produces a massive, sustain-y, velvety fuzz.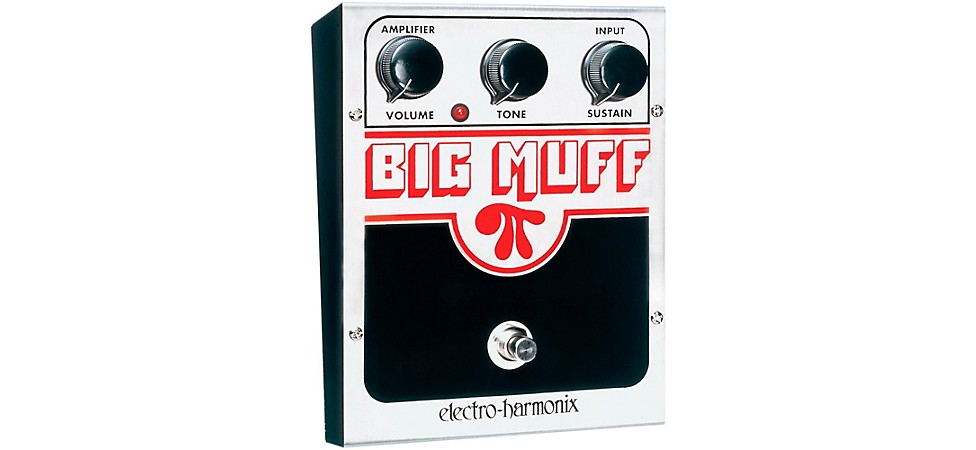 Pictured: Electro-Harmonix Big Muff 
In 1969, Japan's Maxon began releasing fuzz pedals and more under a number of brand names, including Ibanez. Their most famous breakthrough came in the 1970s: the OD-808 Overdrive, also known through Ibanez as the Tube Screamer, was as much a landmark in the creation of overdrive as the Big Muff was for fuzz.
As the 1970s progressed, brands like MXR and BOSS increased the popularization of distortion pedals. MXR's Distortion + and the pioneering BOSS DB-5 found their way into players' hearts and onto plenty of stages by the end of the decade. Today, the MXR Distortion + and BOSS DS-1, which was first released in 1978, continue the legacy of pioneering distortion sounds, with simple controls, reliable sound and buckets of dirt.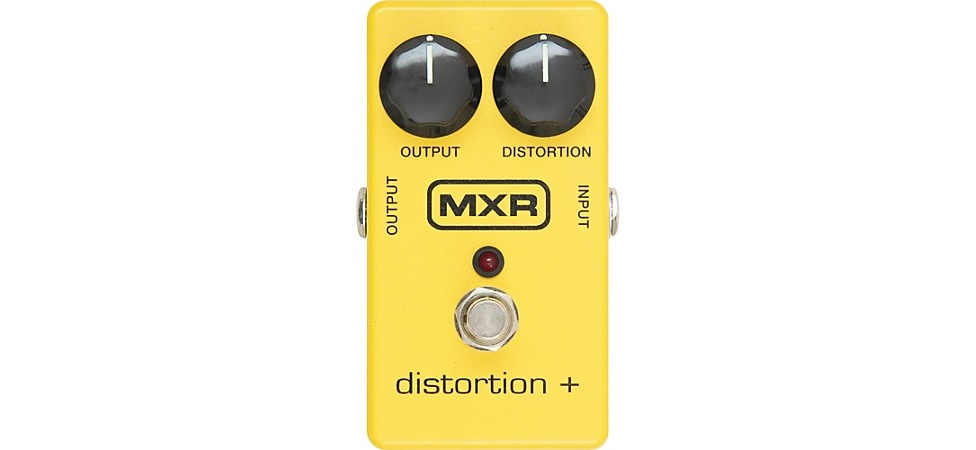 Pictured: MXR Distortion+ 
At the end of the 1970s, the folks at ProCo Sound released their custom baby, The RAT, into the world, and rocketed distortion into the 1980s. With screaming tone that fits punk and metal alike, and a build designed to outlast the apocalypse, The RAT continues to be a favorite today.
Distortion Sounds of the 1980s
Everything got bigger in the '80s—the band makeup budgets, the hair, the shoulder pads, and the distortion pedal market. The use of distortion exploded in the 1980s. Punk and metal led this charge. BOSS' HM-2, with its sought-after chunky distortion, and warm DS-2 Turbo Distortion, were some of the most accessible and ubiquitous pedals appearing in garages and stadiums everywhere. This was the era of the ProCo RAT, the surprisingly versatile Ibanez SD9 Sonic Distortion and the sustain monster BOSS DF-2 Super Feedbacker and Distortion.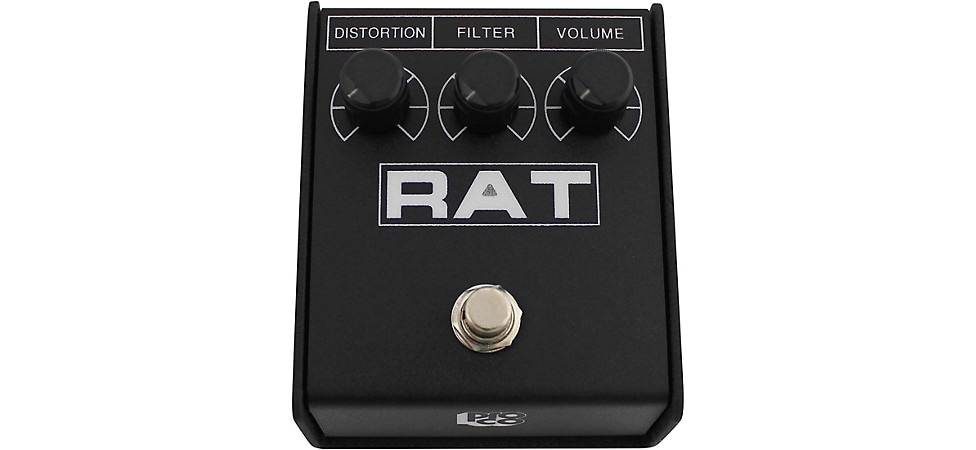 Pictured: PRO Co Rat 2 
A significant development of the 1980s was the surge in popularity of rackmount effects. From the biggest names in L.A. hair metal to Irish rockers, more and more effects came off the floor and onto big, blinky, unwieldy racks. Preamps like the ADA MP-1 and the BOSS ROD-10 Overdrive/Distortion unit led the way, with MIDI and presets becoming the new buzzwords of the effects world.
During this decade, the master volume circuit became a widespread, and expected, feature on guitar amps. Early tube amps didn't feature this option, and distortion required major power and volume. The master control circuit controls added gain stages before the power amp, pushing gain and distortion, but allowing versatile volume control. Beginning in the '80s, garage rockers could get the sound of an amp set at 10 without rattling dad's tools off the shelves.
Distortion Sounds of the 1990s
Distortion is the lifeblood of indie rock, grunge, industrial, post-punk and metal genres, and this era was, in many ways, the effect's golden age.
Pedal companies, like BOSS, took the lion's share of the effects market during this period, and effects once again jumped from racks to the floor, as guitarists realized it was easier to lean down and turn a knob than to run over to mission control and seek out the right switch.
With the rise of the grunge came the rise of a new era in distortion. The perennial favorites, the BOSS DS-1 and MXR Distortion II, can be heard on seminal grunge records. Guitarists ditched the glassy, brittle distortion of hair metal, and cascaded multiple distortion pedals for walls of sound, coloring them with phaser and chorus pedals.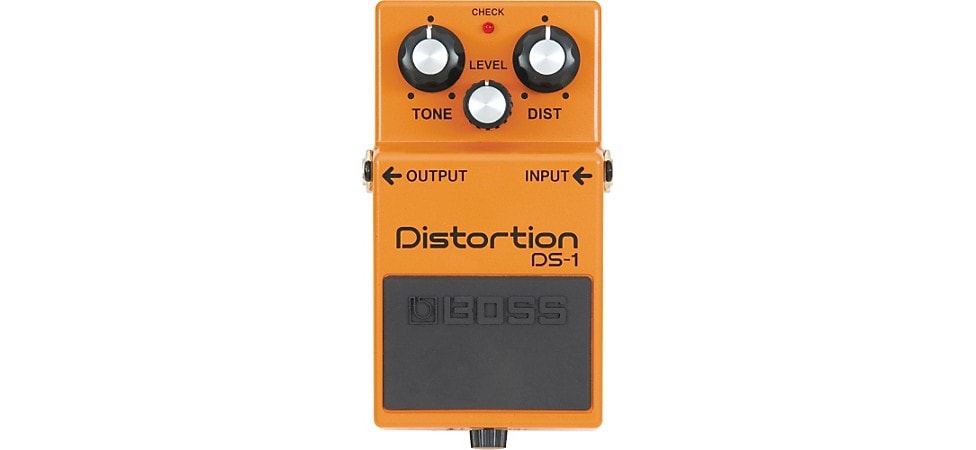 Pictured: Boss DS-1 
The DOD/Digitech Grunge pedal and BOSS DS-2 Turbo Distortion are incredibly popular pedals from this era and, like the DS-1, the ProCo RAT continued its reign. 
Distortion Sounds of the 2000s
Just as effects moved from the rack to the floor in the '90s, they migrated from the corporation to the boutique in the 2000s. New tastes demanded more color, versatility and variety from distortion, and custom builders rose to the occasion.
Artists wanted fatter, richer distortion that didn't require four stacked pedals, and they wanted clarity and simplicity. In the world of amp modeling and multi-effects, boutique pedals gave guitarists an earthy, organic sound. Brands like EarthQuaker Devices, Way Huge Electronics, Wampler and more found their way on the pedalboards of the hottest rock acts of the 2000s.
Distortion Sounds of the 2010s to Today
The past decade saw the growth of a global, interconnected community. We live in a constantly connected world, where genres seem to change daily, and where we draw influence from artists in every discipline and every country. Whether we're working on lo-fi hip-hop tracks, creating a movie score, blending synthwave with metal or just cranking out good, old-fashioned, three-chord standbys, we reach for the pedal that best suits our purpose.
Boutique to big name, tube-driven to digital, the distortion world is your oyster. The top distortion pedals of the past decade include new favorites, like the double gain stage Wampler Sovereign, with its choice between Vintage and Modern distortion sounds, and a contour EQ control. The high-gain Walrus Audio Iron Horse features an easy toggle between three different clipping diodes, providing three compression choices and distinct distortion types. We've seen the resurgence of old favorites, including the trusty BOSS DS-1 and screaming Metal Zone pedals.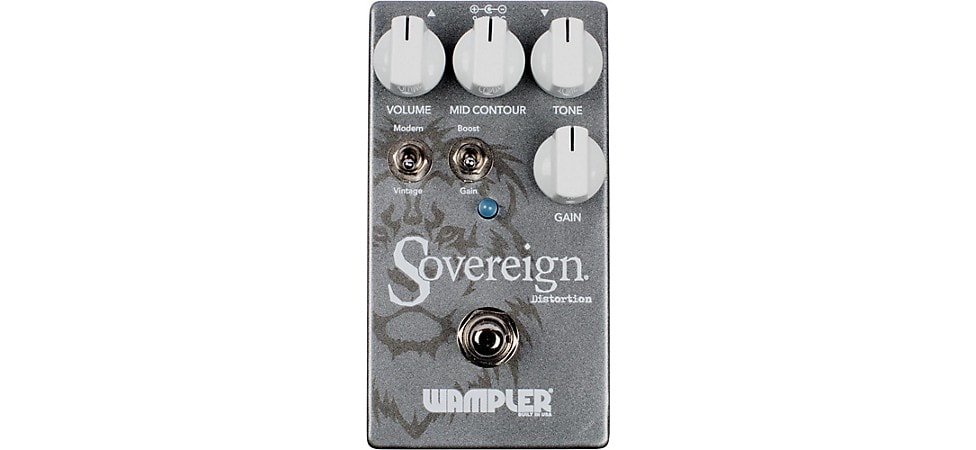 Pictured: Wampler Sovereign 
The previous decades have not only honed the technology and sound of distortion, they've also left us with absolute gems as well, many of which are still alive and kicking today, either in production or as reissues. We no longer have to slice up our speaker cones to get the distortion we desire. Whether your distortion comes from an amp, pedal or cramming some newspaper in your cabinet, make it yours.
Trying Out Pedals In-Store
Next time you walk into your local Guitar Center, head over to our pedal display. You'll find a convenient spot to test a range of distortion pedals into a small and versatile amp. Grab your preferred guitar off the wall and get playing.
Don't feel like you have to show off for the other customers to get a sense of which pedals you like most. Try them out with some basic chords or any solos or riffs you feel comfortable playing.
Questions You May Have When Shopping
Don't be afraid to ask our associates for help. Even if you've spent plenty of time researching, you're not going to walk in with all of the answers. You may have questions about how to get a certain type of distortion, or you may not know the best spot to put the pedal in your signal chain. Our associates can help answer your questions and explain key features or functions that you may need assistance with.
Getting the Best Deal on Your Guitar Pedal
It never hurts to ask if there are any promotions or sales currently running, but our 45-day price-match guarantee takes the guesswork out of getting the best deal on guitar pedals. At the time of purchase, or any time within 45 days of your purchase, if you find the identical pedals advertised by any authorized dealer—including Guitar Center—at a lower price than what you paid, just show us the ad and your original receipt, and we'll refund you 100% of the difference. Another way to save money on your new pedal is by selling us old musical gear. If you have a qualifying item you'd like to trade in, you can get 10% off your new setup, in addition to your trade credit. Alternatively, you might find just the pedal you're looking for in our Used inventory. Our inventory is always changing, so keep checking back.