Description
Universal Audio's Apollo x16 is the flagship converter in UA's x Series. It connects easily to studio consoles, offering UA's world-class A/D and D/A conversion. It's the perfect solution for commercial studios that rely on outboard gear.
The UA x16 is an 18x20 Thunderbolt 3 converter with wide dynamic range and low signal to noise ratio. It features 16x16 analog I/O to connect your console via DB-25 and has a +24 / +20 dBu switch to dial in the perfect headroom settings.
With HEXA Core processing, the x16 extends the limits of your plug-in processing. It features a built-in talkback mic and 7.1 surround sound monitoring. It has the tone, feel and real-time workflow of classic analog gear and will boost your recording workflow.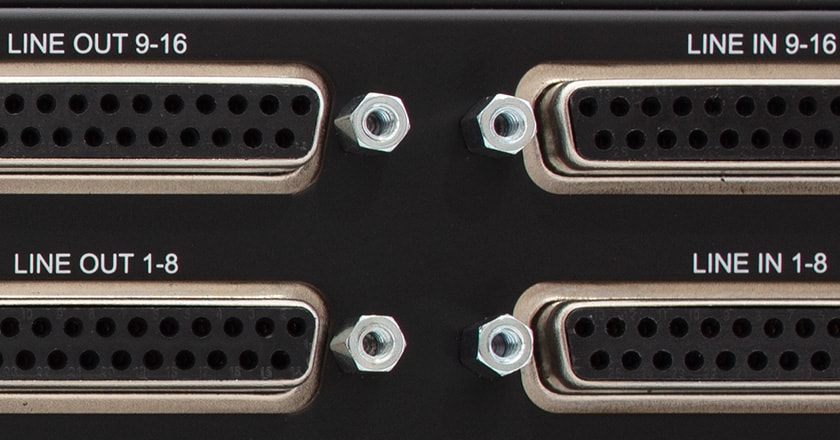 Elite audio conversion and enhanced stereo image
The x16 improves on the previous Apollo interfaces by pairing elite 24-bit/192kHz converters with analog circuitry. This results in a pristine signal path.
UA x16 has 133dB of dynamic range and -129dB of total harmonic distortion. Its natural sounding audio rivals any high-end converter on the market. It also has Dual-Crystal clocking for a stunningly low jitter. That means pure recordings and excellent stereo imaging.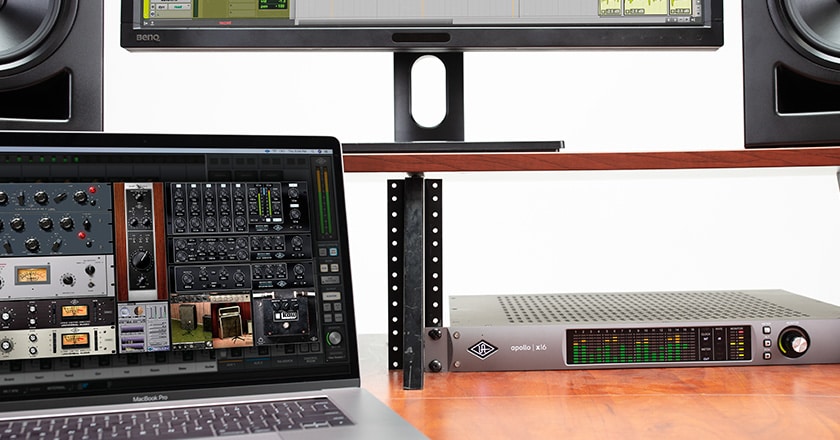 A suite of UAD plugin-ins with improved HEXA processing
With HEXA Core, the Apollo x16 has six SHARC DSP chips. This provides 50% more UAD plug-in processing power than previous Apollo audio interfaces. Apollo x16's HEXA Core Processor gives you more creative freedom in your recording and mixing sessions.
The x16 audio interface also comes with the Realtime Analog Classics Plus plugin bundle. These UAD plugins model studio gear like the Pultec EQ, the LA-2A, 1176 and Fairchaild 670 compressors. With the UAD plugins, your mixes will take a giant tonal leap.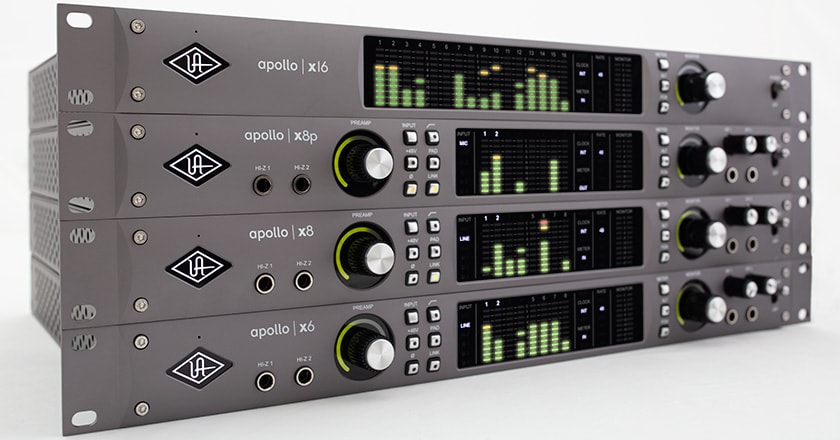 The speed of Thunderbolt 3 with cascading connectivity
Like all of the Apollo x interfaces, the x16 looks sleek and modern. It has front panel controls, monitoring functions and a backlit metering display. It boasts two Thunderbolt 3 inputs for blazing-fast speed and low latency. The two inputs also allow you to link up to four Apollos together to add more I/O and DSP.
Features
Experience elite-class A/D and D/A conversion nearing the widest dynamic range and lowest signal to noise available — at any price
Includes free download of integrated LUNA Recording System for Mac
Track and mix with powerful HEXA Core processing, featuring 6 UAD DSP chips for running more award-winning UAD Powered Plug-Ins in real time
Combine up to 4 Thunderbolt-equipped Apollos and 6 total UAD devices
Backward-compatible with Thunderbolt 1 and 2 via optional adapter
Record with near-zero latency through preamp emulations from Neve, API, Manley, Fender, and more using Unison technology*
Easily connect to pro-level studio gear with switchable +24 / +20 dBu headroom settings
Work in surround formats up to 7.1*, complete with speaker calibration and fold-down
Integrated talkback and built-in cues for easy communication and slating takes
Compatible with Mac Pro (Late 2013 "black cylinder" model).
*Surround Sound Support for Apollo X Coming Q4 2018
Specifications
Compatibility: Mac / Windows
Connectivity : Thunderbolt 3*
Host Ports 2
Realtime UAD Processing: Yes
SHARC DSP: HEXA (6)
Unison Mic Preamps: -
Unison Hi-Z Inputs: -
Total I/O: 18 x 20
Digital I/O: 2 AES/EBU
Monitor Outputs: 2 XLR
Headphone Outputs: -
Monitor Modes: Stereo to 7.1*
Alt Speakers: Up to 2 Stereo
Built-in Talkback Mic: Yes