The String Centre FG Standard Series Fiberglass Composite Violin Bow 1/4
(2)
|
Q&A
|
Item #:

1500000048366
POS #:113459671
6-month special financing^ + $1 back in Rewards**
Learn More
Save on orders $199+ and get expert advice from a Gear Adviser
Gear Specialist
Bundling
Musician
Need Help?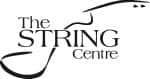 Description
The String Center FG Standard Series Fiberglass Composite Violin Bow 4/4 is Constructed from a fiberglass composite resistant to warping, this high-performance bow is designed for violinists ready to take their playing to the next level. Its ebony frog, plastic grip, and quality white horsehair provide an ideal balance of control and playability.
Composite Materials Provide Long-Lasting Performance
The String Center FG Standard Series bow is crafted from a fiberglass composite material selected for its durability and stability. Unlike traditional wood bows that can warp or crack over time, this composite bow maintains its shape to provide consistent performance for years of regular use. Its rugged yet lightweight construction also makes it a practical choice for students and performers on the go.
Premium Components Enhance Responsiveness
At the heart of any bow is the horsehair, and The String Center FG Standard Series bow features high-quality white horsehair prized for its ability to grip and move violin strings with precision. An ebony frog and plastic grip provide an ergonomic handhold, allowing musicians to execute strokes and techniques with comfort and control. The result is a bow that feels like an extension of the hand, translating subtle movements into nuanced sounds.
An Accessible Upgrade for Advancing Players
With a balance of premium components and an affordable price point, The String Center FG Standard Series bow is an excellent and practical upgrade for violinists ready to invest in their craft. Its durable yet responsive design provides an inspiring playing experience for students and performers alike. This thoughtfully crafted bow allows musicians to coax a wider range of tone and expression from their instrument as their skills develop.
WARNING: This product can expose you to chemicals including Chromium (hexavalent compounds), which is known to the State of California to cause cancer, and to cause birth defects or other reproductive harm. For more information go to www.P65Warnings.ca.gov.