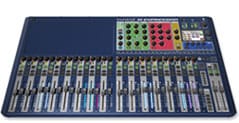 Si Expression 3
The 32-channel Si Expression 3 is a powerful, yet cost-effective digital mixing console.
Features
32 mono mic inputs, 4 line inputs, AES in and out
Color touchscreen interface
Up to 66 input processing channels
4 Lexicon effects processors
Soundcraft FaderGlow™
Shop now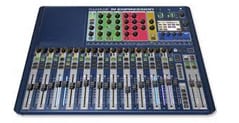 Si Expression 2
The 24-channel Si Expression 2 digital mixing console includes all the features of the Expression 3 in a more compact package.
Features
24 mono mic inputs, 4 line inputs, AES in and out
Color touchscreen interface
Up to 66 input processing channels
4 Lexicon effects processors
Soundcraft FaderGlow™
Shop now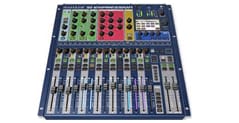 Si Expression 1
The 16-channel Si Expression 1 packs the identical features of the larger models into a compact package that can also be rack mounted.
Features
16 mono mic inputs, 4 line inputs, AES in and out
Color touchscreen interface
Up to 66 input processing channels
4 Lexicon effects processors
Soundcraft FaderGlow™
Shop now for Si Expression 1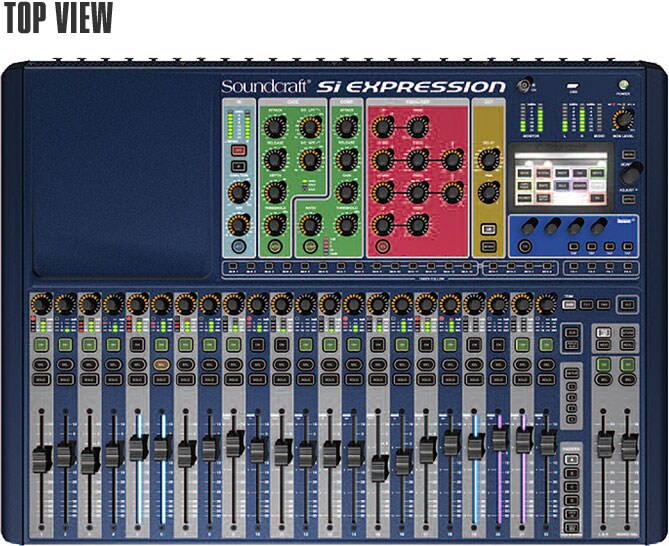 Rollover each of the control names to learn more about the control.
USB port for storing and recalling desk settings and snapshots on a USB memory stick.

USB

Includes 8-segment stereo metering, controls for phantom power and polarity reverse, gain/trim adjustment and high pass filter frequency adjustment

Input Section

Contains controls for the gate and compressor on each channel; compressors are also available on all busses

Dynamics Section

Four EQ bands with adjustable frequencies for each channel; variable Q on Lo Mid and Hi Mid bands

EQ Section

Contains a delay control and a pan control, as well as Stereo and Mono mix assignment

Out Section

Used for setup, show control and naming, as well as to assign inserts, patch channels and setup monitoring.

Color Touchscreen

Four integrated Lexicon effects engines with more than 20 preset effects

Lexicon® FX

Press a single key to instantly mix to an AUX, FX or Matrix bus on the faders.

Mix Switches

Rotary controls are assignable at the touch of a button to be GAIN, PAN or HPF for all of the inputs.

Global Encoders

Metering showing level, gain reduction and gate closed for every active channel or mix

Meters

Select a channel or bus to display its information on the touchscreen and bring it to the Assignable Channel Strip for adjustment.

Select

Set the level of a channel or mix. FaderGlow™ illuminates the faders according to the current operating mode.

Faders

Over 1000 cues can be stored and recalled.

Cue/Snapshot Control

Four mute groups enable muting several channels as one.

Mute Groups

Four user-configurable fader layers allow you to assign inputs and outputs anywhere on any fader layer or add/insert faders.

User Configurable Fader Layers

Brings the graphic equalizer onto the input faders, with each fader controlling one frequency; GEQ LO selects 31Hz to 630 Hz, while GEQ HI selects 800 Hz to 16 kHz.

GEQ

---

32, 24 or 16 mono mic inputs, depending on the model

Mic/Line inputs

16 balanced line outputs

Analog Line Outputs

For multiple I/O formats and interfacing to personal monitoring systems, audio networks, stageboxes and DAWs

64x64 Option Card Slot

Ethernet port

HiQnet®

Transports two channels of AES digital audio input and output

AES

4 line inputs

Line Inputs

Carries event messages specifying control signals for setting and synchronizing multiple devices

MIDI In/Out


Remote control iPad app for
Wirelessly control your Si Expression console from your iPad® using a wireless access router connected to the console's HiQnet® Ethernet port.
Make adjustments from anywhere in the room
Control a network of consoles from one iPad® app
Use multiple iPad® devices on the same console

Expansion options for Soundcraft digital mixing consoles
Mini Stagebox
When you don't need the modularity and configurability of a larger system, the Mini Stagebox provides a lower-cost stage connectivity solution. Used with the Si Expression's optional MADI interface card, the Mini Stagebox 32 (3U) features 32 analog inputs and 16 line outputs, while the Mini Stagebox 16 (2U) features 16 analog inputs and 8 line outputs.
Compact Stagebox (CSB)
The Compact Stagebox is a configurable modular unit, offering a high density of I/O connections in only 4U of rack space. It provides cost-effective I/O capability extension and allows connection to popular digital formats, including CobraNet®, AVIOM A-Net®16, Ethersound, ADAT and RockNet. The standard configuration offers 32 mic/line inputs, 8 line outputs, 8 channels of AES/EBU outputs and 2 expansion slots.

Various Soundcraft ViSi Connect option cards can be added to the 64x64 card slot on the rear panel of the Si Expression console, enabling interfacing with other digital systems.


MADI
The optional MADI I/O card enables linking the Si Expression to any Soundcraft stagebox and can establish a 64-channel MADI input and output for increased I/O power and flexibility. Single-mode optical, multi-mode optical and Cat5 versions are available.


CobraNet®
The optional CobraNet card enables sending and receiving up to 32 audio channels to and from a CobraNet digital audio network.


AVIOM A-NET®16
The AVIOM A-NET 16 card enables the Si Expression to digitally feed 16 mono signals to any number of Aviom personal mixers connected in a daisy-chain configuration, providing audio and synchronization data to the chain. DIP switches enable test tone generation and the grouping of two adjacent channels into one stereo channel.


AES (XLR)
An XLR-based I/O card provides two pairs of AES/EBU inputs and outputs (4 in/4 out).


AES (D-Type)
A D-type connector-based I/O card has 8 inputs and 8 outputs. A BNC connector is provided for wordclock output.