Multiple systems and mic options offer unlimited flexibility for any application or budget.
Analog Systems
- Up to 12 compatible systems per
frequency band
- Reliable RF Performance
- Wide Tuning Bands
- No Audio Latency
Digital Systems
- Pristine Audio Clarity
- Regional Frequency Range Independence
- Remote Gain Control
- Rechargable Battery Options
- Reliable Battery Monitoring
- Inscription Audio
- Interference Detection and Avoidance
Analog Systems
Analog wireless systems have no latency and tend to do better towards the end of range limits (with albeit noisier operation) where digital wireless may just drop out at the end of their useful range. Analog is also more forgiving with interference, since they transmit over a single carrier and do well when the noise floor is high.

Digital Systems
Digital wireless systems tend to have better audio as far as dynamic and frequency response, as well as usually being less noisy at end of their useful range. Digital wireless is more efficient, allowing users to pack many more channels of audio into the same available bandwidth and tend to have 30–40% longer battery life than equivalent analog systems.
GLX-D ADVANCED
Part of a suite of GLX-D Advanced products designed to deliver exceptional digital audio clarity, the rack mount receiver and frequency manager system features intelligent rechargeability and seamless operation for multi-system house of worship, education and live music applications.
Handheld Options ▶
Lavalier Options ▶
Headset Option ▶
Guitar/Bass Option ▶
Shop All
QLX-D
QLX-D Digital delivers defined, streamlined performance with transparent 24-bit digital audio. Combining professional features with simplified setup and operation, QLX-D offers outstanding wireless functionality for demanding live sound events and installations.
Handheld Options ▶
Lavalier Options ▶
Headset Option ▶
Guitar/Bass Option ▶
Shop All
ULX-D
ULX-D Digital Wireless offers extremely efficient RF performance, networked control, Dante digital audio (available only on Dual and Quad receivers), and AES-256 encryption for professional sound reinforcement.
Transmitter ▶
Handheld Microphone ▶
Shop All
AxiEnt Digital Systems
Comprehensive, innovative and failsafe, Axient provides highly advanced planning, setup and control capabilities as a forward-thinking response to spectrum management realities.
ShowLink Remote Control
ShowLink enables real-time remote adjustments of all transmitter parameters using a wireless network connection between linked Axient transmitters and receivers. Whether performers are on stage in the middle of a show, or off stage waiting for their cue, ShowLink lets engineers make crucial changes to their transmitter settings without ever leaving the control booth.
Frequency Diversity
Unparalleled in wireless microphone technology, Frequency Diversity enables audio transmission from a single source on two independent radio frequencies, providing the best possible protection against interference for the most important performances.
Interference Detection & Avoidance
Interference can come from anywhere other wireless microphones, intercoms, digital devices wreaking havoc with the frequencies selected to make the show happen. Axient receivers are equipped with sensitive interference detection circuitry that alerts users when a signal is compromised.
Wireless Workbench 6
Shure Wireless Workbench 6 software is the most comprehensive wireless system control available. It provides a rich interface to manage every facet of a performance over the network, from pre-show planning to live performance monitoring.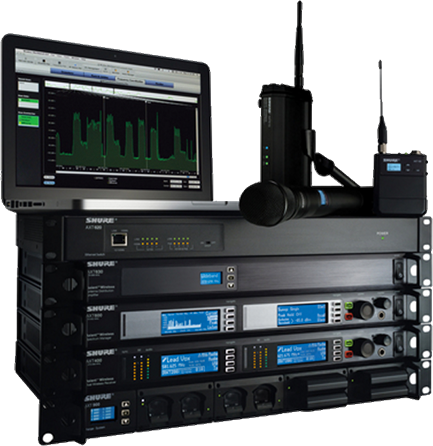 Spectrum Management
The Axient Spectrum Manager offers precision wideband scanning and onboard compatible frequency calculation, as well as backup frequency monitoring, ranking and deployment all on demand. The Spectrum Manager not only captures a detailed scan of your venue and displays it graphically, it can also listen in on a particular signal or store the data from a site survey to be used later.
Power Management
Axient Power Management provides a comprehensive suite of smart, high-performance batteries and chargers, with detailed visibility of critical battery parameters.
Microflex Wireless Systems
Microflex Wireless provides elegant solutions for managing vivid, lifelike sound in AV conferencing environments, from custom boardrooms to networked enterprises.
Premium Conferencing Audio for Elite Boardrooms
Vivid, lifelike sound: Microflex microphone elements flawlessly capture full-range audio for clear, detailed communication.
Versatile microphone selection: Wireless boundary, gooseneck, bodypack, and handheld models are available to fit any conferencing application.
Discreet designs: With elegant aesthetics and a low-profile footprint, Microflex Wireless systems are designed to install easily and disappear into AV environments.
Scalable solutions: 4- and 8-channel systems can be combined to support configurations of up to 40 compatible channels (80 in Europe and select countries). In High Density mode (requires firmware version 5.x), up to 80 compatible channels can be used (up to 160 in Europe and select countries). Adjustable power limits enable additional channels to operate in separate rooms. Subnet scalability/size: up to 20 APT4 or APT8 devices per subnet*.
Networked Digital Wireless for Enterprise-Scale Environments
Dante digital audio networking: Integrated solution transports low-latency, uncompressed audio over standard Ethernet networks.
Ethernet connectivity: All Microflex Wireless networking components connect via Cat5e cable for simplified installation.
Corporate network ready: Connect to corporate networks and third-party control systems using standard networking protocols for remote management and campus-wide implementation.
Microflex Wireless Control Software: Browser-based control software offers comprehensive remote monitoring and control of all settings and status parameters over the web, a corporate network or an AV local area network. Access the software via the Shure Web Device Discovery Application.
Control system compatible: Third-party control and automation systems (AMX, Crestron) are fully compatible with Microflex Wireless, enabling the creation of custom interfaces on touchscreen panels.
Intelligent Performance, Simplified Setup and Operation
Advanced rechargeable power management: Smart lithium-ion rechargeable batteries deliver up to eight hours of continuous use, enable remote status monitoring while in the charger and provide remaining runtime in hours and minutes while in use via networked control systems.
Automated frequency coordination: Microflex Wireless systems actively scan the available spectrum and coordinate clean, compatible frequencies for every microphone channel. While in use, systems automatically move away from unexpected interference.
Encrypted wireless: Audio transmission is protected by AES-256 encryption, the same secure standard used in top government applications.
Selectable transmit power: Select the appropriate wireless output power per room to optimize spectrum usage, range and battery life.
For Large Wireless Systems: Contact a Guitar Center Professional Representative today.