Positive Grid Spark MINI 10W Battery-Powered Stereo Combo Amp Pearl
(14)
|
Q&A
|
Item #:

1500000374729
POS #:118164458
6-month special financing* + $22 back in Rewards
Learn More
Lease-To-Own Purchase Options
Learn More
Get amp and effects pedal help from an expert like Duane
Need Help?
Positive Grid Spark MINI | Overview and Demo with Dre DiMura
I've never heard a small amp sound like this
Metal Tone Demo by Chris

Description
The Positive Grid Spark MINI is a pint-sized powerhouse—an incredibly portable, pro-sounding practice amp that unleashes arena-like guitar and bass tones, and includes a multitude of interactive features. Barely larger than your palm, the battery-powered 10-watt Spark MINI contains four onboard guitar tones (Custom, Solo, Lead, Rhythm), access to 33 amps and 43 effects via the free Spark app, and entrée to a mind-blowing 10,000+ more sounds through the Positive Grid ToneCloud. You can plug into Spark MINI and practice like you're rocking Madison Square Garden, deploy it as a USB recording interface to capture ferocious and vibey guitar tracks, or get inspired by using the educational and play-along tools in the Spark app. You can even use Spark MINI and the Spark app to post your riffs, songs and performances to social media. The diminutive, yet powerfully diverse Spark MINI is always up for anything. Rock with a band, work on your chops, create tonal textures, compose songs and record music wherever and whenever you feel inspired.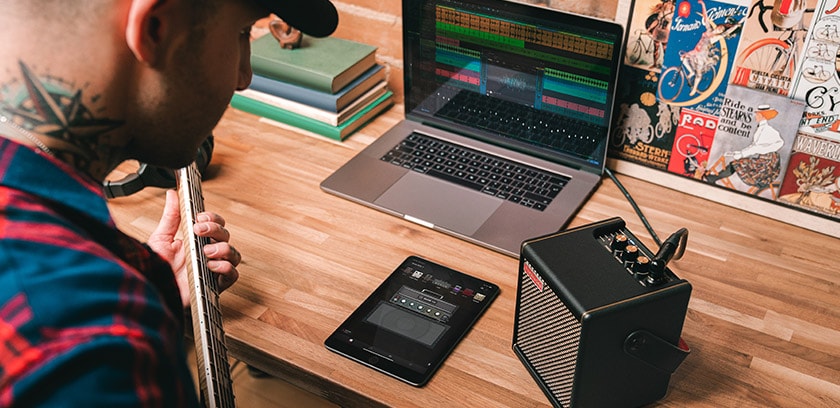 Thousands of Guitar and Bass Tones
While ever-so-teensy on the outside, the inner mysteries of Spark MINI expose a massive warehouse of guitar tone. You can use Spark MINI without the Spark app and avail yourself of four essential, real-world tones—one preset sound each for soloing, riffing and rhythm playing, with a custom option provided to spice things up. The warehouse expands when you use the app, providing more than 33 amp models and 43 effects—all powered by Positive Grid's renowned BIAS Amp Modeling software. Still not enough tonal prospects to satisfy your creative muse? Simply log on to Positive Grid's ToneCloud community and bask in the glory of more than 10,000 sounds designed by guitarists across the globe. If you're intimidated by so many sonic choices, let Spark MINI's EQ Scenario feature give you a hand. Simply play a song and EQ Scenario will curate and suggest EQ curves tailored to the instrument you're playing and the music you're listening to. Whether you want to plug in and rock with minimal hassles or prefer digging in deep to program unique guitar and bass textures, Spark MINI has your back.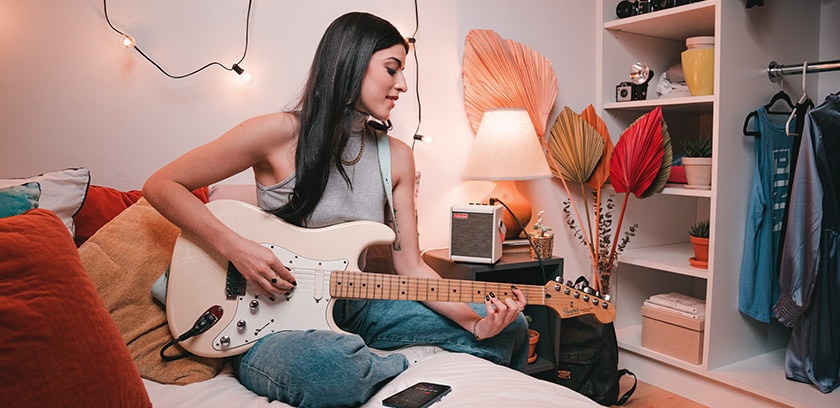 Automatic Backing Tracks for Interactive Jamming
The excitement of jamming with musicians who are reacting to what you are playing is one of the many joys of performing live music. It's also an essential experience for improving your musical empathy, listening skills and chops. But if it's hard to find people to jam with when you want to play, Spark MINI can be your "virtual band" when teamed with Spark Smart Jam. Included with the Spark app, Smart Jam's machine-learning technology automatically generates backing tracks of bass and drums derived from how you play. It's like jamming with long-time bandmates who have absorbed your musical approach, performance idiosyncrasies and sense of groove. Hit it basic, bluesy, jazzy or full-on prog rock and Smart Jam will support you in real time as you lay it down. Spark MINI can also act as a Bluetooth speaker when you want to play along with your favorite songs. Simply stream them from your computer or mobile device, and adjust the mix using the Guitar and Music controls. In addition, using Spark MINI solely as a playback speaker can bring your songs to life when you just want to kick back and listen, help out when you have a playlist of potential songs you need your band to hear, or seek to share music with friends at a campground, park or wherever the party is happening.
Auto Chords App Makes Learning Songs Easy
Stop learning songs from printed sheets of paper like it's 1965. With Spark MINI and the Auto Chords app, you can dive into the millions of tunes residing on Spotify, Apple Music and YouTube, and the app automatically reveals the chords as you play. Having a spot of trouble with a section? Auto Chords lets you loop sections and slow down the tempo. Try that with sheet music.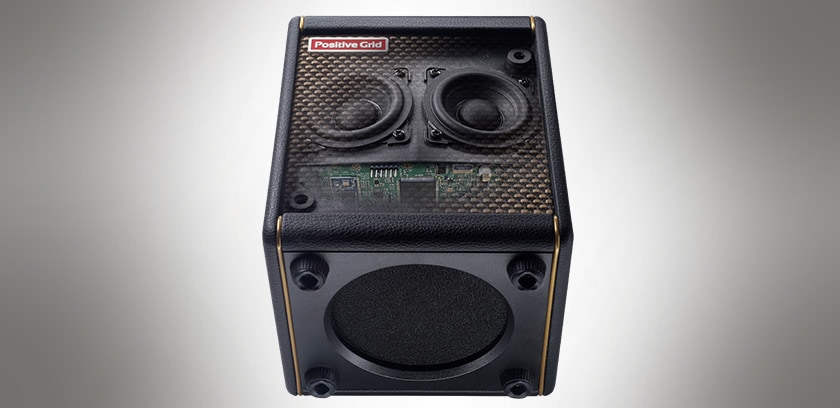 Tiny Speaker Cabinet Engineered for Big Sound
Spark MINI applies some deep acoustic engineering to conjure mammoth sound from a miniature enclosure. The 2x2 cabinet is wired for near-field speaker reproduction, and each speaker is angled 8° to disperse and expand the sound field for a near-cinematic listening experience. A down-firing passive radiator ensures bass frequencies are punchy and resonant, while three-point contact, custom-damping feet prevent the cabinet from interacting with whatever surface Spark MINI is placed upon, resulting in tighter, clearer and tougher lows.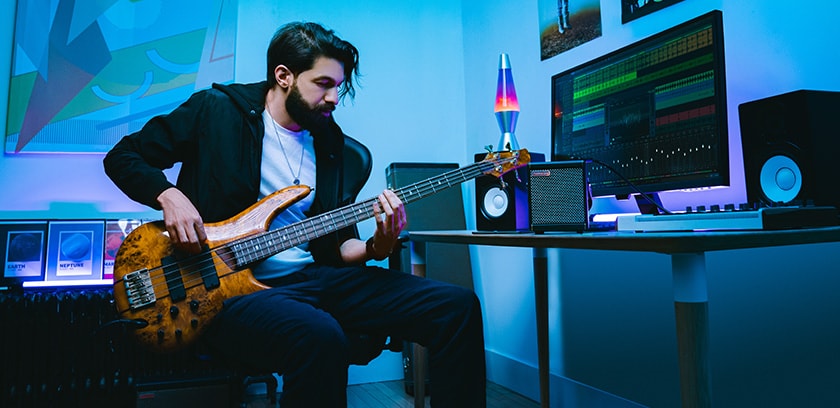 USB Interface for Seamless Recording
Spark MINI can be used as a USB audio interface, which means any sounds you create using the amp or Spark app can be recorded in a home or mobile studio. Get the tone and the part right, and you can immediately record a master using the included PreSonus Studio One software, or any DAW you desire. There are no demos anymore.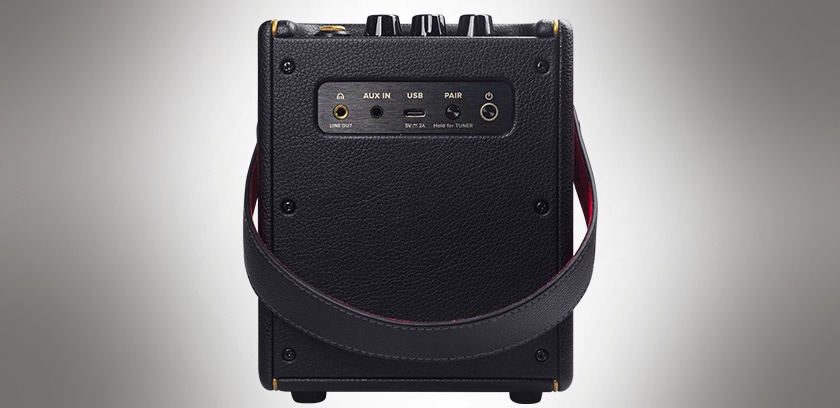 Smart Output Sends Sounds to Headphones, Amp or PA
If you love the guitar and bass tones you're creating with Spark MINI, they won't be restricted to practices, rehearsals or recording sessions. You can bring them onstage by connecting Spark MINI to an amp, powered speaker cabinet or PA mixer. The 1/4" Smart Output knows if it's being used for headphones or as a line out, so you can send your sounds to whatever system you need to get the volume and headroom needed to be heard in live-performance ensembles of any size.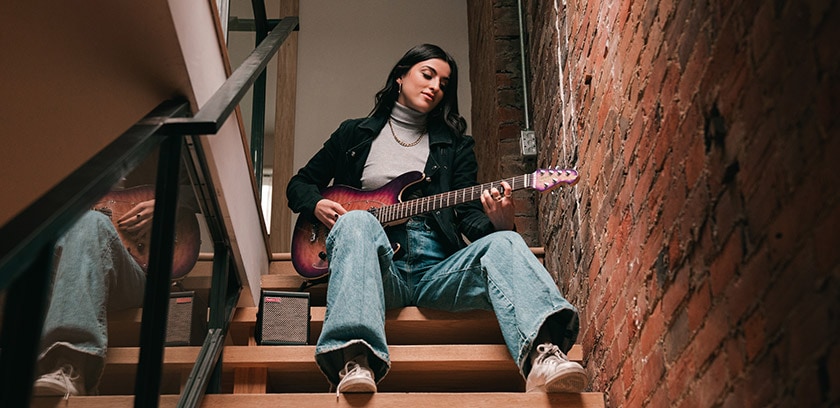 Eight Hours of Battery Power
Spark MINI's onboard, rechargeable lithium battery gives you up to eight hours of play time, so you can head out into the wilds—whether that's a picnic, hike or yard—without worrying your creative or playback session will power down at the worst possible moment. After you've rocked about for a full day or night, it takes just three hours for a full charge. Play. Recharge. Repeat.
Features
Pristine Bluetooth audio streaming
Easy recording with included USB interface
Four onboard presets with thousands more
Full integration with the included Spark app
Built-in tuner
Specs
Amplifier: 10W Class-D
Speakers: Two 2" custom-designed stereo speakers, passive radiator
Frequency range: 20–20,000Hz
Input power: DC 5V, 2A (compatible with most mobile USB-C chargers)
Battery: Built-in lithium rechargeable
Top Panel Controls
Four programmable preset selectors
Guitar channel volume
Music channel volume
Rear Panel Controls
Power button
Pair/Tuner button
Onboard Effects
33 amp models
43 effects
(Noise Gate, Compressor, Distortion, Modulation/EQ, Delay, Reverb)
Wired Connections
1/4" guitar input
1/8" AUX input
1/8" headphone/line output
Wireless ConnectionsUSB Audio
USB interface for recording
1 in x 2 out
Software Included
Includes a free download of PreSonus Studio One Prime recording software