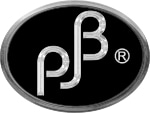 Description
The Phil Jones Bass C2 redefines bass cabinet size with a vengeance and a mission. It is a 200W shoebox-size cabinet containing the smallest speaker ever produced by Phil Jones Bass. It has 2 highly advanced loudspeaker units and features the "Chrome-Dome" technology, exclusively developed by Phil Jones Bass and designed from the ground up as a bass instrument transducer. Each speaker is only 5", yet engineered to handle the full spectrum and sometimes punishing dynamic range of a bass guitar.
At 0.87 cubic feet of space, weight is not an issue so each driver has a large and powerful strontium ferrite magnet. This magnetic material is the most stable available, immersing the incredible electromagnetic force that can be generated by Phil Jones Bass' high-temperature voice coils. The voice-coil is the heart of a loudspeaker that takes the full power from an amplifier and converts this into acoustic energy. The voice-coil in the C2 is a result of Phil Jone Bass' nearly two-decade dedication to loudspeaker research.
The difference in Phil Jones Bass' approach is precision electro-acoustic engineering to enable musicians to fully express themselves without hindrance from an inferior sound product.
The C2 is dynamic, powerful, clear and has lightning-fast transient ability. It follows your individual technique without latency, allowing you the freedom to express yourself as if your bass was an acoustic instrument. It can be used as a stand-alone cabinet or in combination with other Phil Jones Bass 8 ohm cabinets or with combos including PJB C4, C8, C27, and the BG-400 Suitcase Compact.
Features
200W shoebox-size cabinet

2 x 5" advanced loudspeaker units (8ohm)
Dimensions: 12.5" x 8" x 11"
Weight: 16lbs
Slip-on cover included