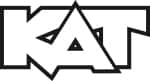 Description
The MalletKAT is a powerful MIDI percussion mallet controller. The MalletKAT Pro offers a standard 3-octave design which can be expanded to 4 or 5 octaves.

It incorporates the same FSR technology as all of the KAT instruments, delivering superb feel and response. With 127 programmable setups and features like splitting, layering, poly/mono and "hang" modes, the MalletKAT is an incredibly expressive and powerful alternative to traditional marimba and vibraphone instruments.

The MalletKAT comes with 127 Factory Setups designed to work with General MIDI sound Modules and 127 programmable User Setups.