Description
The Harbinger S12 powered subwoofer delivers 1,000W amplification with a 12" driver and powerful DSP, all in a compact package that's ready for the stage. This sub delivers outstanding clarity and impact even when pushed to the limit. For ease of use, set the crossover frequency either by the size of the full-range speakers the S12 is pairing with, or select directly by hertz. There's even a time-align delay feature that avoids phase alignment issues for maximum low frequency response. And with 130dB max SPL output, Guitar Center recommends the S12 to deliver clean, deep bass in a variety of situations.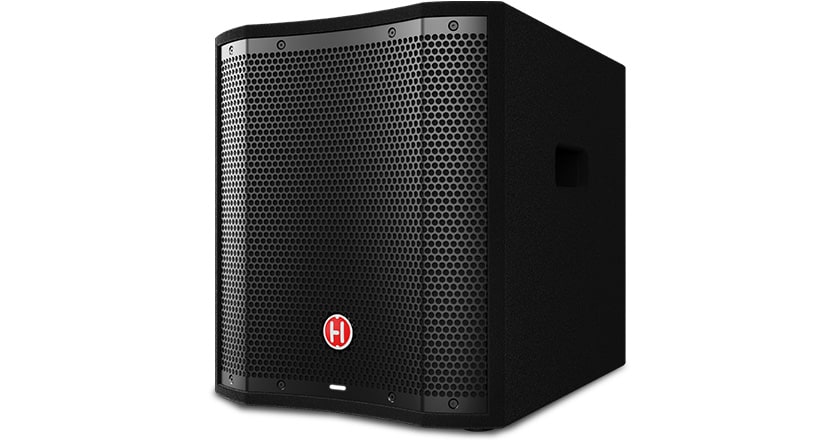 Powerful Class-D amplification
Live sound PA systems require a lot of power to create clean, tight bass at high volumes. That's why the Harbinger S12 active subwoofer packs a Class-D amplifier with 1,000W peak output. The high headroom and low distortion provide outstanding clarity and impact. This sub is designed to perfectly complement any of the VARI series full-range speakers, Harbinger PA systems or powered speakers and PA systems from other quality manufacturers. It's a convenient way to round out an existing system with high-impact bass. It's also a great anchor for building a compact live setup.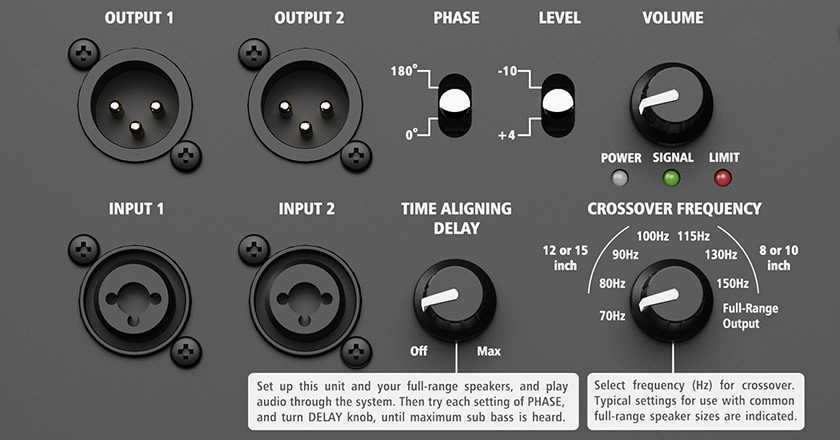 Optimized sound through DSP
The Harbinger S12 powered sub includes sophisticated DSP that guarantees ideal sound, with easy-to-use controls. The rear panel has concise directions for integrating the sub into a complete PA system. It explains how to set the crossover frequency to match the size of any full-range speaker, or manually set a preferred frequency in hertz. Once the crossover is set, the phase switch and time-align delay knob ensure ideal low frequency response.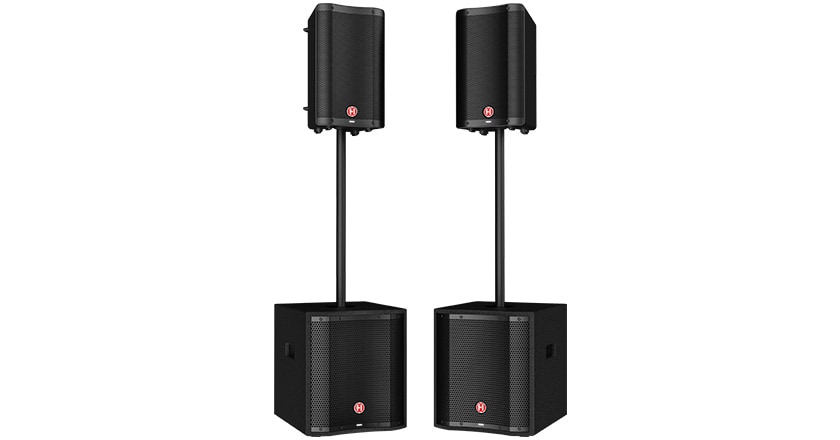 More bounce to the ounce
Big bass usually means heavyweight systems that can be a challenge for DJs and live bands. They're difficult to move, and they don't always fit on compact stages. The S12 addresses that problem. It's only about half the weight of a typical 18" sub, yet it delivers lows down to 35Hz and a full 130db max SPL. A single S12 works well with a pair of 8" or 10" powered speakers for big sound from a small system. It's also a good complement to 12" or 15" speakers, for banquet room DJs or bands playing small venues. Use two S12s with a pair of 12" or 15" speakers for high-volume live bands or larger DJ gigs. Want more bass from a portable line array or PA system? The S12 can also help with that, adding deep bass while keeping the overall setup nice and portable.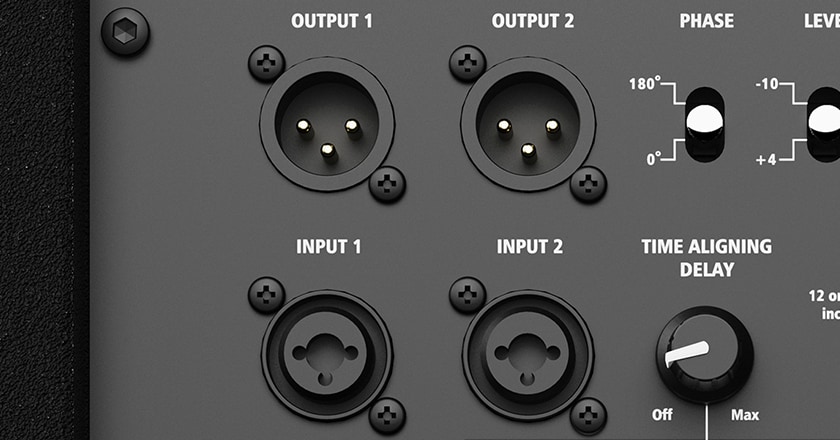 Versatile stereo signal management
With dual XLR combo connections, the S12 accepts both balanced and unbalanced XLR inputs as well as 1/4" jacks. This makes it easy to connect the subwoofer with a set of Harbinger VARI series or other powered speakers. Set the crossover frequency, phase switch and time-align delay to perfectly match the sub with the speakers for a well-balanced setup. The output level control also allows users to dial in the ideal amount of bass without affecting output to the connected mains.
Features
Powerful Audio Performance
Custom 12" driver delivers 1,000W of Class-D amplification
High headroom and low distortion for outstanding clarity and impact
DSP-powered crossover and full-bandwidth frequency management for extremely accurate, high-fidelity sound
Transparent, dynamic DSP limiter for ideal sound quality and system protection at maximum volume
Compact and Ready for the Stage
Roadworthy plywood cabinet and steel grille, with integrated handles for carrying
Delivers big bass while weighing under 50 lb.
Optimal Speaker Pairing
Adjustable crossover frequency, time-aligning delay and phase for optimal pairing with all powered speakers and PA systems
Versatile connectors accept balanced or unbalanced XLR and 1/4" connections
Stereo Signal Management
Dual-input, dual-output stereo signal throughput
Independent output level control
Signal/Clip LED
Configurable front panel LED for power on and limiter status
Specifications
Speaker Configuration
Active/passive: Active
Type: Subwoofer
LF driver: 12"
Power
Amplifier class: D
Wattage: 1,000W
Mixer/preamp: Yes
Audio
Cutoff frequency: Adjustable 70–150Hz
Phase: 0°, 180°
Max SPL: 130dB
InputsOutputs