Moog Matriarch Semi-Modular Analog Synthesizer Black
(7)
|
Q&A
|
Item #:

1500000280065
POS #:115449175
6-month special financing^ + $94 back in Rewards**
Learn More
Lease-To-Own Purchase Options
Learn more
Save on orders $199+ and get advice on keys from a Gear Adviser
Need Help?
Moog Matriarch Sequence Expression | BlankFor.ms
Moog Matriarch | Sound Explorations with Philip Cornish
Moog Matriarch: Place / Time / Memory

Description
Matriarch is the new head of Moog's semi-modular family. Delivering a strikingly similar retro design to the one found on the Grandmother, this all-analog 49-key semi-modular synthesizer adds some exciting improvements over the previous version, earning its rightful place as the flagship model of the series. While they both share the same built-in arpeggiator and 256-step sequencer, Matriarch goes further with four analog oscillators, twice that of the Grandmother, plus dual Moog Ladder filters and a stereo analog delay with MIDI sync. Start playing Matriarch right out of the box with "no patching required" or dive deeper into designing your own sounds by exploring infinite patching options across the front and rear panel. Matriarch's circuits, delay—and spirit—are inspired by classic Moog modular synthesizers, making this instrument a powerful addition to a Mother-32, DFAM or any Eurorack modular system.
A sound that commands respect
Matriarch's all-analog signal path delivers a wide variety of sonic capabilities ranging from overdriven monophonic bass to gently evolving paraphonic plucks that cycle through waveshapes into a wash of infinite delay trails. Easily create harmonically rich content with up to four notes of polyphony, or stack all four VCOs and create a ridiculously powerful mono synth capable of cutting through any mix. Just like many Moog modular synths before it, Matriarch's sound engine, modulation engine, stereo ladder filters, dual envelopes and stereo delay are all 100% analog, resulting in an unrestricted sonic vocabulary of immense beauty and power. In addition, Matriarch also features an easy-to-use arpeggiator and a built-in sequencer with up to 256 steps, four notes per step and 12 stored patterns. The sequencer can also be patched to independently control external gear.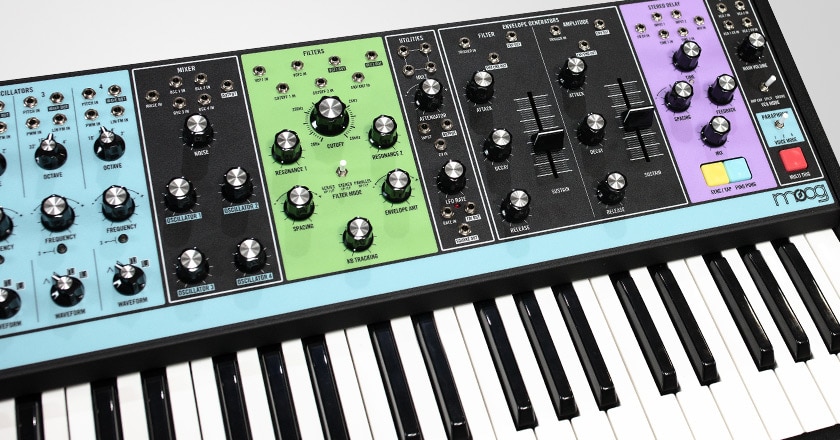 Analog building blocks
While the Matriarch is built as a self-contained keyboard, each section can be broken down to individual sections based on classic Moog modular designs, including Minimoog oscillators, CP3 module mixer, 904A module filters, 911 module envelopes, 902 module VCAs and an analog delay that closely resembles the MF-104M and 500 Series effects. Each of the four analog oscillators have selectable waveshapes and can be hard-synced per oscillator, which drives the heart of Matriarch's sound. There's also a full-range LFO with six selectable waveshapes, dual-analog ADSR envelopes, dual-analog VCA, and a pair of analog filters with parallel (HP/LP), stereo (LP/LP) and series (HP/LP) modes available. Replacing the spring reverb found in the Grandmother, Matriarch instead has an onboard stereo analog delay with up to 700ms of stereo or ping-pong-style repeats that can be synced to the host tempo via MIDI.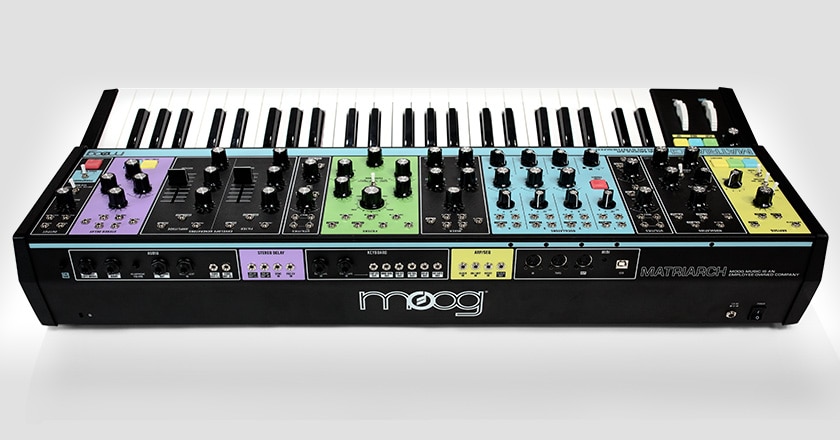 Retro looks, modern design
Matriarch may take its inspiration from retro Moog synths of the past, but it is loaded with modern features that will take it into the future. As for connectivity, Matriarch has everything needed for today's production environments, including a 5-pin MIDI In/Out/Thru as well as MIDI over USB for instant integration with your host computer. There are also two 1/4" TS jacks for line-level output and a 1/4" external audio input capable of taking signals from guitars, drum machines and more. The 49-key premium Fatar keybed features patchable velocity and aftertouch, offering a wide range of expressivity. When you're ready to go beyond Matriarch's pre-wired sound design capability, there are a total of 90 easily accessible modular patch points across the front and back of the unit, turning this highly versatile synth into a fully modular system at a moment's notice.
Features
Mono, duo and 4-note paraphonic playability
Stereo analog delay with up to 700 ms of stereo or ping/pong-style repeats
256-step sequencer with up to four notes per step and 12 stored patterns
Arpeggiator with selectable modes (Order, Forward/Backward, Random)
Semi-modular analog synthesizer—no patching required
90 modular patch points for endless exploration
Expressive 49-note Fatar keyboard with patchable velocity and aftertouch
Four analog oscillators with selectable waveshape and hard sync per-oscillator
Full-range analog LFO with six selectable waveshapes
Dual analog filters with parallel (HP/LP), stereo (LP/LP) and series (HP/LP) modes available
Dual analog ADSR envelopes
Dual analog VCAs
Three bipolar voltage controlled attenuators with ring mod capability
2x4 parallel wired unbuffered mults
Additional simple analog LFO useful for adding modulation to delay, filters and VCAs
1/4" external audio input for processing guitars, drum machines and more through Matriarch's analog circuits
Stereo 1/4" and 3.5 mm Eurorack level audio outputs
Warranty
LIMITED WARRANTY
Moog music warrants each instrument to be free of defects in material and workmanship for a period of one year after delivery to the retail purchaser. The warranty is void if the instrument has been modified in any manner other than in accordance with written instructions from Moog Music, Inc., of if the defect or failure is judged by Moog Music, Inc., to be caused by normal wear, accident, neglect, or conditions of operation other than those specified in the instruction manual.

This warranty is subject to verification by Moog Music, Inc., that a defect or failure exists and that the original purchaser complies with the following:
1. Warranty Registration Card must be returned by the purchaser to Moog Music, Inc., within 10 days of retail purchase.
2. Moog Music, Inc., must be notified by telephone, or in writing, of the problem to secure authorization to return the instrument to the factory or warranty center.
3. The instrument must be shipped prepaid. It will be returned with shipping charges prepaid by Moog Music, Inc.

MOOG MUSIC, INC., MAKES NO OTHER EXPRESS WARRANTY OF ANY KIND WHATSOEVER. ALL IMPLIED WARRANTIES, INCLUDING WARRANTIES OF MERCHANTABILITY AND FITNESS FOR A PARTICULAR PURPOSE, EXCEEDING THE DURATION OF THE AFORESTATED OBLIGATIONS ARE HEREBY DISCLAIMED AND EXCLUDED FROM THIS WARRANTY. NORLIN SHALL NOT BE LIABLE FOR ANY INCIDENTAL OR CONSEQUENTIAL DAMAGES.

Moog Music, Inc., authorizes no persons to assume for it any warranty or other liability in connection with the sale of Moog Music, Inc., instruments.

Moog Music, Inc., reserves the right to make changes in design at anytime without incurring any obligation to install same on units previously purchased.