Moog Drummer From Another Mother (DFAM) Percussion Synthesizer
(6)
|
Q&A
|
Item #:

1500000160121
POS #:113977185
6-month special financing^ + $59 back in Rewards**
Learn More
Lease-To-Own Purchase Options
Learn more
Open Box starting at

$527.12
Get advice on keys from an expert like Katie and save on orders $499+
Need Help?
DFAM | Creating Sequences with Fewer Than 8 Steps
DFAM Semi-Modular Analog Percussion Synthesizer
DFAM | Adding Swing and Ratchets
Moog Drummer From Another Mother (DFAM) Percussion Synthesizer

Description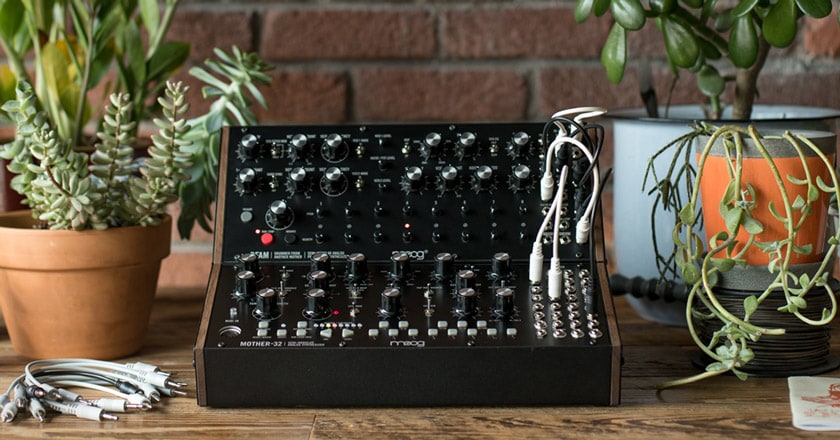 All-analog percussion synth
The Drummer From Another Mother is Moog's highly interactive semi-modular percussion synthesizer with an all-analog sound and a vibrant deviation from the traditional drum machine model.

As part of Moog's semi-modular synthesizer series, the DFAM share some striking similarities to the Mother-32, as you can start crafting sounds straight away, or breakout of the box using the included patch bay to expand your sound-shaping options. The Drummer From Another Mother presents a uniquely expressive hands-on approach to percussive pattern creation, invoking a deeply personal bond between creator and creation.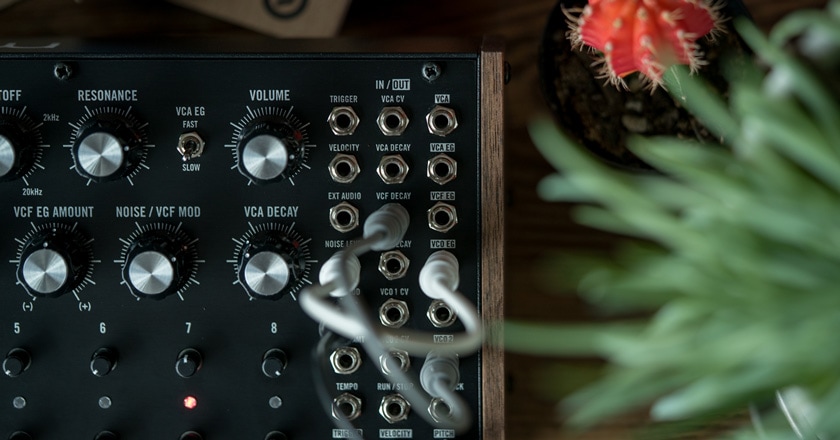 Plug into inspiration
Emphasizing tactile exploration and experimentation, DFAM inspires completely new and unique manners with which visceral rhythms can be synthesized, expressed, and experienced. DFAM effortlessly moves from gently evolving undulations and cyclical breathing patterns to hammering bass and clangorous cacophony, but the true beauty of this unique instrument lies in its ability to continuously spark inspiration through the repeated discovery of new and dynamic perspectives in percussive synthesis.
Features
Semi-modular design, no patching required
100% analog with unbridled sonic flexibility for a lifetime of percussive inspiration
Two Oscillators for an ultra-wide range sound generation
Dynamically sculpt your sound with an analog Low Pass or High Pass Ladder filter.
8-step analog sequencer with velocity sensitivity
24 patch points take you out of of the box, and into modular expansion
Easily remove DFAM from its case and mount it into a Eurorack system
Warranty
LIMITED WARRANTY
Moog music warrants each instrument to be free of defects in material and workmanship for a period of one year after delivery to the retail purchaser. The warranty is void if the instrument has been modified in any manner other than in accordance with written instructions from Moog Music, Inc., of if the defect or failure is judged by Moog Music, Inc., to be caused by normal wear, accident, neglect, or conditions of operation other than those specified in the instruction manual.

This warranty is subject to verification by Moog Music, Inc., that a defect or failure exists and that the original purchaser complies with the following:
1. Warranty Registration Card must be returned by the purchaser to Moog Music, Inc., within 10 days of retail purchase.
2. Moog Music, Inc., must be notified by telephone, or in writing, of the problem to secure authorization to return the instrument to the factory or warranty center.
3. The instrument must be shipped prepaid. It will be returned with shipping charges prepaid by Moog Music, Inc.

MOOG MUSIC, INC., MAKES NO OTHER EXPRESS WARRANTY OF ANY KIND WHATSOEVER. ALL IMPLIED WARRANTIES, INCLUDING WARRANTIES OF MERCHANTABILITY AND FITNESS FOR A PARTICULAR PURPOSE, EXCEEDING THE DURATION OF THE AFORESTATED OBLIGATIONS ARE HEREBY DISCLAIMED AND EXCLUDED FROM THIS WARRANTY. NORLIN SHALL NOT BE LIABLE FOR ANY INCIDENTAL OR CONSEQUENTIAL DAMAGES.

Moog Music, Inc., authorizes no persons to assume for it any warranty or other liability in connection with the sale of Moog Music, Inc., instruments.

Moog Music, Inc., reserves the right to make changes in design at anytime without incurring any obligation to install same on units previously purchased.