Description
The Mackie Thump215XT powered loudspeaker is the next evolution of the best-selling series that immediately won over scores of DJs, bands and singer-songwriters—as well as sound engineers for houses of worship, theaters and corporate events—with high-performance features and affordable prices. Mackie has upgraded the entire Thump line with a meticulous redesign of power capability, woofers and drivers, gig-optimizing controls and additional speaker options. The full range now includes Thump 12" and 15" models, enhanced ThumpXT variations (also in 12" and 15" speaker sizes), and two Thump subwoofers (15" and 18"). There's a big bonus to making the Thump215XT part of your live-performance system, as it provides exclusive features not offered on the other speakers in the series. First, you get four selectable voicing modes optimized for specific applications—music playback, conventional sound reinforcement, club environments and floor-monitor use. Then, an indoor/outdoor button lets you toggle between EQ presets designed for club interiors and out-in-the-wild spaces. The Thump215XT also provides Bluetooth connectivity for streaming music, controlling EQ and other features (via the Thump Connect 2 App) and wirelessly linking together two ThumpXT speakers.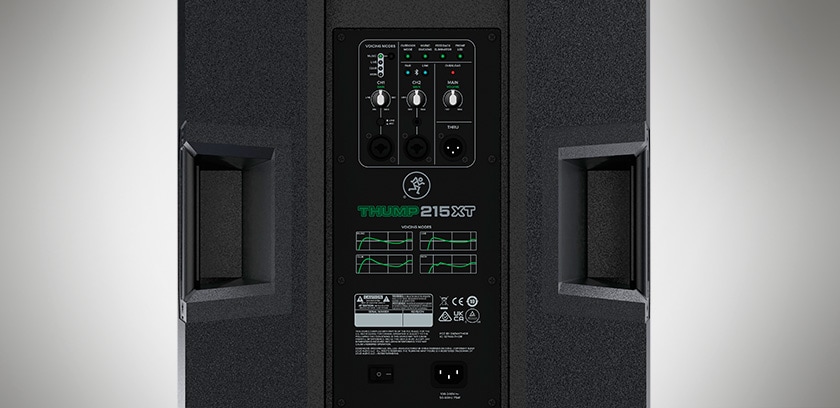 Rock the Room
The upgraded, 2-channel Thump215XT delivers 1,400 watts of Class-D power at a maximum sound-pressure level of 129dB—plenty of headroom to keep sounds clear and pristine, whether you're pumping up the groove for a wedding reception, wildly strumming an acoustic guitar during a crescendo, or keeping vocals upfront and present over a band's instrumental mix. More power means that every nuance from every instrument and vocal can be accurately reproduced with no audible distortion, gritty signal compression, or mushy tone. The Thump215XT includes a heavy-duty 1" compression driver and a high-performance 15" woofer that produce a balanced soundscape across the system's 40Hz–20kHz frequency response.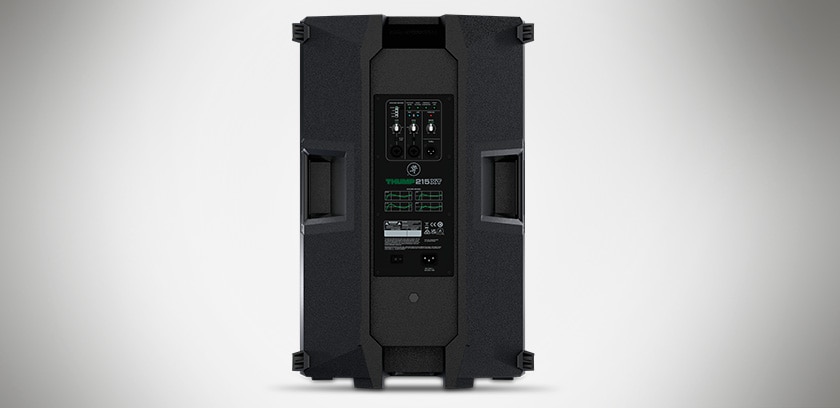 Automatic Audio Assists
An unexpected feedback squall can spoil even the most brilliant performance. The Thump215XT automatically protects you against sonic gremlins caterwauling all over your impassioned vocal or epic solo spot with its onboard feedback eliminator. There's more automated help with the Thump215XT's music-ducking mode, which reduces the volume level of whatever is plugged into channel 2 when channel 1 receives an input signal. While this mode makes it easy to facilitate on-mic announcements without having to adjust music playback, it can do much more—even taking the role of a "virtual mix engineer." For example, the Thump215XT can enhance the presentation of your show by automatically lowering the music when you start to sing or take a guitar solo. A little preplanning of your signal routing can create seamless dynamic transitions between musical parts.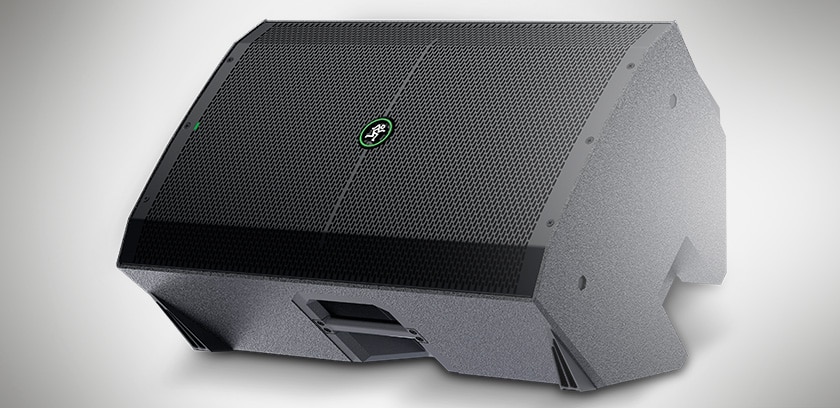 XT Means Extras
The Thump215XT offers exclusive features that make it even easier to dial in awesome live sound. Just by pushing a button, you can automatically modify the Thump215XT's EQ to accommodate a specific venue or application. Four voicing modes are provided: Music (tailored for pre-recorded audio tracks), Live (designed for general sound-reinforcement), Club (adds low-end emphasis for DJs and bands desiring increased bass content in their sound) and Monitor (optimizes the Thump212XT for use as a floor-monitor wedge with an added feedback-fighting setting). This is another timesaving, set-up-and-play feature that can erase the frustration of having to adjust a sound system to work with a new room environment. It's the same strategy for the Thump215XT's Indoor/Outdoor modes. Many musicians can handle tuning a system for an interior venue, but everything changes when you bring a performance out into the great wide open (no walls, no ceilings, wind affecting sound-dispersion patterns, bass frequencies resonating differently, etc.). The Thump215XT solves that dilemma with a push of its Outdoor Mode button, automatically restoring the sound you're used to hearing in a club.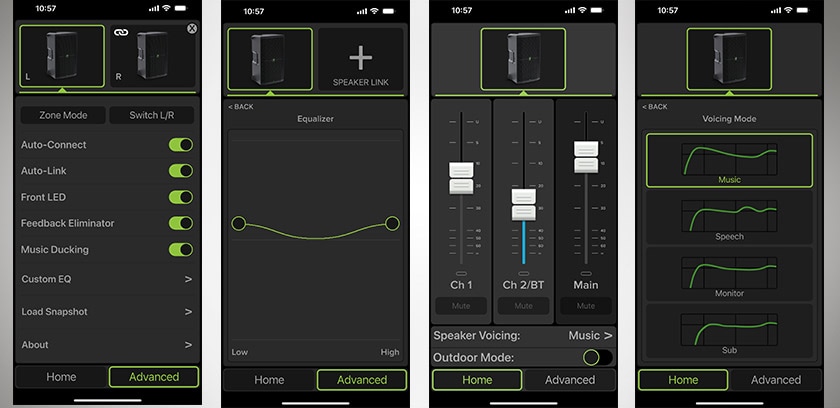 Bluetooth On
Another added benefit of the Thump215XT is its Bluetooth connectivity. You can wirelessly stream music or other audio tracks directly, of course, but you can also connect two ThumpXT speakers together without cables and choose stereo or dual-zone configurations. Download the free Thump Connect 2 app, and you can wirelessly control EQ, channel levels, muting, and other parameters from your phone or tablet.
Tranquil Transport
Here's a tip: Less setup stress, the more energy available for your performance. To that end, the Thump215XT weighs just 35.1 lb., and provides two large handles for carrying the speaker as a solo act, as well as other easy-grip surfaces if anyone lends a hand. Mackie's Built-Like-A-Tank construction always has your back if fatigue brings on a case of the dropsies, or even if an impatient band mate knocks the cabinet off the stage while moving their gear.
Sonic XT-C
The enhanced features of the Thump215XT provide a near-comprehensive sound-reinforcement solution for DJs, solo artists and bands. Also taking into account its affordable pricing, the ThumpXT series offers an unbeatable fusion of power, portability, reliability, signal processing and bang for buck.
Features
Music Ducking
Feedback Eliminator
Venue-specific voicing modes
Indoor/Outdoor modes
Robust wireless control
Speaker linking
Specifications
Power: 1,400W
Amp type: Class-D
Frequency response: 40Hz–20kHz
Max SPL: 129dB
Woofer: 15"
Compression driver: 1"
Application-specific voicing modes: 4
Weight: 35.1 lb.
Dimensions: 27" x 17.4" x 14"