Description
The Mackie Thump215 powered loudspeaker is the next evolution of the best-selling series that immediately won over scores of DJs, bands and singer-songwriters—as well as sound engineers for houses of worship, theaters and corporate events—with high-performance features and affordable prices. Mackie has upgraded the entire Thump line with a meticulous redesign of power capability, woofers and drivers, gig-optimizing controls and additional speaker options. The full range now includes Thump 12" and 15" models, enhanced ThumpXT variations (also in 12" and 15" speaker sizes), and two Thump subwoofers (15" and 18"). A single 2-channel Thump215 can get the sound out into the audience for DJs, solo artists, duos, instrumentalists and lecturers. Add a second Thump215—and the appropriate mixer—and you can power the live performance of an entire band. An onboard feedback eliminator guards against squeals, shrieks and howling, and a handy music-ducking mode automatically reduces the output level of channel 2 when channel 1 sees an input signal. There's no need to adjust your playback system to make on-mic announcements. The Thump215 looks great, but the practical, angled cabinet isn't simply for style. The design allows the Thump215 to see double duty as a main or monitor speaker.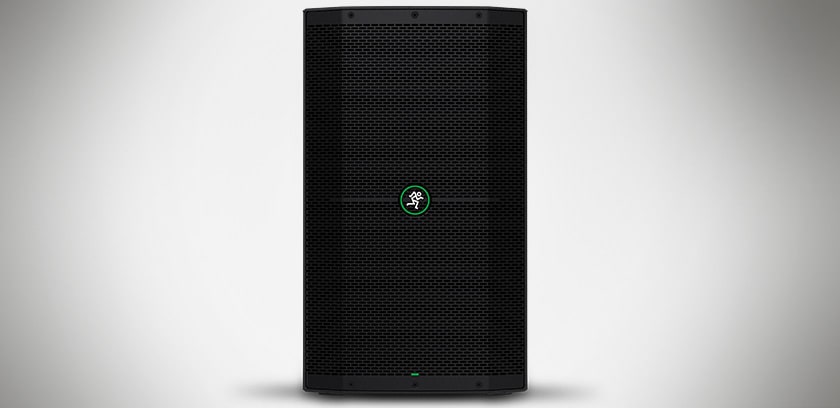 Power to Spare
To ensure plenty of headroom—whether you're pumping up the groove for a wedding reception, wildly strumming an acoustic guitar during a crescendo, or keeping vocals upfront and present over a band's instrumental mix—the upgraded Thump215 now delivers 1,400 watts of Class-D power at a maximum sound-pressure level of 129dB. More power means that every nuance from every instrument and vocal can be accurately reproduced with no audible distortion, gritty signal compression, or mushy tone. The two-way Thump215 includes a heavy-duty 1" compression driver and a high-performance 15" woofer that produce a balanced soundscape across the system's 40Hz–20kHz frequency response.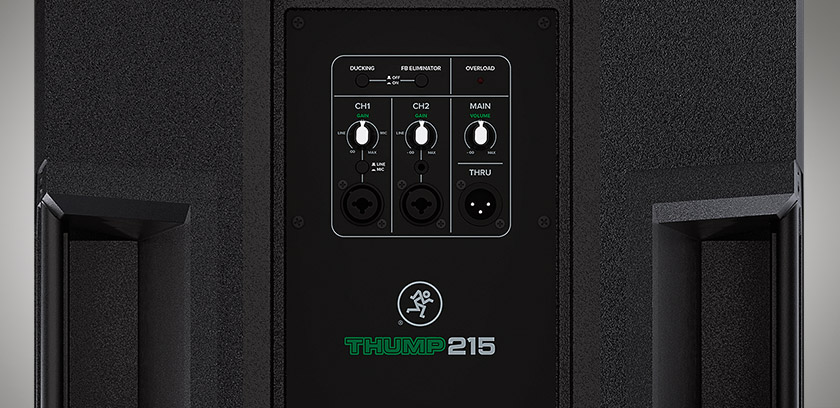 Automate Your Performance
Loud, surprising screeches of feedback can momentarily annihilate audience enthusiasm, as well as shock performers off their game. But, as the Thump215 includes an onboard feedback eliminator, you'll never have to worry about sonic gremlins caterwauling all over your impassioned vocal performance or epic solo spot. The music-ducking feature works great for whenever you need your track volume to come down to make announcements on the mic. Even hipper is that this feature can be used like a "virtual mix engineer." For example, if you're performing to tracks, route the output of your playback device to channel 2. Then, plug in your vocal mic or solo instrument into channel 1. When you begin to sing on channel 1, the Thump215's ducking technology automatically lowers the volume of the music tracks on channel 2. No more having to batter your vocal cords to sing over the "band," or crank up your guitar to ensure your solos soar over the music. And, thanks to the ducking being automated, you never have to worry about the mix engineer forgetting to move faders to highlight your voice or lead instrument.
No Tears Transport
Few musicians look forward to lugging around heavy and unwieldy speaker cabinets. Less setup stress, the more energy available for your performance. The Thump215 weighs just 34.8 lb., and it provides two large handles for carrying the speaker as a solo act, as well as other easy-grip surfaces if your bandmates want to lend a hand after a tiring gig. Mackie's Built-Like-A-Tank construction always has your back if fatigue ever brings on a case of the dropsies, or even if an impatient band mate knocks the cabinet off the stage while moving their gear.
Can't Stump the Thump
Whether you're a DJ or band requiring a club-conquering stereo system, or a singer-songwriter who needs just one Thump215 speaker to cover a cafe, the redesigned Thump series offers an unbeatable fusion of power, portability, reliability, signal processing and affordability.