Description
Preceded by the 4-voice polyphonic minilogue and the monophonic monologue, the prologue-8 is KORG's fully programmable 8-voice polyphonic synthesizer capable of producing sounds that go way beyond traditional synthesis. Thanks to a forward-thinking design, this hybrid synth combines three different sound engines mixing together analog voices, digital waveforms and FM synthesis for some truly inspiring sounds. The prologue-8 has a look and feel that similar to its predecessors, but a sound and style that all its own. With 49 natural-touch keys and a boutique-quality finish, prologue-8 has the attention to detail you'd expected of a flagship instrument.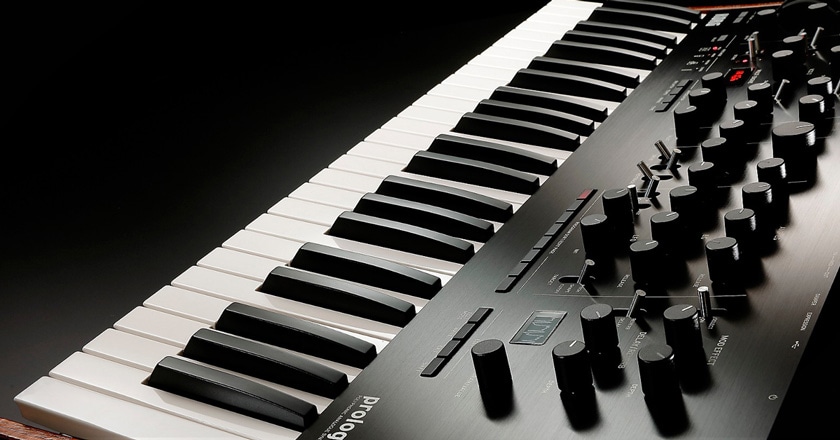 Hybrid multi-engine
KORG's analog synthesizer development in recent years has culminated in the prologue, which was designed using 11,000 discrete electronic components. It uses a structure of 2VCO + MULTI ENGINE, 1VCF, 2EG, 1VCA, and 1LFO. Every detail has been improved on from minilogue and monologue. Its sound covers every sonic possibility: fat basses, powerful leads, and the beautiful pads that you expect from a polyphonic synthesizer. The ingenuity of prologue goes beyond its analog design. This multi engine, which is equipped with three different sound engines, can be combined with the analog VCOs to expand prologue's sonic potential far beyond that of a traditional analog synthesizer. There are four types of noise generator, indispensable for percussive sounds or sound effects. The VPM (Variable Phase Modulation) / FM oscillator was newly developed for prologue. Its metallic and sharp sounds with their complex overtones could never be obtained by analog means aline. With 16 types of oscillator and the SHAPE knob, you'll be intuitively guided through complex sound design.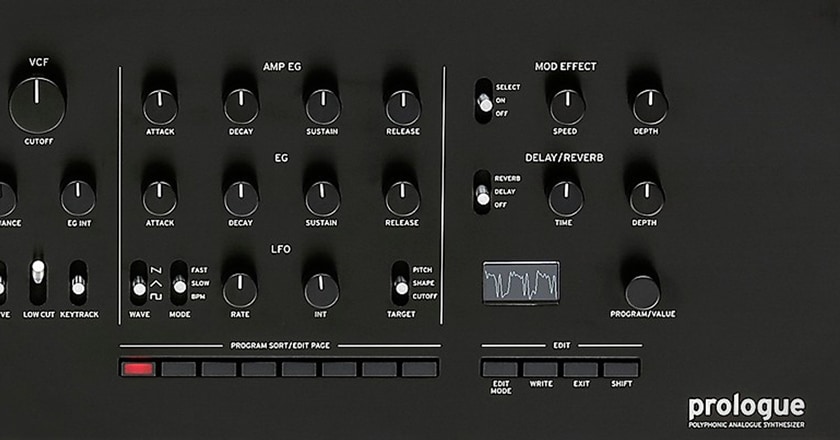 Built-in digital effects
The high-quality digital effects feature pristine 32-bit floating-point processing, and add a further polish to the sound of the prologue. With two effect units provided (a modulation effect and delay/reverb), you can choose from a wide variety such as chorus or ensemble, warm tape delay, or diverse reverbs. The user effect slots let you load effect programs of your own creation. The powerful arpeggiator opens up a world of limitless inspiration. It provides a four-octave range, and six arpeggiator types including manual set. From phrases that could not be performed on a keyboard to sequence-like sound designs, the arpeggiator can play a versatile array of roles.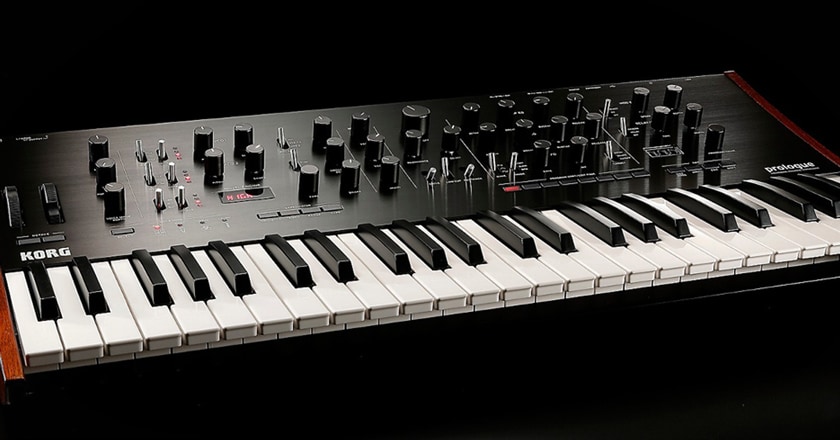 High-quality look and feel
The attention to detail expected of a flagship extends to prologue's playability and design as well. The 49-note keybed is a high-quality Japanese-made natural touch keyboard, providing the same superb touch and feel as on KORG's high-end workstations, and allowing a high degree of expressive power. prologue's body emanates beauty and the presence of a boutique synth, and newly redefines the look of a classic synthesizer. The black aluminum front panel features the same curvature as the minilogue, and sports a beautiful hairline finish. Metal knobs with a sense of weight, diamond-cut silver indices, and oak wood side panels are some of the details that emphasize the high quality of this Made in Japan instrument.
Features
8-voice analog synthesizer circuit
Newly developed multi-engine equipped with three types: noise, VPM, and user
High-quality digital effects
Open source software that can be customized by the user
Newly developed L.F. COMP. analog effect (prologue-16 only)
Bi-timbre support
Voice modes that allow voices to be flexibly recombined
Arpeggiator equipped with a variety of types and range settings
Program Sort allows rapid access to 500 programs
Japanese-made high-quality natural touch keyboard
Oscilloscope function shows the waveform visually
Tough and stylish body made of aluminum and wood
Sync with another groove machine to enjoy jam sessions
Lineup includes a 16-voice 61-key model and an eight-voice 49-key model
Specifications
Keyboard
Number of keys: 49
Key size: Full
Aftertouch / Velocity: Both
Sounds
Polyphony (max): 8 voices
VCO: 2
VCF: 1
Envelope Generator (EG): 2
LFO: 2
Mixer: 3-input
Included presets: 200
User preset slots: 300
Connectivity
Output: Stereo
MIDI Connectivity: MIDI In/Out/Thru
Line input: Not specified
USB Connectivity: Yes
Headphone out: Yes
Other: Sync
Onboard Features
Sequencer: Not specified
Arpeggiator: Yes
Display: OLED oscilloscope
Effects: Yes
Pitch bend/Modulation: Both
Other
Width: 34.41"
Height: 4.65"
Depth: 13.70"
Weight: 20.06 lb.
Warranty
USA Warranty Policy

All Korg products purchased from a Korg USA authorized dealer are warranted to be free from defects in material and workmanship to the original consumer purchaser as listed below:

Labor: 1 Year
Parts: 1 Year

Exceptions: Tubes, AC Adapters, Foot Switches: 90 days

Warranty Requirements and Limitations:

-Proof of Warranty - The customer must provide proof of purchase in order to obtain warranty service. The dated sales slip or copy thereof is the only acceptable proof of purchase.

-The product must be purchased from a Korg USA authorized dealer and have a valid serial number.

Damage resulting from the following causes are excluded from the warranty set forth above:
-Misuse, including damage occurring during shipment, damage caused by battery leakage, accident, fire, unauthorized repairs, tampering, cosmetic damage or other types of damage which are the result of improper handling or abuse.
-The cleaning of controls or contacts due to exposure to dirty, dusty, or otherwise contaminated environment.
-Damage resulting from modification.
-Damage to units used for loan or rental.

Register online and extend your warranty!
Register your new Korg keyboard, keyboard rack module or digital piano online and receive a certificate that extends the product warranty for an extra year from the date of purchase.