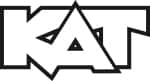 Description
The powerful 200W KA2 Digital Drum Amplifier from KAT Percussion is all you need to kick some major volume. KAT Amps are tailored specifically for digital drums to achieve the most accurate acoustic response.

This durable amp also features a 1"x1" compression driver for a bright, crisp high-end and a 3-band EQ for sound shaping. 1/4" input jacks and a 1/8" input offer external connectivity with digital instruments and external MP3 players. A large carry handle will simplify transport.
Features
Rich and powerful 200-watt e-drumming amplification
Specially tuned for electronic drums
1"x 1" compression driver for crisp high-end
3-band EQ for precise sound shaping, plus presence "Attack" control
Three 1/4" inputs for other instruments or sound sources
Large carry handle for easy transport
Multiple input/output options for adding your own music
XLR Line Out with separate volume control for mixing or recording
Durable construction that's built to last
Specifications
Dimensions: 16.5" x 18" x 19"
Weight: 44.25 pounds
Output Power: 200W / 8 Ohms x 1
Frequency Response: 20-20KHz
EQ Centers:
Low: 60Hz
Mid: 800Hz
High: 10KHz
Presence: Tailors the upper midrange to accentuate the snare drum and enhance presence on other instruments.
Speakers: 12-inch Woofer, 1" x 1" Compression Driver
Line In: Two (2) 1/4-inch jacks for drum set input
Aux Line In: Independent volume-controlled 1/4-inch jack for any pre-EQ audio source
External Line In: 1/8-inch stereo input line for external devices such as MP3 players
Line Out: 1/8-inch stereo headphone jack and independent volume-controlled balanced jack for output to a recorder or live mixer.