JHS Pedals Supreme 1972 Japan Fuzz Guitar Effects Pedal Black
(1)
|
Q&A
|
Item #:

1500000334873
POS #:116703901
6-month special financing^ + $13 back in Rewards**
Learn More
Order it today! This item is backordered, but you can save your place now so you don't miss it when it's back in stock. You won't be charged until it ships.
Notify me when this item is in stock.
Save on orders $499+ and get advice on amps and effects from a Gear Adviser
Need Help?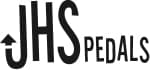 Description
The JHS Supreme 1972 Japan Fuzz guitar effects pedal is an exact replica of the Super-Fuzz. Although every early version of this pedal sounds strikingly similar, this 1972 unit has a certain magic that makes it stand out above the others. Imagine an Octavia Fuzz that woke up on the wrong side of the bed, and that's what you're plugging into here: a loud, screaming, full and vibrant octave fuzz that is always at 11.

If you want to replicate the classic octave fuzz sounds of Pete Townshend, The Black Keys, The White Stripes, Beastie Boys and Mudhoney, this is it.
Features
Volume makes the effect louder as you turn it
Expand increases the amount of fuzz
Tone button engages a mid cut that flattens out the Supreme's attack and makes it more submissive, like a preset scooped mid EQ control
Mode button activates the "JHS Mode" setting for a much more pronounced octave up effect, thicker mid-range and more available volume/boost
Specs
Dimensions: 5.68" x 3.62" x 2"
Weight: 0.85 lb.