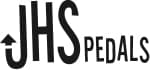 Description
The JHS Smiley is clear and defined, straddling the line between distortion pedal and a searing sustain, sustaining low end and crisp mid-range bite that you expect from a vintage Arbiter unit. One of the most revered characteristics of a good Fuzz Face* is its ability to clean up when the guitar's volume is rolled back, and the Smiley does this effortlessly.

If you want a fuzz that covers coveted classic tones, look no further. Legends like Jimi Hendrix, Jack White, Eric Clapton, David Gilmour, and Eric Johnson have used this circuit on countless albums. Now it's your turn.

Features
The controls are Volume and Fuzz. Volume sets the overall output level of the effect; turn it up and it gets louder. Fuzz is the distortion control; the more you turn it clockwise, the more fuzz you create. On the side you will see a "Mode" control. Push this button to access our own unique "JHS Mode". This mode sends the Smiley into high gain / gated fuzz territory that you may never want to come back from.
Specifications
5.68 X 3.62 X 2 INCHES, 0.85 IBS