JHS Pedals Buffered Splitter Pedal
JHS Pedals Buffered Splitter Pedal
(0)
|
Q&A
|
Item #:

1500000032925
POS #:112767231
6-month special financing^ + $4 back in Rewards**
Learn More
Save on orders $199+ and get advice on amps and effects from a Gear Adviser
Need Help?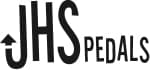 Description
Need to split your signal? Don't want to settle for a passive device that will kill your tone and cause signal loss? This is what you need! This little box of magic takes your input signal and splits it into two always-on outputs that are buffered so you don't lose clarity or tone in any way.
Features
Easily split your signal however you need
Use one output to send your clean signal to a mixer, separate amp, etc... and send the other output through your board like normal
Use one output to send a constant signal to your tuner and the other for your normal chain. This can help you defeat those volume pedal "tuner out" horrors
Requires standard 9V DC Negative power
Consumes less than 100mA
Measures 3.6 x 1.5 x 1 in.
Be the first to know about exclusive offers, tips and more.
Thank you for signing up!
Connect With Us
Choose Country
United States