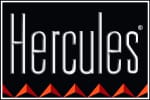 Description
The Hercules Stands Microphone Stand with H-Base has a unique set of features that set it apart from traditional mic stands and make it a smart choice for on-stage convenience and stability.

Quik-N-EZ Adaptor
Simply push the lever up or down to quickly mount the Quik-N-EZ Adaptor to the mic stand. It can be left attached to the mic clip for speedy setups.

Quik-N-EZ Height Adjustment Grip
The Quik-N-EZ Height Adjustment Grip adjusts the stand up or down to the desired height with smooth one-handed operation. A secure internal locking mechanism prevents slipping.

HERCULES H Base
The metal HERCULES H Base is weighted for maximum stability and dampens any vibrations that might otherwise be transmitted through the stage or floor.
Features
Quik-N-EZ Adaptor for instant microphone attachment
Quik-N-EZ Height Adjustment Grip for one-handed adjustments
HERCULES H Base is weighted for exceptional stability
Specifications
Height: 1020-1680mm (40.2-66.1")
Weight: 4.7kg (10.4lbs)