Description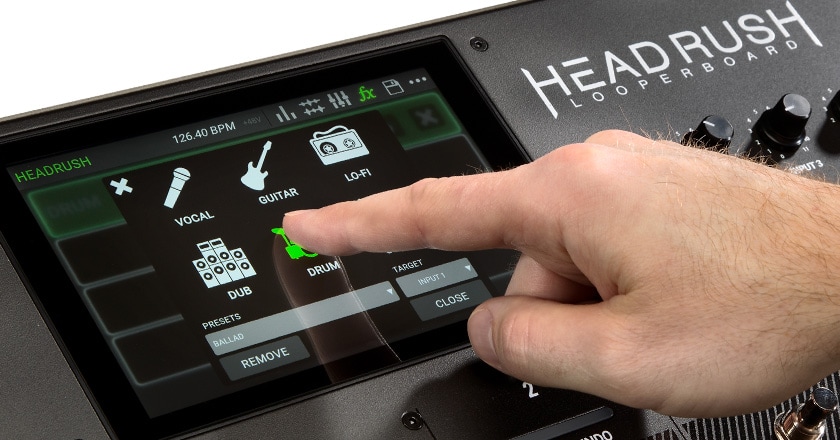 The HeadRush Looperboard pushes the art of looping live audio to the next level, so you can create like never before. It features a powerful, quad-core DSP system tailor-made for the Looperboard, combined with a 7" touchscreen interface and an impressive set of audio inputs and outputs for maximum versatility. Plus, it offers over five hours of onboard recording time with intelligent time-stretch at a stunning 32-bit 48kHz quality, premium Eleven HD Expanded onboard effects, external USB/SD loop storage, onboard USB audio interface and so much more, all in a tour-ready steel chassis.
Touchscreen versatility
Instead of flying blind on a board that's just a sea of single-use, analog sliders, knobs and switches, the heart of the Looperboard is a huge 7" color touchscreen, which allows for dynamic feedback and incredible ease of use.
Perfect recording quality
The HeadRush Looperboard features premium audio circuitry and operates at a class-leading 32-bit floating 48kHz audio quality, so you'll be sure to capture every nuance of your performance. It also houses over five hours of internal loop storage, with the ability to export your tracks via SD card or USB drive.
Ultimate loop control
The 12 built-in footswitches feature RGB LED indicators for useful feedback, and enable you to quickly create and transform your loops. You can record, overdub, play, undo/redo, reverse, transpose, bounce, peel individual layers off in the reverse order they were added, and fade and clear your individual looper tracks all on the fly. You can also reverse, fade, multiply or divide length, and multiply or divide playback speed instantly for your whole loop at once.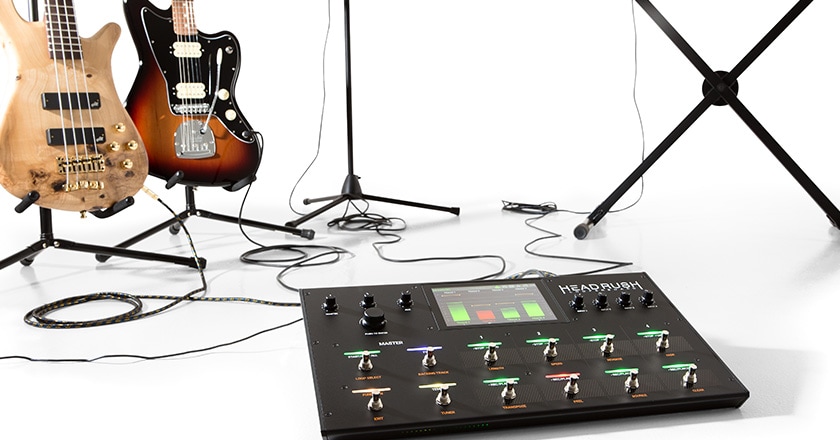 Customizable track modes
Each loop contains four mono or stereo looper tracks, and they can be run in any of five track modes (Fixed, Serial, Sync, Serial/Sync, and Free), so the HeadRush Looperboard accommodates any looping musician's workflow. Plus, you can stay in sync with other musicians on stage using the built-in intelligent time-stretch feature, which enables you to tap a footswitch to instantly change the tempo of your loop, while retaining pitch, without audio quality loss or glitchy pops and clicks.
Eleven HD Expanded effects built in
The HeadRush Looperboard enables you to assign virtual effect racks directly to inputs or looper tracks. Each rack is made of up of eight individual effects and is designed for vocals, guitar, percussion and more. You can even assign up to four effect parameters to be controlled by an external expression pedal at once.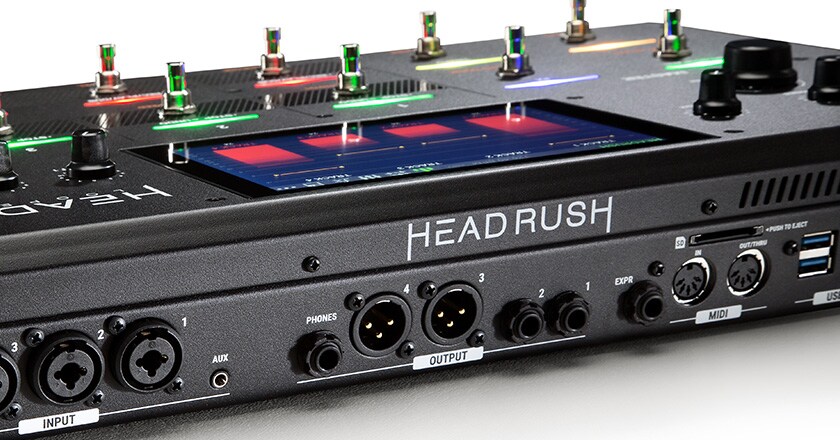 Built-in backing track player
To open up your creative possibilities even further, the built-in backing track player enables you to rewind, stop, play/pause, fast forward or change the tempo of a backing track, completely independent of your current loop.
Packed with audio I/O
No one wants to be limited by their audio ports. That's why the HeadRush Looperboard features four combo XLR+1/4" inputs with dedicated gain controls and switchable +48V phantom power, two XLR outputs with switchable ground-lift, two 1/4" outputs switchable between amp or line level, one 1/4" stereo headphone output with dedicated volume knob, and one 1/8" stereo aux input with dedicated volume knob that routes auxiliary sources (phones, tablets, etc.) directly to the outputs. That means you can record/loop from a vocal mic, guitar, keyboard and electronic drums all at the same time.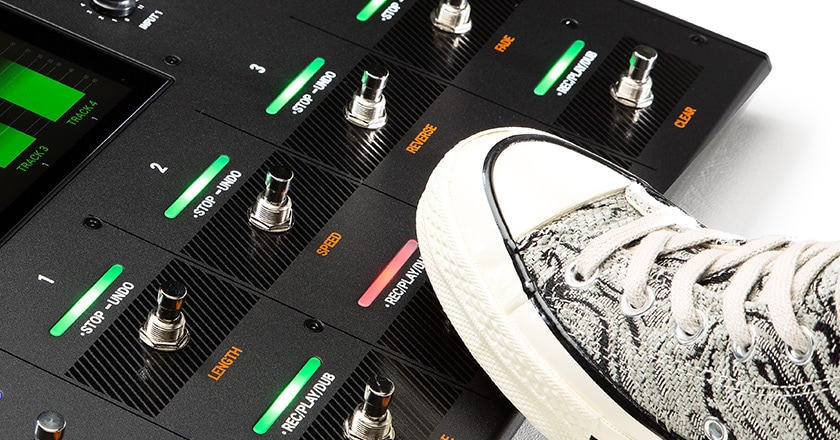 Flexible audio routing
The Looperboard allows you to quickly route any of the four inputs, four looper tracks, backing track or click track to any of the four outputs and/or headphone output, giving you the ultimate flexibility to optimize your sound in any performance situation.
Sync with external MIDI gear
The HeadRush Looperboard can receive MIDI time code for syncing with external drum machines, effects, recording setups and other MIDI-enabled devices, allowing you to be a one-person band with unlimited creative potential.
Record direct via USB
While the Looperboard is a live-performance marvel, you can use it in the studio as a USB audio interface for direct recording to your Mac or PC.
Specifications
7" high-resolution touch display; powered by a custom quad-core DSP system
Record up to 4 stereo or mono looper tracks at once with no maximum length limits
Over 8 hours of internal storage with virtually unlimited expansion via USB/SD drives
(4) combo XLR + 1/4" inputs (mono, balanced) with switchable +48V phantom power
(2) balanced XLR outputs (with switchable ground lift) and (2) balanced 1/4" outputs (switchable 
between line and amp levels) can be configured in mono or stereo pairs
Premium onboard FX for all instrument types including auto vocal harmony and tuning
Auto BPM detection when recording a loop and when importing audio to a looper track
Tap Tempo with Intelligent Time-Stretch feature changes tempo without affecting pitch
Click feature with configurable output routing; Undo/Redo and Peel functionality
5-pin MIDI connections provide external MIDI control of Looperboard and the ability to send or receive MIDI 
clock to sync with other MIDI-enabled devices
Built-in USB audio interface; includes Pro Tools | First: HeadRush Edition
Over 300 built-in drum and percussion loops for getting started