Harbinger VARI V2315 15" Powered Speaker With Bluetooth Black
(95)
|
Q&A
|
Item #:

1500000259899
POS #:115030389
6-month special financing^ + $29 back in Rewards**
Learn More
Lease-To-Own Purchase Options
Learn more
Get advice on sound equipment from an expert like Don and save on orders $499+
Need Help?

Description
The Harbinger VARI 2300 Series powered speakers combine 2,000W of peak power with sound-optimizing DSP and versatile inputs, outputs and controls. A built-in stereo mixer allows dual mic/guitar inputs, stereo balanced inputs, Bluetooth audio input and aux input to all be used simultaneously. Smart Stereo links two units for audio and control. Both 12" and 15" units are available, each delivering premium sound with great flexibility. The series also features an 18" powered subwoofer packing 2,400W, DSP and easy-roll locking casters.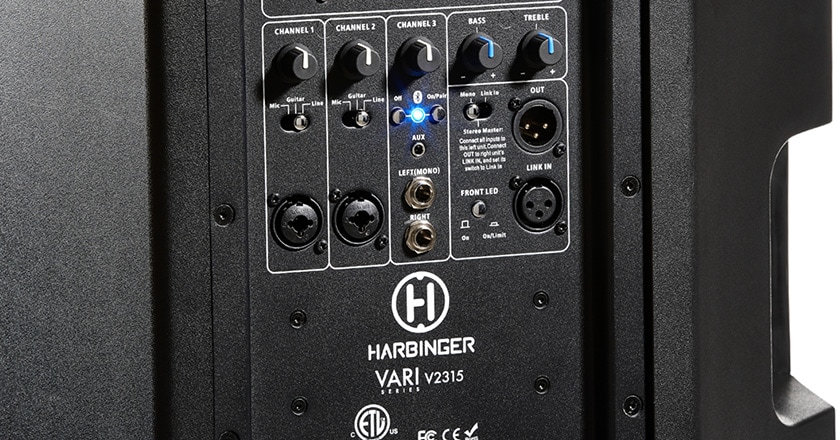 Versatile built-in stereo mixer with Bluetooth
VARI 2300 speakers have a versatile stereo mixer built right in, with all inputs available at once. Solo and small group musicians can plug in a couple of mics or instruments, along with stereo keyboard or electronics, and still have aux and Bluetooth input as well. You can also easily connect your own mixer to the high-quality balanced stereo line inputs.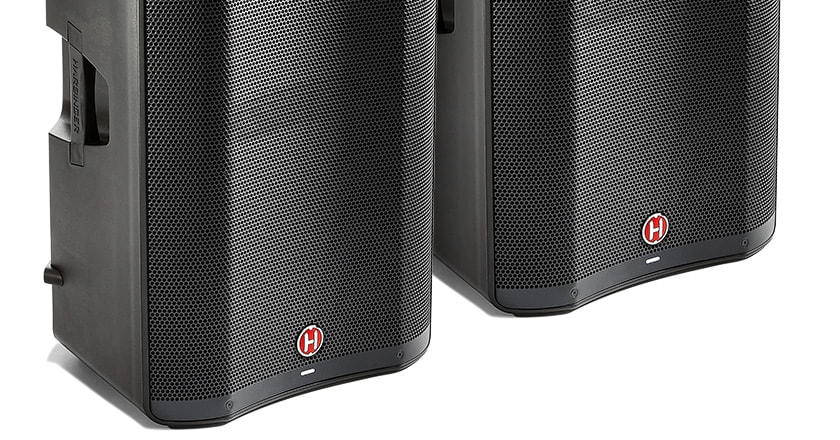 Smart Stereo links audio and control for a speaker pair
Innovative Smart Stereo easily links a pair of VARI 2300 speakers for optimal audio routing and unified control. You'll connect all inputs to the first speaker, and then connect a single mic cable between the speakers to link them. The first speaker will then set all volume and tuning for the pair, making true stereo setups a breeze.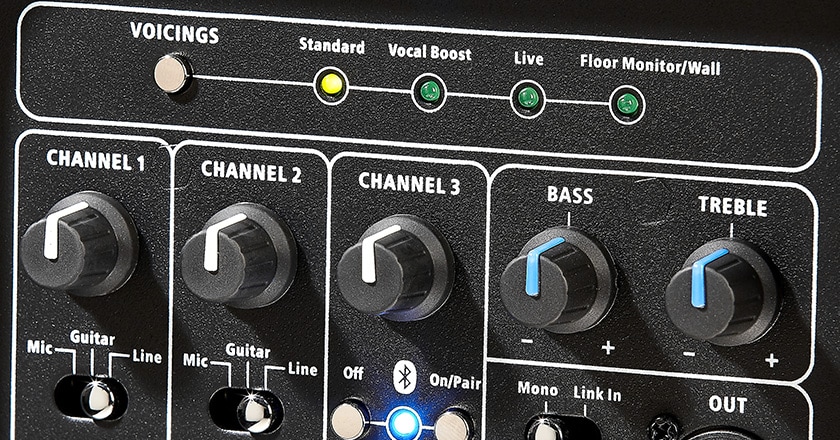 Four DSP voicings with easy bass and treble adjustment
Selectable voicings instantly configure the sound-optimizing DSP for common applications. Choose from Standard, Vocal Boost, Live and Floor Monitor options. Bass and treble knobs let you adjust that DSP tuning. A high-precision DSP crossover and full-bandwidth frequency management ensure extremely accurate, high-fidelity sound. A transparent DSP limiter gives ideal audio quality and system protection at maximum volume.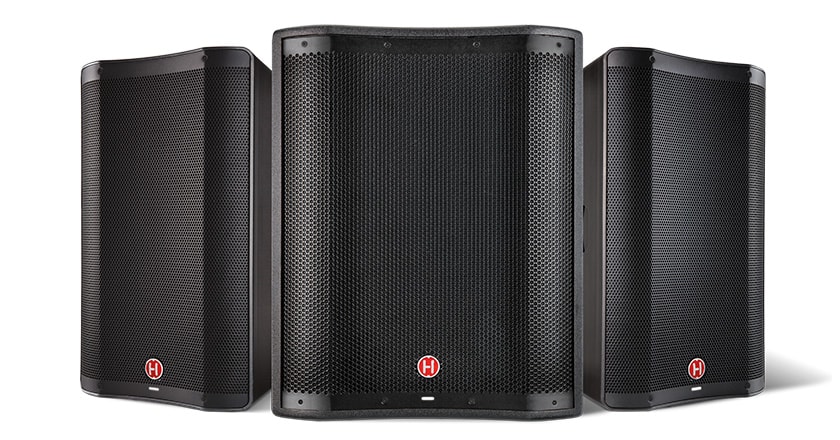 Versatile powered speakers and a powerful sub
The VARI 2300 series includes the 2,000W 12" and 15" powered speakers, and a 2,400W 18" powered sub, all with sound-optimizing DSP. The powered speakers can be used for main speakers or floor monitors, with DSP tunings tailored to these applications. The powered sub is the perfect complement to provide extended low frequencies and high-impact bass, with high-precision DSP crossover and limiter.
Features
Class-D amplifier with 2,000W peak output
Onboard 3-channel mixer
Bluetooth connectivity
15" low-frequency driver
DSP with preset voicing options
Specs
Speaker Configuration
Active/passive: Active
Type: 2-way
LF driver: 15"
MF driver: Not applicable
HF driver: Not specified
Power
Amplifier class: D
Wattage: 2,000W peak
Mixer/preamp: Yes
Audio
Frequency response: 40Hz–20kHz
Coverage pattern: Not specified
Max SPL: 127dB
Inputs
XLR: 3
TRS: 4
TS: Not applicable
RCA: Not applicable
speakON: Not applicable
Outputs
XLR: 1
TRS: Not applicable
TS: Not applicable
RCA: Not applicable
speakON: Not applicable
Enclosure
Cabinet material: Molded
Width: 16.5"
Height: 27.1"
Depth: 15"
Weight: 41 lb.