Gard Mid-Suspension Small Tuba Gig Bag 61-MSK Black Synthetic w/ Leather Trim
(1)
|
Q&A
|
Item #:

1284160378384
6-month special financing^ + $12 back in Rewards**
Learn More
Lease-To-Own Purchase Options
Learn more
Style:
61-MSK BlackSynthetic w/ Leather Trim
Order it today! This item is backordered, but you can save your place now so you don't miss it when it's back in stock. You won't be charged until it ships.
Notify me when this item is in stock.
Save on orders $499+ and get expert advice from a Gear Adviser
Gear Specialist
Bundling
Musician
Need Help?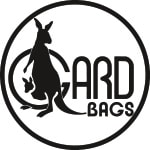 Description
Gard Bags have long been a favorite among musicians at all levels needing quality protection at a reasonable price. The Gard 61 Mid-Suspension Tuba Bag loads from the top fitting up to a 16-inch bell and instrument height up to 35-inches. Like all Gard Bags, the Mid-Bag Suspension series features a water resistant nylon or buffalo leather exterior, rugged zippers, soft interior flap to protect the instrument from the zipper, and backpack straps.
The Mid-Bag Suspension series builds upon the popularity of Gard's other bags, but adds another level of protection. In ordinary bags, the tuba rests tightly against the sides of the bag. If dropped, the protruding parts are likely to be dented. Using strategically placed blocks of padding the Mid-Bag Suspension series "suspends" your instrument away from the sides. Further stabilizing the instrument is a dense foam cone mounted on a hard disc on the inside of the case. This suspension system reduces the risk of dings or dents if the bag knocks into a wall or is dropped from a short distance.
Features
Top loading bag
Fits up to 16" Bell
Fits Tuba Height up to 35"
Specs
Top loading bag
Fits up to 16" Bell
Fits Tuba Height up to 35"