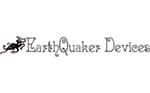 Description
The EarthQuaker Devices Palisades is an overdrive based on the legendary TS808. With six different clipping voices, five bandwidth settings and two gain channels, you will be hard-pressed to not find a setting that will wipe every mid-boosting overdrive off your board. The clipping voices determine how transparent and open or tight and crunchy the distortion is. They will vary drastically depending on where the gain is set, what channel is active and how much bandwidth is being used. The bandwidth sets the frequency response of the distortion and goes from thin, light and clean through fat heavy and crunchy. It may very well be the single most important control the Palisades has and what really sets it apart.

Gain A is a lower gain channel with a wider range of grit that is great for strumming open chords. Gain B is a higher gain channel with a tighter range that is great for palm muting and/or shredding solos. The Palisades also has a foot switchable volume boost with adjustable level to take it over the top when you want to throw your foot up on the monitor and rip your sweet leads, or maybe just push the front end of your amp a little harder.

It also features a normal/bright switch to mix and match the overall tone to different amps and guitars, as well as a buffer on/off switch to tighten up the tone and make it sparkle when set to ON or warm it up and make it sag when set to OFF.

The Palisades is a versatile dude that will give you years of loving companionship. Each Palisades is hand made one at a time in Akron, Ohio.
Features
Flexi switch silent relay based switching allows for traditional latching or momentary operation of the Gain B and Boost features
WARNING: This product can expose you to chemicals including Cobalt metal powder, which is known to the State of California to cause cancer. For more information go to www.P65Warnings.ca.gov