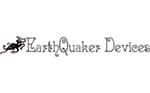 Description
The EarthQuaker Devices Astral Destiny octave reverb pedal provides a lush reverb, with octave up/down, chorus and user-editable presets. Building on EarthQuaker's tradition of finding unique combinations and interactions of classic effects, the Astral Destiny offers a deeply flexible pedal that easily goes from traditional reverb to full-blown sonic madness. Flexible control options and preset configuration give it range beyond that of just another reverb pedal.
EarthQuaker Devices Astral Destiny Features
Rich reverb with octave effect, chorus and pitch bend
8 reverb modes, 8 fully editable presets, "Stretch" mode
Expression pedal input features CV control capability
True bypass or tails bypass modes

Octave Up and Down
The feature that sets the Astral Destiny apart is the Octave Up/Octave Down feature. The capacity to add an upper octave gives your sound a unique shimmer. Adding an octave down will produce a deep and involving reverb decay. Half of the available reverb modes offer some combination of octave up/down or both.
Multiple Modes
The eight reverb modes start with a straight reverb with a decay length that's adjustable from subtle to extreme. Each of the succeeding four modes add either the octave up, octave down or both. The next two modes feature the Astral Destiny's pitch bend capability, with an adjustable amount of up or down bend. The final mode offers a regenerating fifth layered with the decay, for great chordal pads and sustained notes. The Stretch footswitch allows the pitch bend to be immediate with a tap or temporarily added by holding it down.
Flexible Control
EarthQuaker Devices pedals are always full of versatile control options, and the Astral Destiny is no exception. With five knobs, two rotary switches and two footswitches, plus an expression pedal input, the user has an immense amount of control. The expression pedal can not only be assigned to a different knob for each preset, but also has the capacity to use control voltage (CV) input. This makes the Astral Destiny a great choice for analog and modular synth systems that output CV.
Cut It Off Clean
Finally, the Astral Destiny offers two bypass modes. The first is a true bypass, where the effect is completely removed from the signal path. The second is a "Trails" bypass which kills the effect, but lets the reverb tail ring naturally. As they've always done, the sonic wizards at EarthQuaker Devices have combined creative sound design with a rock-solid approach to user interface design and consideration of real-world applications.

EarthQuaker Devices pedals have been consistently impressive, and the company stands behind their products with a limited lifetime warranty. The Astral Destiny Octave Reverb is a standout choice for any player who wants a great-sounding reverb that can delve into sonic territory where other reverbs fear to tread.

Features
Eight reverb modes, eight user-editable presets
Octave Up, Octave Down, Pitch Bend, extended decay
Expression pedal can be assigned to functions per preset and responds to CV
Chorus available on all reverb modes.
Specifications
Reverb Modes
Abyss: Huge reverb with no octave effect Shimmer: Adds an upper octave to the reverb tail
Sub: Adds a lower octave to the reverb tail
Sub Shimmer: Adds an upper and lower octave to the reverb tail
Astral: Adds an upper and lower octave combined with a regenerating tail
Ascend: Upward pitch bending; best used on sustained notes and chords
Descend: Downward pitch bending; best used on sustained notes and chords
Cosmos: Adds a regenerating fifth to the reverb tail; best used on sustained notes and chords
Control Knobs
Preset - 8 position rotary switch recalls presets. All presets are editable
Length - Controls the length of the reverb decay
Mode - 8 position rotary switch to select the reverb mode
Depth - Adjusts the intensity of the chorus effect
Rate - Adjusts the rate of the chorus effect
Tone - Boosts treble clockwise, cuts treble counterclockwise. Center is a flat frequency response
Mix - Level control for the reverb effect
Activate Footswitch - Activate and deactivate the reverb effect
Stretch Footswitch - Doubles the length of the reverb effect while adding a temporary change in pitch