DW DWe Wireless Acoustic/Electronic Convertible 5-Piece Drum Set Bundle With 22" Bass Drum, Cymbals and Hardware Finish Ply Black Galaxy
(0)
|
Q&A
|
Item #:

1500000415167
POS #:119560738
6-month special financing^ + $449 back in Rewards**
Learn More
Style:
Finish Ply Black Galaxy
Beat the rush: Order this highly anticipated release now and we'll ship it as soon as it arrives. You won't be charged until it ships.
Notify me when this item is in stock.
Save on orders $499+ and get advice on drums from a Gear Adviser
Need Help?
Acoustic. Electronic. All DW
DWe Drums Unboxing and Quick Start with Patty Anne Miller2
DWe Drums Control Overview -
DWe Drums Pairing & Calibrating Drums & Cymbals

Description
Rarely does a drum set of any variety—acoustic or electronic—take such a giant leap forward with multiple game-changing technologies in one fell swoop, but Drum Workshop's DWe Wireless Acoustic/Electronic Convertible 5-piece drum set does just that. A true pioneer, the DWe breaks ground with both its proprietary wireless triggering technology, but also in being the very first acoustic-electronic convertible drum set. DW didn't just revolutionize a couple facets of the drum set as we know it and call it a day—in designing and manufacturing the DWe, they stayed true to their rich tradition of producing high-end maple shells with reliable, forward-thinking hardware and all-new wireless tech. If the notion of being able to seamlessly switch between electronic and acoustic sounds great to you, just wait 'til you hear it in action.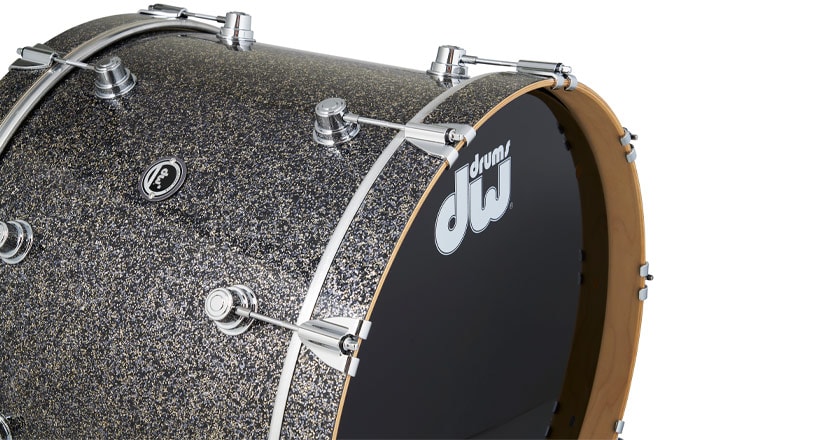 First-Evers: Convertible Acoustic/Electronic and Wireless Freedom
It's not hyperbole to say the DWe is one for the history books. Among the list of reasons is its ability to change from acoustic to electronic in a process that's as easy as changing heads. The triggers are housed in a removable tray, and feature a blend of FSRs (Force Sensing Resistors) for the center and piezo for the edges. This not only gives you more dynamic range, but it also applies some pressure muting, which is great for quiet practice and electronic performance that calls for fewer sonic distractions.


Plus, unlike conventional electronic drum kits, DWe gives you wireless freedom with its patented transmitter technology—saving you precious time during setup and breakdown, as well as the often-cumbersome hassle of running wires, physically patching in and keeping track of cables.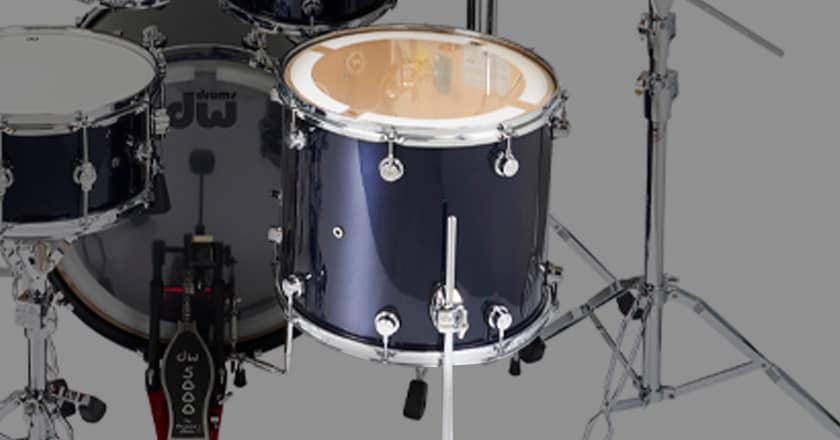 333 Maple Shells for Acoustic Greatness
Not only is DWe state of the art—it's a work of art. This 5-piece configuration of the DWe boasts handcrafted 333 maple shells—8x10" and 9x12" rack toms, a 14x16" floor tom, 14x6.5" snare and 22x16" bass drum—all made in the USA. These 333 shells are thoughtfully fashioned so their outermost and innermost plies run vertically, which places less tension on the shell—letting the drum vibrate and resonate more freely. Each drum features True Pitch tension rods, STM mount and graduated hoops, ensuring solid tuning and reliably exceptional sound.


When switching from electronic to acoustic, simply remove the mesh heads and star plate containing all the electronics, replace with the Mylar batter head, and—boom—you have a world-class DW Collectors acoustic kit at your throne. And when switching back to electronic, simply reverse the process, and you've got a top-shelf e-kit at the ready.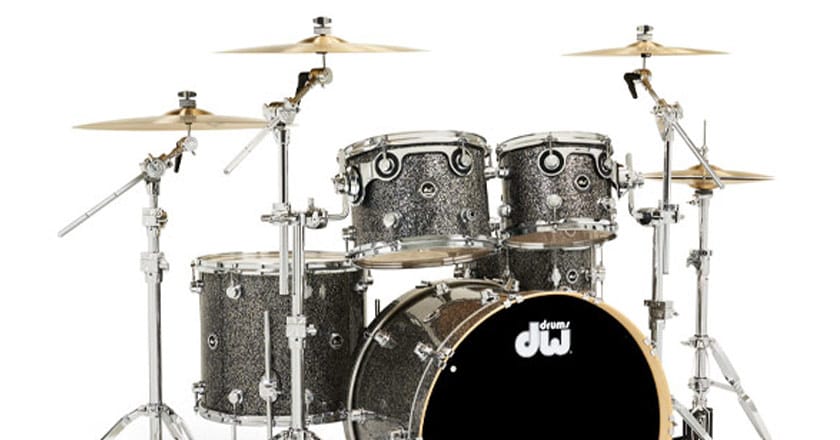 Cable-Free Metal Cymbals
This 5-piece DWe iteration includes a 14" hi-hat, as well as one 18" and two 16" crash/rides. They sport a combination of piezo sensors for the bow and bell, while the edges use FSRs for accurate edge detection and a natural choke. And, like the shells included in the kit, these cymbals feature well-hidden wireless transmitters with an impressive 30-yard range. Using AA batteries, you can get one to two years of life and rest assured you're covered during your session, rehearsal or performance.


Sharp looks notwithstanding, one of the beauties of this feature—in addition to the obvious time-saving benefits—is that your cymbals can spin freely and naturally about the stands at a full 360 degrees, unlike traditional e-kits that stifle this movement with their tight cabling.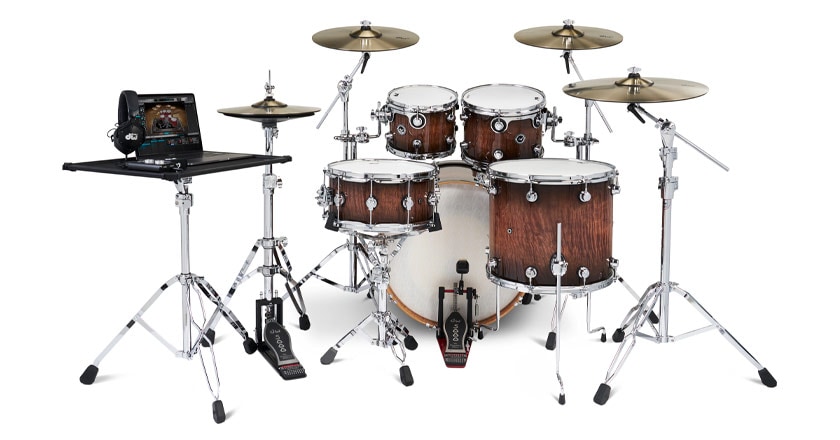 Cutting-Edge Hardware and Triggering
Another first on this kit is the addition of the DW 5000AD4 single kick dual-chain-drive pedal. This 5-piece set also features heavy-duty DW 5000 Series snare, hi-hat, two combo (for tom and cymbal) and cymbal stands—enough to securely accommodate all the shells and cymbals included in the kit. But the fun really sets in when looking at the triggering hardware. DWe also has a few exciting snare-specific features. The DigiMag drum throw-off, which includes traditional snare wire on-and-off control, can also be programmed to turn the snare on, off or into something totally different when playing electronically. And the snare's five-zone triggering system detects center, edge, rimshot, rim and a pressure-sensitive cross stick. On another next-level front, the toms give you the ability to pitch bend by varying the head pressure.


The "heart" of the electronic form of this rig is the included DrumLink Wireless USB Hub and DWe Soundworks app. Recognizing up to 30 wireless inputs, the DWe wireless system shatters any previous drum module I/O high-water mark, delivering incredible flexibility. You can connect and pair drums and cymbals to the DrumLink Hub, and then fine-tune your trigger settings via DWe Control, built into the DW Soundworks app. DrumLink also converts wireless signals into MIDI, so third-party modules, and apps can also take full advantage of your triggers. As if that wasn't enough, DWe even includes its own audio interface, the RTap (Real-time Audio Processor), letting you connect to stereo speakers and multi-channel audio interfaces in a beautifully portable form factor.


For acoustic and electronic drummers looking for the ultimate in sound and versatility, the DWe covers all the bases in stellar, one-of-a-kind fashion. The fruits of DW's decades of research, innovation and drum-crafting know-how have come to bear in this 5-piece DWe Acoustic/Electronic Convertible Wireless complete drum kit. It's made at DW's Oxnard, California factory, and the attention to detail is palpable.


See, play and hear these fantastic acoustic/electronic drum sets for yourself at the following Guitar Center locations:
La Mesa, CA
Hollywood, CA
Las Vegas, NV
Nashville, TN
San Jose, CA
Atlanta, GA
West Palm Beach
Houston, TX
Arvada, CO
Sherman Oaks, CA
Features
Includes:
8x10" and 9x12" mounted toms
14x16" floor tom
16x22" bass drum
6.5x14" snare drum
DWe 4-piece electronic metal cymbal pack with one 14" hi-hat, two 16" crash/rides and one 18" crash/ride
License for DW Soundworks, a DrumLink wireless hub, R-Tap Audio Processor, both acoustic and electronic drum heads for rapid conversion, and more
Mac or PC computer (sold separately) required for using DW Soundworks
DWCP5000PK5 hardware pack
WARNING: Cancer and Reproductive Harm www.P65Warnings.ca.gov.
Warranty
DW Drums Collector's Series Warranty:
Drum Workshop, Inc. guarantees that DW Collector's Series® Drums are free of material and workmanship defects for a period of six (6) years from the original purchase date. Drum Workshop will repair or replace defective products free of charge to the original purchaser upon delivery of the product to an authorized DW Drums dealer. Proof of purchase and status as the original purchaser are required for warranty coverage. DW's maximum liability pursuant to this warranty is limited to the monetary value of the product that is the subject of the warranty claim. This is a summary only; please see the actual limited warranty for additional terms and conditions.

DW Pedals and Hardware Warranty:
For a period of five years from the date of purchase, Drum Workshop, Inc. guarantees the original owner, when presented with proof of purchase, that all 9000, 5000 and 7000 Series Bass Drum Pedal cast parts are free of material and manufacturing defects. This warranty is limited to cast parts only; such as the base casting, footboard, beater hub, sprocket, heel and cam casting. This warranty does not include moving parts; such as the spring assembly, beater ball, radius rod, hex shaft, ball bearings, etc. If under normal playing conditions parts covered in this limited five year warranty fail, they will be replaced at no charge. Return the pedal to your authorized DW dealer or, if there is not a dealer in your area, contact DW direct. DO NOT send pedal to DW without first receiving a Return Authorization Number. Shipping charges to DW will be paid by the consumer. DW's maximum liability pursuant to this warranty is limited to the monetary value of the product that is the subject of the warranty claim. This is a summary only; please see the actual limited warranty for additional terms and conditions.