Description
The Yamaha FP9C Double-Chain Drive Single Bass Drum Pedal puts drummers in the driver's seat with the ability to fine-tune every aspect of the pedal's performance. The tried-and-true, double-chain design and adjustable 3-position cam delivers power, speed and fluid movement. Its advanced features include an easy-access auto-lock spring adjustment, swivel spring mounting, ball bearing drive connection, extended footboard, stabilizing and anti-skid heel spikes, heavy-duty frame with subframe and weight-adjustable beater. The FP9C pedal truly embodies the spirit of Yamaha Racing, from its power and speed down to the race-inspired blue and gold accents. These pedals capture the incredible build quality of classic Yamaha pedals and hardware.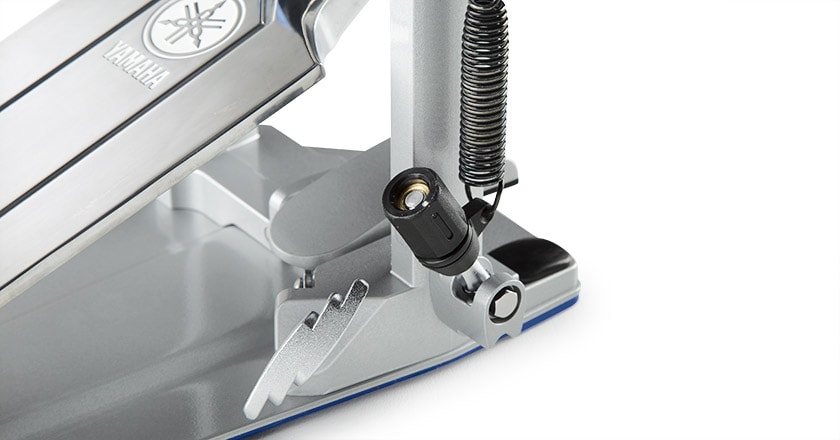 Easy-Access Auto-Lock Spring Adjustment
Gone are the days of overly complicated tension adjustments. The FP9C features an easy-to-reach auto-lock spring adjustment with an internal ball bearing. The ball bearing allows the piece to move back and forth so it's easy to quickly reach down and adjust on the fly. It also clicks as you're turning. This ensures each adjustment is even, accurate and completely dialed in.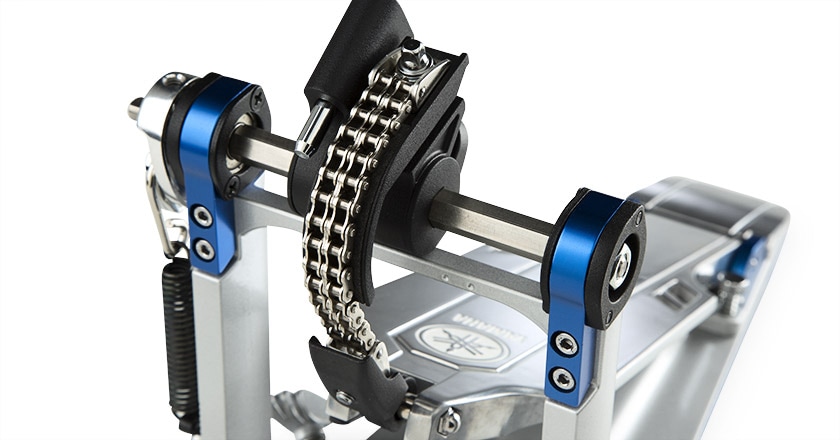 Heavy-Duty Frame and Key Ball Bearing Placement
The FP9C is built like a tank, but drives like a Bentley. The heavy-duty frame stands up to even the hardest hitting lead foot with excellent stability. This, along with key ball bearing placement, ensures there is no wasted energy in a player's strokes. The solidness of the frame and smooth ball bearing movement guarantee consistency whether they're playing fast and loud or quiet and controlled.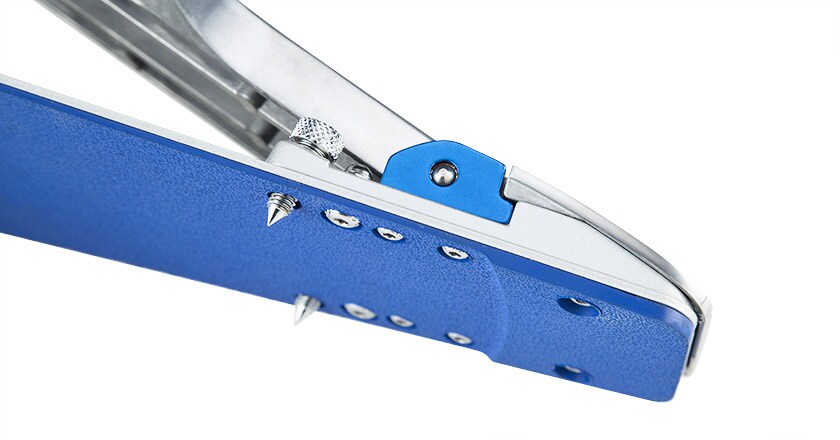 Anti-Skid Heel Spikes
Most bass drum pedals have anti-skid spikes towards the front of the footboard. This design can lead to the pedal fishtailing at the heel and eventually coming loose from the bass drum hoop. The FP9C's spikes are placed further back at the heel. This gives the spikes better leverage to dig in and get secured.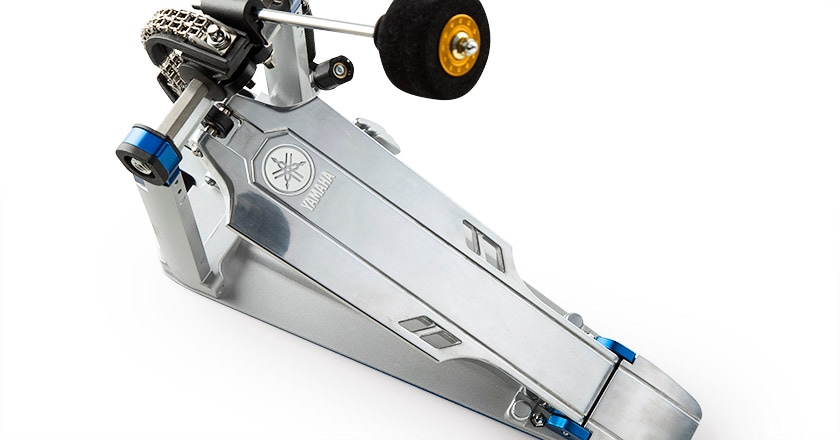 Weight-Adjustable Beater
Yamaha's beater weights give the idea of a weighted beater a new and stylish twist. Adding weights to your beater can help increase foot speed and strength, or just give you a better feel to your bass drum stroke. The FP9C includes steel and brass horseshoe weights. The weights slip on just below the beater very quickly, allowing you to change the feel on the fly. You can even put both on together.

Features
Easy-access auto-lock spring adjustment allows instant player feedback
Swivel spring mounting allows even tension throughout the range of pedal movement
Cam and direct drive adjustments easily customize playability
Ball bearing drive connection reduces lost energy, allowing a superior feel
Stabilizing and anti-skid heel spikes reduce pedal and bass drum movement
Axle stabilizing bearing chamber focuses beater momentum and creates an effortless feel
Heavy-duty frame with subframe removes frame flex to transfer all of the player's energy
Weight-adjustable beater quickly adjusts the pedal feel and the bass drum sound
Simple drum key adjustments
Quick side-access hoop clamp
Racing-inspired semi-hard case included