Description
The Simmons SD1200 is a top-tier electronic kit, perfect for serious drummers looking to master their craft. A custom sound library is matched with state-of-the-art mesh pads and cymbals for realistic feel and sound, plus advanced tech features for the performing drummer.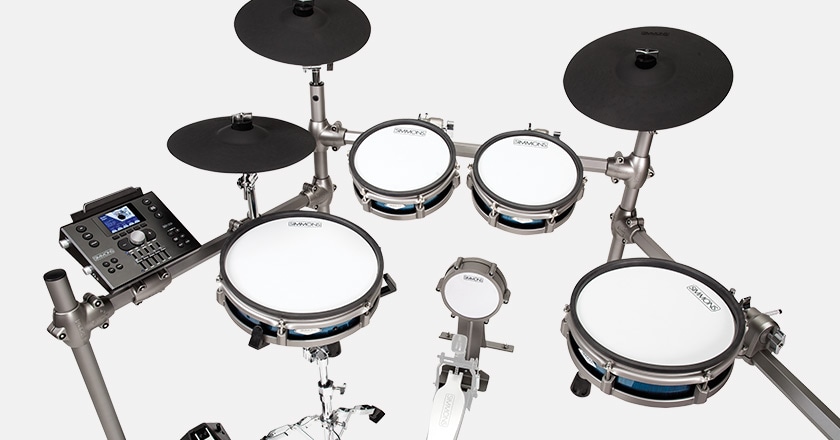 Premium dual-zone mesh drum pads and upright kick pad
The responsive 12" dual-zone snare drum includes its own stand to get the angle just right, and the 8" to 10" toms are also dual-zone to trigger alternate voices. Each drum pad includes dual-layer, tension-adjustable mesh heads to simulate the customizable, lifelike feel of an acoustic drum. A mesh kick drum is also included, and it's simple to mount your favorite beater pedal.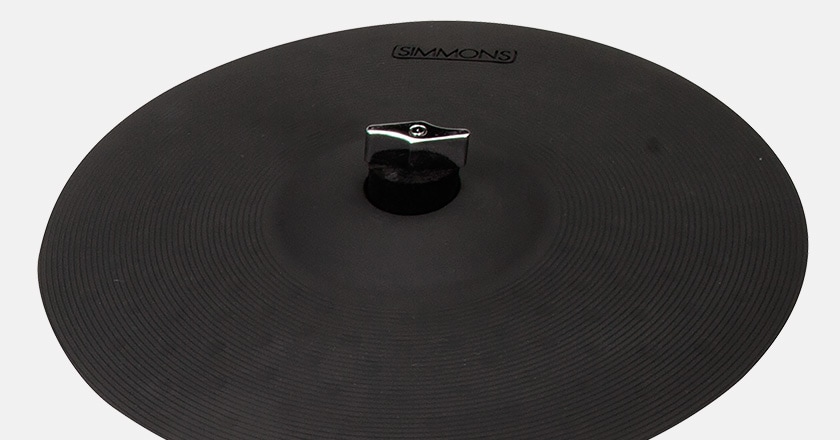 Chokable multi-zone cymbals coated with textured rubber
Crash and ride cymbals are 2- and 3-zone (bell/bow/edge) with a choke function for dynamic effects. A variable pedal controls the dual-zone hi-hat to get smooth, semi-open sounds, trashy edge accents, splash and more. It's all anchored to a new, solid hex rack to prevent drums from slipping while you play.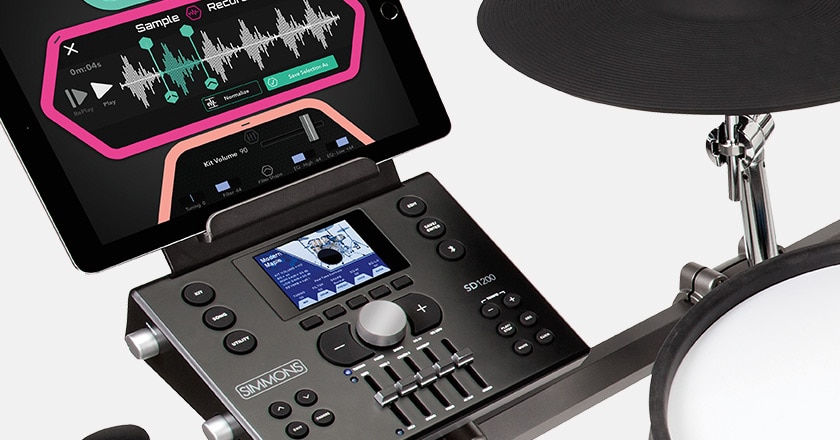 Full-featured sound module includes Bluetooth, USB and iOS control
The SD1200 sound module features a large color LCD screen for a detailed look at your kits and easy access to editing features. Dedicated faders, knobs and buttons simplify kit customization, whether you're just changing the mix or creating wild, filtered sound design on your own custom setup. The module includes wireless Bluetooth MIDI and a USB input for importing your own WAV files. The Simmons Advanced App for iOS can be used to customize kits, record new samples and practice with recorded tracks.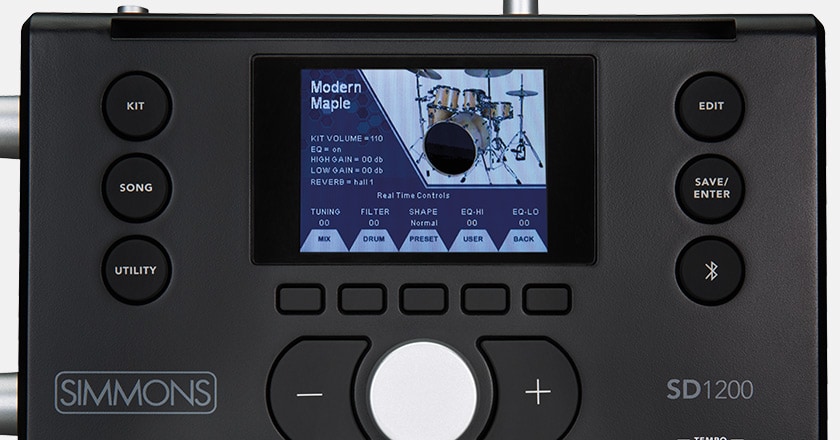 Simmons Signature Sound Library: diverse instruments to spark your creativity
The Simmons Signature Sound Library is an expansive collection of the world's most coveted drum kits and snares, recorded with the same world-class audio equipment made famous on classic albums. Simmons' VAR technology offers many dynamic levels, resulting in true-to-life feel and sound. Classic cymbals with stereo samples have a long, natural decay for maximum realism. The 764 sounds on the SD1200 also include a wide collection of world percussion and vintage electronic drums, creating limitless opportunities for creative inspiration.
Features
Drum Kit
12" dual-zone mesh snare and stand
Two 8" and one 10" dual-zone mesh toms
6" mesh bass drum with non-slip stand
12" dual-zone crash pad
14" triple-zone ride cymbal
12" hi-hat with variable pedal
Real snare stand allows complete customization and solid playing surface
Hybrid hex rack with solid, adjustable mounts provide non-slip mounting surface
Optional SD1200 Expansion Kit adds another dual-zone crash cymbal and floor tom
Bass drum pedal not included
Sound Module
Large and bright full-color graphic LCD and intuitive, easy-to-program user interface
Simmons Signature Sound Library: 764 of the most sought-after acoustic drums, world percussion and vintage Simmons sounds
Bluetooth MIDI for wireless connectivity to smartphone, tablet or computer
Import samples to the sound module for expanded performance options
Record, create and edit your own samples and sets
Interactive Pattern Looping capabilities
Playback of .WAV files or MP3 from USB drive for performance or practice
Record your own .WAV files for evaluating your performance
Built-in performance mixer with on-the-fly mixing, pitch shift, shape parameters and more
Simmons Advanced app for iOS adds kit editing, sampling and more