Description
The B.C. Rich Stranger Things "Eddie's" Limited-Edition Replica and Inspired NJ Warlock is a striking replica of the guitar featured in season four of the Netflix hit series, Stranger Things. As the award-winning sci-fi-horror-ensemble drama takes place in the 1980s, this angular, shred-approved NJ Warlock is the perfect "guest star" to represent the aggressive rock and metal riffs favored by the teens in the fictional town of Hawkins, Indiana. But the Stranger Things NJ Warlock is far more than set dressing for a television series. Armed with two B.C. Rich BDSM Distortion humbuckers, this mean machine is designed to bust through a band mix, recording date or jam session with tones that go from belligerently beautiful to full-on raging. The Floyd Rose Special locking tremolo is perfect for launching screaming dive bombs, bewitching warbles and trance-like trills. When you need to unleash a relentless barrage of ferocious licks powerful enough to seal up an inter-dimensional gateway, the NJ Warlock's Shredzilla Ultra Slim Contour neck provides a smooth and unencumbered runway for your swift fingers. The Stranger Things "Eddie's" Limited-Edition Replica and Inspired NJ Warlock definitely struts an '80s attitude, but it also possesses the ergonomics and tonal firepower to create supernatural textures for any style of hard-hitting music.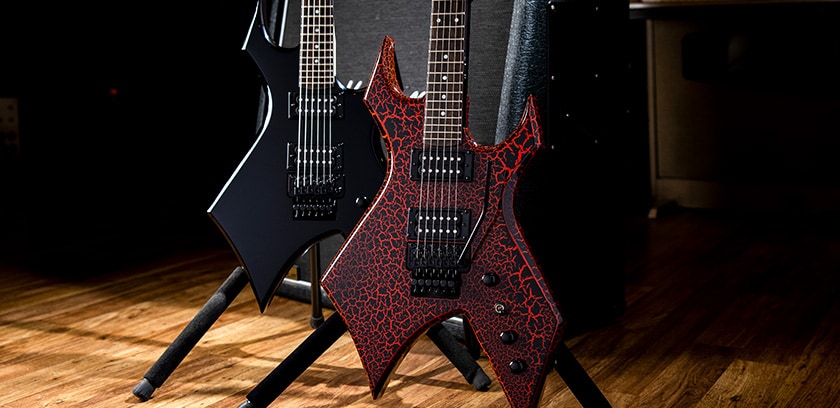 Styled to Survive the Upside Down
When you're peering into the frightening expanse of an alternate dimension, you're going to want an equally formidable presence at your side. The sharp, claw-like cutaways and harpoon headstock of the NJ Warlock immediately alert demons, Soviet agents, malevolent scientists and government bureaucrats that you mean business. Whether you choose the black or red crackle-paint finish, this is a guitar that commands attention.
Mighty Enough to Fight the Demogorgon
A blood-thirsty Demogorgon can't be pummeled into submission with weak pickups. Lucky for you, the Stranger Things NJ Warlock is armed with two very potent B.C. Rich BDSM Distortion humbuckers—one in the bridge position and the other in the neck position. Crank up the guitar's volume, and these pickups deliver a hefty signal that can drive the front end of an amp into fearsome distortion. If the threat isn't imminent, you can back down the volume for a chunky overdrive sound and soften your attack to produce some stout, clean tones. Whichever tone you go into battle with, you can trust the BDSM's mid-range articulation will highlight every note you play, while chords will ring out with definition and impact. Taut bass frequencies provide oomph and balance, but the low end is not so commanding as to muddy up your sonic onslaught.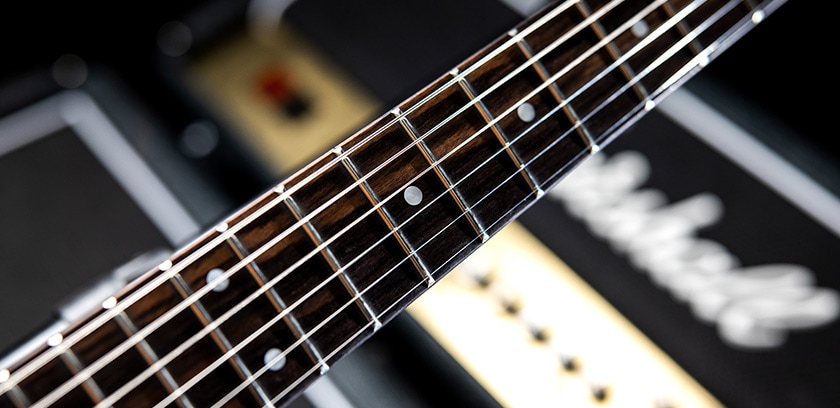 Built for Psychokinetic Speed
The Stranger Things "Eddie's" Limited-Edition Replica and Inspired NJ Warlock's Shredzilla Ultra Slim Contour maple neck ensures you can comfortably launch your fastest runs to dazzle friends and foes alike. The firm grain of the ebony fingerboard adds to the playability by aiding smooth and swift finger movements. Your mind-over-matter skills will rival those of Stranger Things' telekinetic Eleven, as what you envision in your mind will immediately be conjured through your fingers.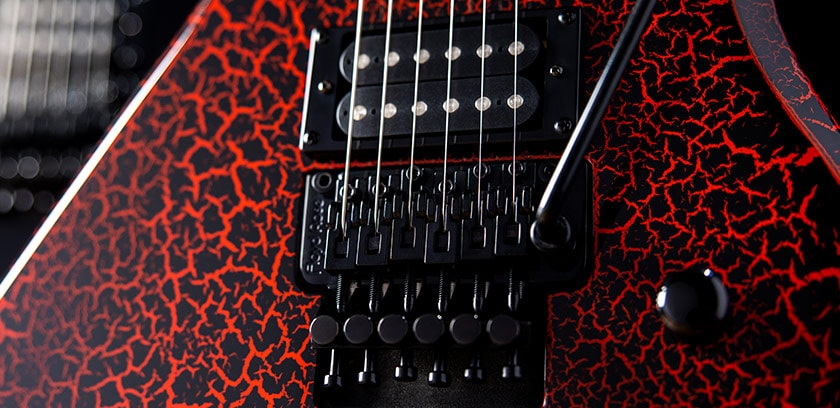 Advanced Weaponry to Defeat the Mind Flayer
You'll need more than just speed to vanquish the Mind Flayer's hordes from the Upside Down, and the Floyd Rose Special tremolo adds a number of sweet tricks to your arsenal. You can freeze adversaries in their tracks with feral dive bombs, mesmerize them with subtle pitch fluctuations, or startle them with alien gurgles, wails and shrieks. Go as wild with the tremolo attacks as you need to, and the locking nut and bridge will keep your tuning sweet and precise.
And a Warlock Saves the World
The Stranger Things "Eddie's" Limited-Edition Replica and Inspired NJ Warlock is a celebration of the Netflix series, the iconic B.C. Rich brand and guitarists who love to shred. But it's no mere souvenir of a pop-culture phenomenon. The NJ Warlock is made to be played, and while its looks and features veer more toward hard rock and metal than traditional jazz or pop, it's a guitar that feels good in your hands, produces great tones and takes no prisoners.