Alto Uber FX Battery-Powered Portable PA With Digital Effects
(24)
|
Q&A
|
Item #:

1500000283197
POS #:115585325
6-month special financing* + $12 back in Rewards
Learn More
Lease-To-Own Purchase Options
Learn More
Get sound equipment help from an expert like Don
Need Help?
Alto Pro Uber FX Portable PA System

Description
The Alto Professional Uber FX portable PA has everything you need for anywhere you want to go. This wireless speaker moves easily from one place to the next with its lightweight design, and can handle the most demanding audio applications with 100 watts of dynamic power. It's the perfect companion for hours of clear, punchy, high-fidelity sound from a wide variety of wireless or hardwired signal sources, whether you have access to AC power or not. Uber FX is ideal for musicians performing outdoors who can't be limited by their access to AC power and desire the versatility and capability of a great studio-based sound system. It's also perfect for business meetings, backyard parties and more.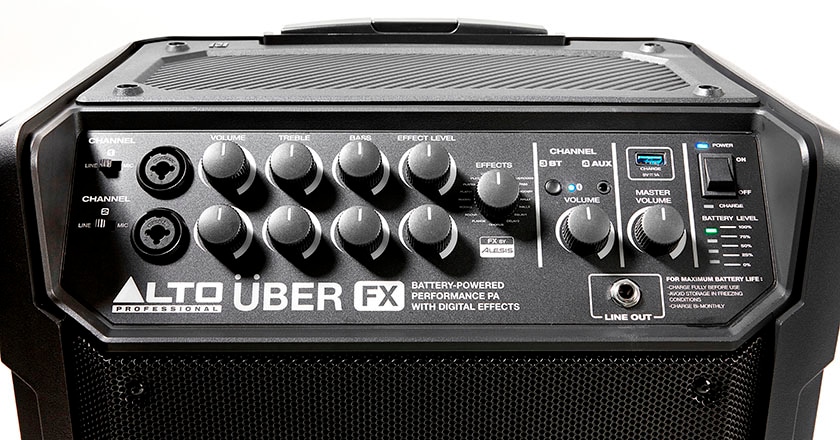 Plenty of power
The Uber FX delivers your sound with full-range clarity and punch. Its 8″ 2-way speaker pumps out 100 watts of power capable of reaching everyone around you. Uber FX delivers, on all counts, with its 15 built-in digital effects (including reverb, delay, echo and much more) by world-renowned Alesis, and a 2-band EQ for precise tone adjustment. Making your live performance sound like big-budget productions couldn't be easier. Don't be fooled by its size. Uber FX provides plenty of sound for any occasion.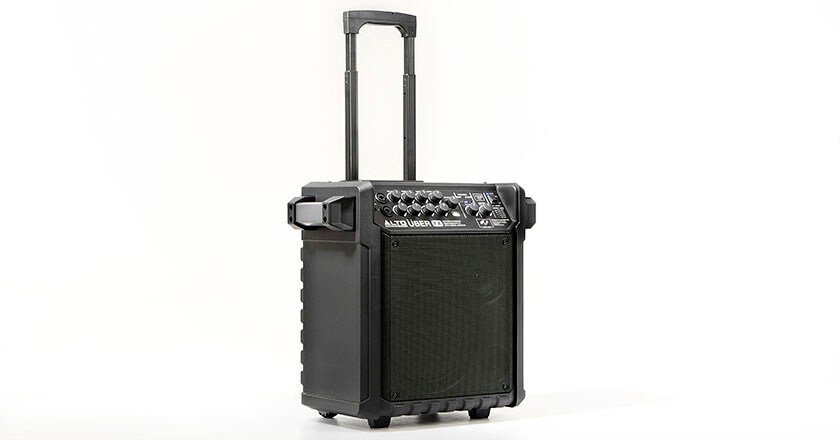 Made to move
The self-powered Uber FX design is made to go just about anywhere you do. Sure it's compact and lightweight, but with wireless connectivity and a built-in rechargeable battery, the Uber FX is ready for any situation you put it in. In fact, the internal battery is capable of up to 45 hours of continuous use on a single charge. Uber FX also features a convenient USB charging port, allowing you to recharge your phone, tablet or other devices while you kick back and enjoy your music. Setting up your Bluetooth-enabled device is a breeze thanks to NFC easy pair.