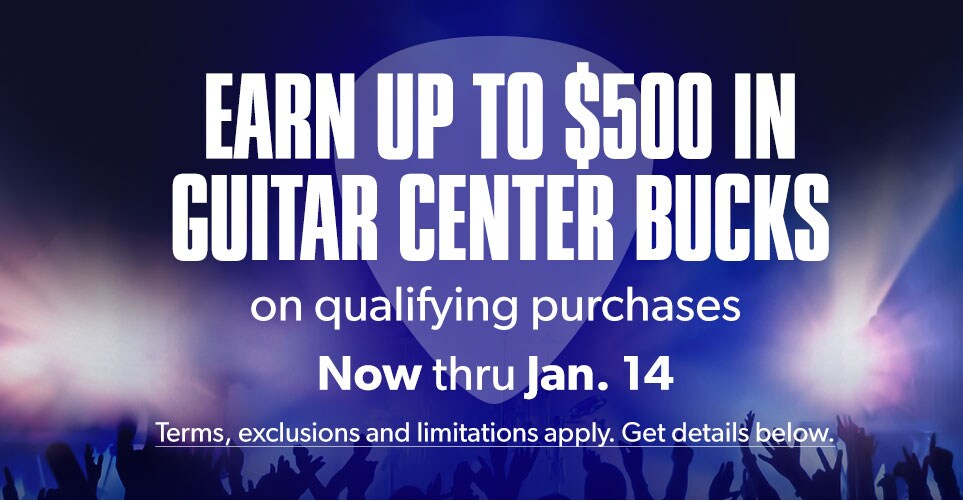 Here's how easy it is to get Guitar Center Bucks in the following amounts:
GET $10 IN GUITAR CENTER BUCKS FOR EACH $50 YOU SPEND.
THE MORE YOU SPEND,THE MORE YOU EARN—UP TO $500 IN GUITAR CENTER BUCKS FOR $2,500 IN QUALIFYING PURCHASES.
Terms, Exclusions and Limitations
Valid name and email address are required during in-store or online checkout for delivery of promotional Guitar Center Bucks. By providing your email address, you are opting to receive emails, news and deals from Guitar Center.
Qualifying Purchases
Qualifying Purchases are in-stock/on-hand merchandise made from a Guitar Center location or guitarcenter.com from 1/11/18 through 1/14/18 only.
Prior purchases, price adjustments, clearance, open box, exchanges, special orders, backorders, gift cards, lessons, services, returned merchandise and sales/use tax are not Qualifying Purchases.
You will not receive Guitar Center Bucks for merchandise you return.
The maximum Guitar Center Bucks value you may earn for this promotion is $500 for $2,500 spent on Qualifying Purchases.
Purchases made for less than the tagged/stated price are not Qualifying Purchases and will not earn Guitar Center Bucks.
Guitar Center Bucks Terms and Conditions
Guitar Center Bucks are redeemable only for merchandise in Guitar Center stores and guitarcenter.com, have no cash value and are not redeemable for cash.
Guitar Center Bucks are earned based on the amount of customer's Qualifying Purchases during the promotional period. Customers will receive $10 worth of Guitar Center Bucks for their first $50 in Qualifying Purchases. An additional $10 in Guitar Center Bucks will be earned for each additional $50 spent on Qualifying Purchases.
These Guitar Center Bucks will be delivered via email between 2/27/18 and 2/28/18.
These Guitar Center Bucks expire on 3/7/18 and are limited to a single use (does not carry a balance after use).
If merchandise purchased with Guitar Center Bucks is subsequently returned or price adjusted, the Guitar Center Bucks will not be returned, and the return value of the merchandise may be subject to adjustment.